Top position prospect Turner makes MLB debut
Acclaimed infielder goes 0-for-2 against Brewers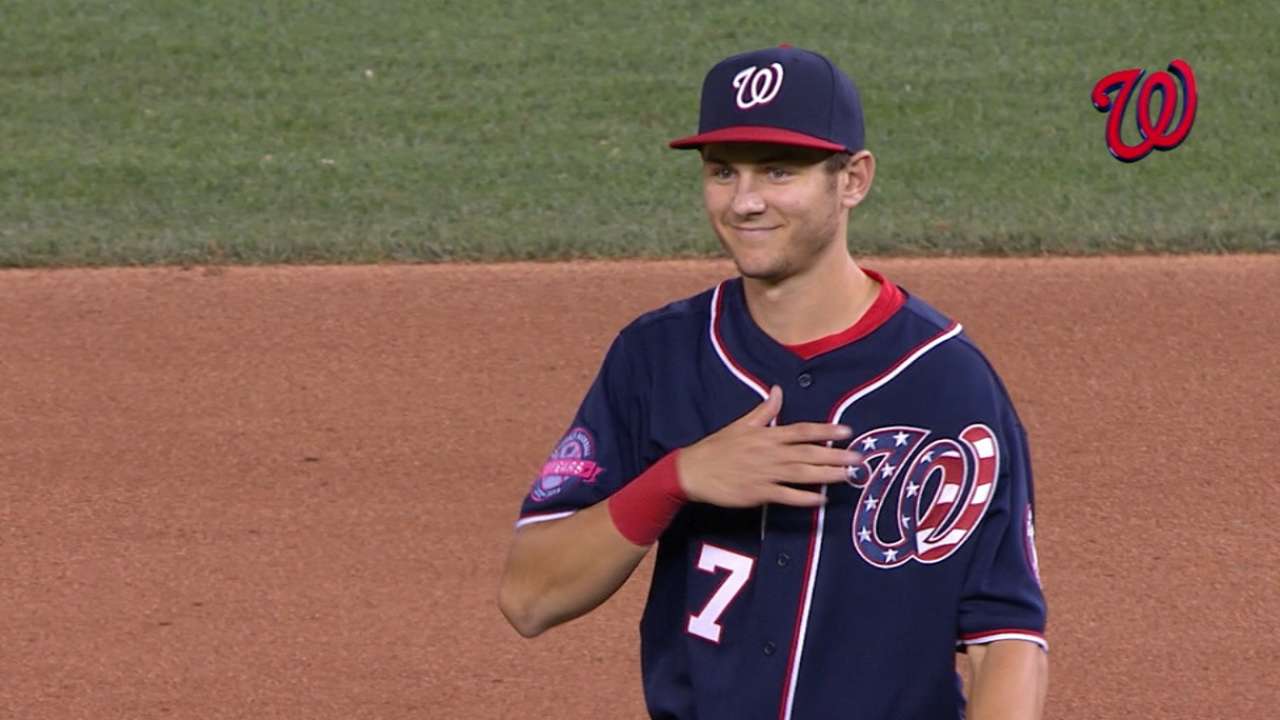 WASHINGTON -- Nationals top prospect Trea Turner highly recommends the new "Straight Outta Compton" film, though his viewing on Thursday night differed greatly from the average viewer's.
Roughly 24 hours after his movie-watching experience was interrupted with a phone call breaking the news that he'd been called up to the Major Leagues, Turner made his big league debut with the Nationals in a 10-3 loss to the Brewers.
• What to expect from Turner in Major Leagues
"Every debut is good, I would like to say," Turner said. "You can't necessarily have a bad debut, no matter how you play, results, whatever. It was just fun to be out there and I'm excited to go back out there tomorrow."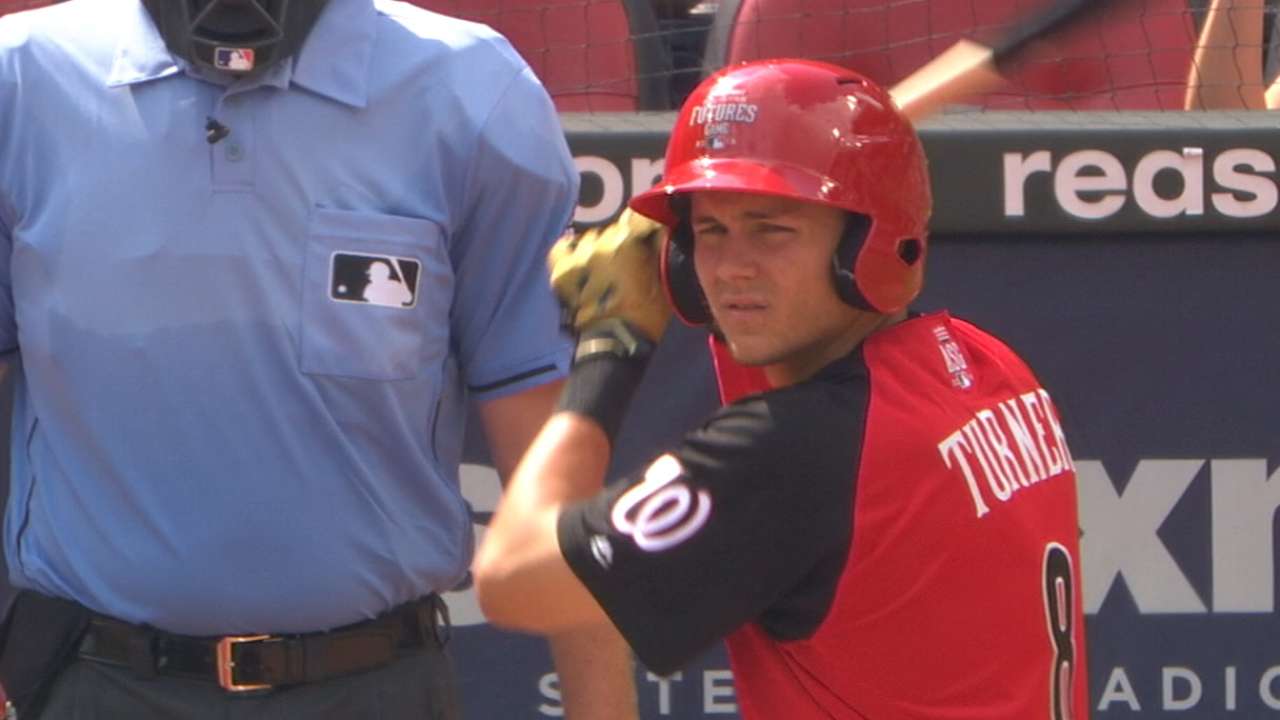 Trailing, 6-2, in the seventh inning, Turner entered for the first time at shortstop with the bases loaded during a double switch. The fans at Nationals Park gave Turner the first of several warm ovations.
"It's hard for me not to pay attention to a lot of that," he said. "I can hear it, and I see stuff out of the corner of my eyes all the time. It was awesome. It was very cool for me to experience that from the fans."
Turner went hitless in two at-bats, though in his first plate appearance he reached a top speed of more than 22 miles per hour, per Statcast™, to nearly beat out a chopper to short. Reds center fielder Billy Hamilton, often considered the faster player in baseball, has eclipsed that speed three times this season running from home to first.
"Good speed," Nationals manager Matt Williams said. "It's not the ideal situation we wanted to get him in there, in that type of situation. He had good work today early, and got a chance to look at him. There will be more opportunity."
He was ruled out on the field, and the call was upheld after Williams challenged the ruling.
"I've never had replay in any game I've ever played," Turner said. "So at first when he called me out, I was like, 'All right, I'm out.' And then everyone was telling me to stay on the base."
Defensively, Turner's only action came in the eighth inning when he turned a double play.
Washington's loss was its eighth in the last 10 games, and the result, combined with a Mets victory, dropped the Nationals to five games back in the race for the National League East title.
"It's great to have him up here, but we just want to try to win ballgames," right fielder Bryce Harper said. "If that's with him in the lineup or [Ian Desmond] in the lineup or [Danny Espinosa] or [Yunel Escobar] or [Anthony Rendon], I don't really care. I just want to win ballgames, and if he can help us, he should be up here."
The No. 2 prospect in Washington's farm system and No. 12 in all of baseball, Turner has well-above-average speed and impressive plate discipline that projects to an ideal leadoff hitter. In 48 Triple-A games this season, he hit .314 with 13 walks and 14 stolen bases in 16 attempts. He hit three home runs and three triples with Triple-A Syracuse.
Turner was drafted 13th in the 2014 Draft by San Diego and acquired by the Nationals along with Joe Ross in a three-team offseason trade that sent outfielder Steven Souza Jr. to Tampa Bay. He has played shortstop exclusively in the Minor Leagues, except for the past two games when he flipped to second base.
Tyler Moore was placed on the 15-day disabled list Friday retroactive to Aug. 19 after stepping on a baseball in the batting cage and spraining his left ankle prior to Thursday's game in Colorado. Aaron Barrett, who is out with a right elbow sprain and is seeking a third opinion, was shifted from the 15-day disabled list to the 60-day DL to make room on the 40-man roster for Turner.
Jacob Emert is an associate reporter for MLB.com. This story was not subject to the approval of Major League Baseball or its clubs.