Boston's Matheny adjusting to life in the pros
Son of Cards manager Mike, 2015 draftee Tate learning on the go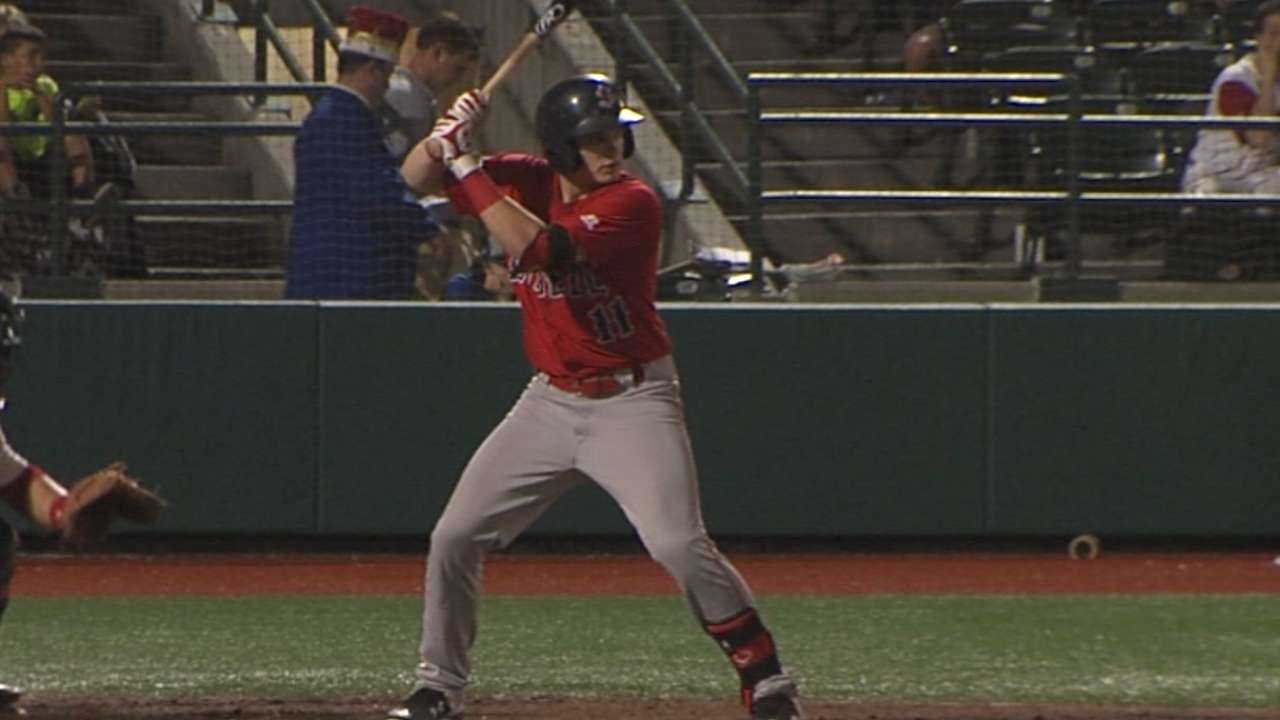 Tate Matheny isn't accustomed to struggling on the baseball field.
As the son of former big leaguer and current St. Louis Cardinals manager Mike Matheny, Tate has been known in the prospect community since his days at Westchester Christian Academy in Town & Country, Mo., where he guided the program to back-to-back Class 3 state titles during the 2011-12 seasons.
The Cardinals gave Matheny a chance to begin his professional career after high school, selecting the athletic outfielder in the 23rd round of the 2012 Draft. He instead chose to honor his commitment to Missouri State, a decision that, in his opinion, laid the groundwork for where he is today.
"Going to school was probably the best decision I've made in my life," Matheny said. "It was an awesome opportunity that [the Cardinals] gave me, but it wasn't something I was ready to do."
Matheny quickly blossomed into one of the better college outfielders in the nation during his time at Missouri State, receiving widespread recognition for his on-field success and overall consistency. Playing in each of the Bears' 139 games over three seasons, he set new program records for career hits (217), home runs (19), runs scored (127), doubles (41), RBIs (106) and total bases (325).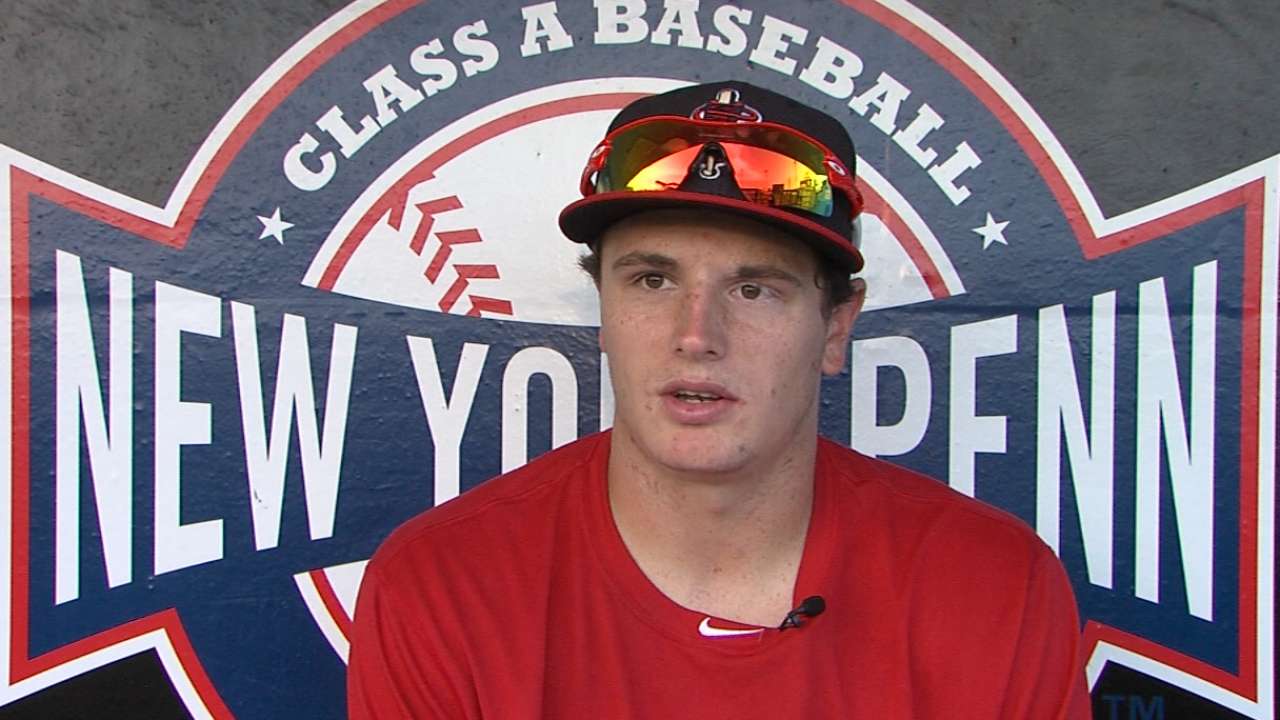 But it wasn't until this past June, when the Boston Red Sox selected Matheny in the fourth round of the 2015 Draft, that the 21-year-old realized the true impact of his decision. In three years, he had gone from 23rd-round afterthought to prized fourth-round pick.
Unfortunately, Matheny hasn't been able to relish his first taste of professional baseball this summer as much as he had hoped.
After signing, the Red Sox assigned Matheny to the Lowell Spinners of the Class A Short-Season New York-Penn League, a league that traditionally houses many of the top college picks from the most recent Draft. So far, however, the consistency that Matheny showed for the Bears hasn't translated to the professional ranks.
"I wouldn't say my bat has quite shown up yet … It just hasn't been there yet," said the right-handed-hitting Matheny, who was batting .177 with a .459 OPS and zero home runs through 35 games for Lowell.
He added, "I'm still learning to cope with it and continue to try to grind it out every day."
In his defense, Matheny has now played 96 games this year between Missouri State and the New York-Penn League, so it's not unreasonable to think that he's feeling the effects of what has become the longest and most grueling season of his career.
"It's tough -- the grind of playing every day," said the young outfielder. "I haven't adjusted to it the way I'd like, but I also know that it's still early in my career."
On top of that, Matheny, who played center fielder exclusively in college, has been working out at both corner outfield spots this summer at the request of the organization.
"I'm just continuing to learn every day at those spots," Matheny said. "It doesn't really matter to me where I play. I just want to do what every other kid wants to do and make it to the big leagues someday."
Matheny's performance this summer has left room for improvement, but it certainly hasn't detracted from his overall experience. The 6-foot, 175-pounder has particularly enjoyed getting to know his new teammates, some of whom he competed against in college, such as former Arkansas outfielder Andrew Benintendi, whom the Red Sox selected with the No. 7 overall pick in the 2015 Draft.
"He was a big rival in college, because they knocked us out in the Super Regionals and took away our chance to go to Omaha," Matheny recalled.
"You know, I wasn't a big fan of his until he got here. Now we've become life-long friends. He's someone who probably will be in or at my wedding -- one of my very good friends now."
Benintendi received a promotion to Class A Greenville over the weekend, and he announced his arrival with a pair of home runs in his second game with the Drive. Matheny is confident that one day they both will occupy the same outfield, but for now, the 21-year-old is trying to keep his situation in perspective.
"You're going to have highs, you're going to have lows," said Matheny.
"It's been tough to see my professional career begin so low, but I take it as you can only go up from here. That's the good news."
Mike Rosenbaum is a reporter for MLB.com. This story was not subject to the approval of Major League Baseball or its clubs.