Santana homers in Brewers debut
Ranked No. 4 in Milwaukee's farm system, he was acquired in Gomez deal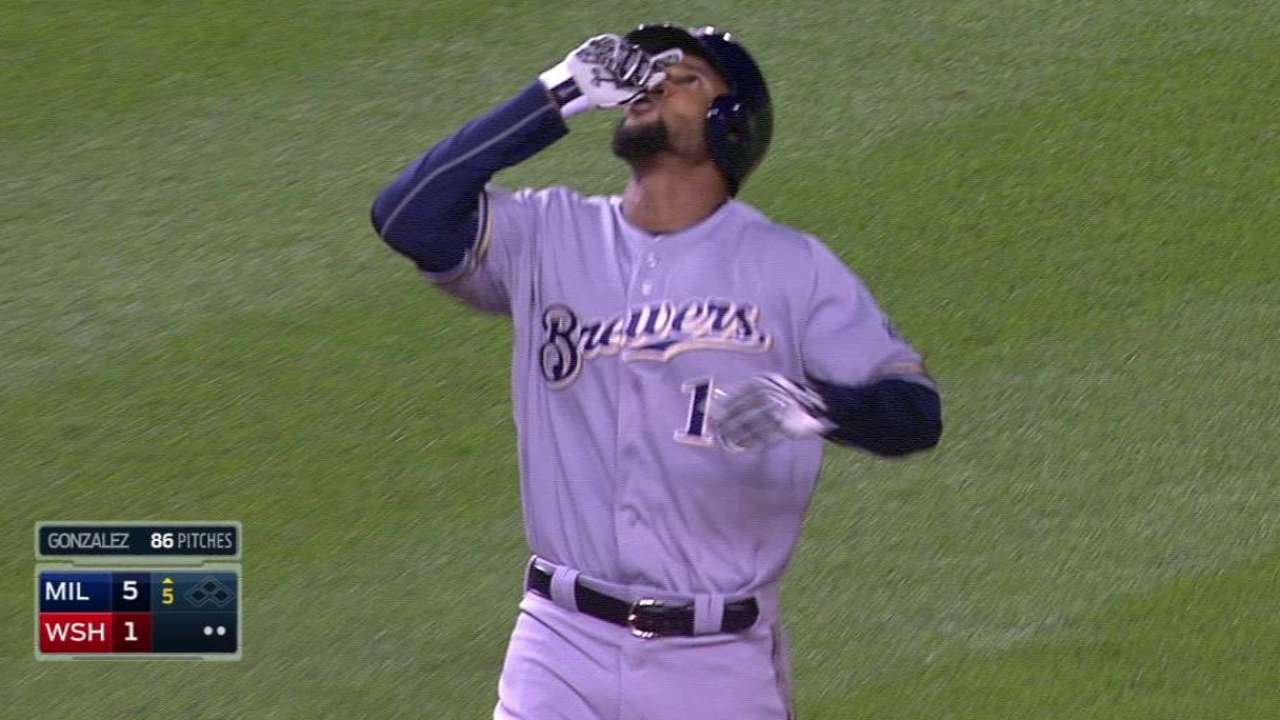 WASHINGTON -- On the same night that Mike Fiers pitched a no-hitter in Houston, the other half of last month's big Astros/Brewers trade didn't look bad, either.
Promoted from Triple-A Colorado Springs on Friday and inserted as the center fielder, Domingo Santana hit a laser beam for a two-run home run to cap a three-run fifth inning at Nationals Park, helping to seal the Brewers' 10-3 win over the Nationals. Santana, ranked No. 4 on MLB.com's list of the top Brewers prospects, became the first of the young players involved in the July 30 trade that sent Fiers and Carlos Gomez to the Astros to make it to the Majors with Milwaukee.
"I mean, this feels very nice. I feel outstanding," said the 23-year-old, who connected against Gio Gonzalez at the end of a nine-pitch at-bat. "I was just trying to look for a mistake, you know? And he finally gave up a mistake."
He spoke with a wide smile. Santana did a lot of that on Friday.
"A lot of good things happening for me," said Santana, a towering presence at 6-foot-5 and 225 pounds. "I'm really fortunate, and really looking forward to it."
A right-handed power hitter, Santana posted a .380/.424/.544 slash line for Colorado Springs after the trade, with two home runs and 18 RBIs in 20 games. Combined with his Minor League time in Houston's system, he has 18 home runs, 77 RBIs and 108 strikeouts in 95 Triple-A games this season. Santana has already seen some big league action, going 10-for-56 (.179) with two homers and eight RBIs in 20 games with the Astros over the past two seasons.
His position for his Brewers debut presented a wrinkle. Santana had only appeared in center field 13 times in his professional career before Friday, including on just three occasions between the Majors and Minors this season. But that's where manager Craig Counsell slotted Santana on Friday for the opener of a three-game series against the Nationals.
When Santana appeared in Colorado Springs' starting lineup the day before as the center fielder, he had a hunch something was up. Santana was informed after the game that he'd been promoted.
"He's earned it with his play," Counsell said. "It's going to be a challenge with playing time, I think. He's going to play. He's not going to play every day, but he'll get plenty of at-bats. He's a corner outfielder. So to get his bat in the lineup some other times, we're going to play him in center field. It's not his natural position, but … I think it's important that we start getting him big league at-bats."
Santana primarily played left field for the SkySox, but Khris Davis has been manning that position and has three multihomer games this month. Right field is manned by Ryan Braun. The Brewers have lately been using Shane Peterson in center, but Peterson is more of a corner outfielder himself.
"Much like Shane," Counsell said, "we'll see how it goes. We're in a little bit of a 'We'll see' mode."
Santana also could help Milwaukee fill the designated-hitter slot for games in Cleveland on Tuesday and Wednesday. He took the roster spot vacated when the Brewers placed pitcher Tyler Cravy on the 15-day disabled list Wednesday with a right elbow impingement.
As Santana arrived Friday afternoon, the Brewers sat 18 games under .500 and in last place in the National League Central, while the Astros were 10 games over .500 and atop the American League West. Was Santana sorry to leave that up-and-coming organization?
"You're just trying to make a career somewhere," he said. "I know I got back a lot of things from the Astros. It was really fun playing there, a really great environment, a winning environment. But you always want the best for you and your family. I think this is the best opportunity for me and my family."
Will he start again Saturday? "I have an idea," Counsell said with a smile, "but I'm going to wait."
Adam McCalvy is a reporter for MLB.com. Follow him on Twitter @AdamMcCalvy, like him on Facebook and listen to his podcast. This story was not subject to the approval of Major League Baseball or its clubs.