Braves' Olivera reigns as top fantasy prospect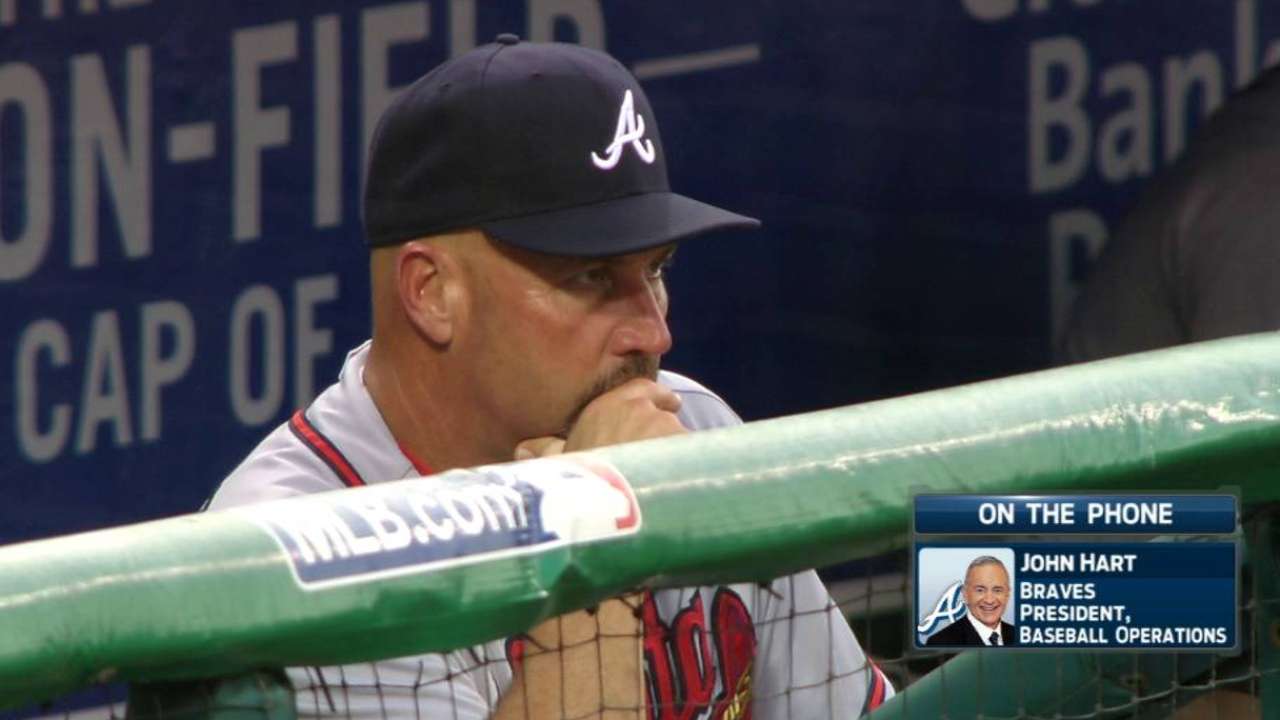 Every week, the MLBPipeline.com crew will rank the top 10 fantasy baseball prospects in the Minor Leagues. These rankings are based solely on expected 2015 fantasy production in the Major Leagues, in contrast to the MLBPipeline Top 100 Prospects list , which reflects long-term value in all phases of the game.
Byron Buxton's first taste of the Major Leagues turned out to be short-lived, as MLBPipeline's top-ranked prospect appeared in 11 games before landing on the disabled list on June 26 with a sprained thumb -- an injury that would sideline him for the better part of two months.
The Twins optioned Buxton to Triple-A Rochester when he was finally cleared to play, ensuring that the 21-year-old center fielder would at least receive regular at-bats before an inevitable return to the big leagues in September.
That plan changed this week with Aaron Hicks' injury, though, as the Twins recalled Buxton, who was batting .400/.441/.545 with 22 hits in his first 13 games back, for Thursday's game against Baltimore.
Batting leadoff, Buxton went 1-for-6 with a run scored in Minnesota's lopsided 15-2 win over the Orioles at Camden Yards.
1. Hector Olivera, 2B/3B, Braves (last rank: 1). Olivera had his rehab assignment moved up to Triple-A Gwinnett on Thursday after a four-game stint at Class A Rome, during which he collected one hit in 12 at-bats. The 30-year-old Cuban infielder, who was acquired from the Dodgers last month, went 2-for-3 with a walk and played third base in his International League debut. The Braves are considering calling up Olivera as early as Monday, and fantasy owners can only hope that actually transpires given his multicategory upside over the final month-plus of the season.
2. Corey Seager, SS/3B, Dodgers (last rank: 7). With Jimmy Rollins enjoying his best month of the season and Chase Utley now in the fold, it's becoming increasingly clear that the Dodgers have no desire to rush Seager to the Major Leagues. The 21-year-old's power has been on the decline during the second half of the season -- he's hit just three home runs in his past 39 games for Triple-A Oklahoma City -- although he's continued to hit for average and reach base at a favorable clip. Seager is no longer a lock to join the Dodgers when rosters expand in September, but the fact that he's started two of his past three games at third base indicates that his time might be soon.
3. Michael Fulmer, RHP, Tigers (last rank: unranked). Viewed as the key return for the Tigers in the Yoenis Cespedes deal, Fulmer owns a stellar 1.97 ERA, 1.07 WHIP and 107/27 strikeout-to-walk ratio this season in 109 2/3 innings between High Class A and Double-A. Fulmer, who features an explosive fastball in the mid- to upper-90s fastball as well as plus slider, has yielded just three runs in 16 2/3 innings since joining Double-A Erie. The 22-year-old right-hander could be making his debut before long, too, as he's reportedly one of the top candidates to replace injured starters Daniel Norris and Anibal Sanchez in Detroit's rotation.
4. Archie Bradley, RHP, Diamondbacks (last rank: unranked). After spending nearly two months on the disabled list with a shoulder injury, Bradley returned to the mound on Tuesday in a rehab start for the Diamondbacks' affiliate in the Rookie-level Arizona League. The 23-year-old right-hander, who posted a 5.80 ERA over eight first-half starts in the Major Leagues, allowed two hits and three walks in four scoreless innings, striking out six. Provided he doesn't experience any setbacks in his rehab, Bradley could pick up a few wins for the Diamondbacks (and your fantasy team) down the stretch.
5. Trea Turner, SS/2B, Nationals (last rank: unranked). It seems as though nothing will hold back Turner from reaching the Major Leagues in his first full professional season. The 22-year-old shortstop owns an impressive .322/.370/.458 batting line this season through 116 games, while his 68 runs scored, 39 extra-base hits, 54 RBIs and 29 steals in that span highlight his huge fantasy upside. The Nationals' recent struggles have them four games back of the Mets in the National League East, but calling up Turner, who has now started back-to-back games at second base at Triple-A Syracuse, could give the club's offense a much-needed boost.
6. Jose Berrios, RHP, Twins (last rank: 5). The Twins passed on another opportunity last week to promote Berrios, instead calling on Tyler Duffey to make his second Major League start. That Duffey has pitched well in his last two outings (13 2/3 IP, 2 ER, 15 K) won't improve Berrios' chances of receiving a callup. However, the 21-year-old right-hander has nonetheless made a strong case for late-season audition with the Twins, posting a 2.25 ERA with 39 strikeouts and eight walks over his past 40 innings (six starts).
7. Joey Gallo, 3B/OF, Rangers (last rank: 8). Gallo offered a glimpse of his immediate fantasy value in his first taste of the Major Leagues, producing five home runs, 13 runs scored and 13 RBIs in 25 games with the Rangers. However, the 21-year-old slugger has batted just .200/.298/.479 and struck out 72 times in 43 games since moving down to Triple-A Round Rock, with 13 home runs in that span. Gallo might not receive regular playing time the rest of the way, but even a few at-bats here and there should allow him to add to his home run total.
8. Dalton Pompey, OF, Blue Jays (last rank: 2). Pompey struggled mightily during the first two months of the season, first in the Major Leagues and then at Triple-A Buffalo, and it wasn't until a demotion to Double-A New Hampshire in early June that the 22-year-old switch-hitter finally got back on track. Kevin Pillar's defense has enabled him to stay in the lineup despite a .184/.241/.214 batting line after the All-Star break. Pompey, on the other hand, has batted .331/.424/.421 with more walks (20) than strikeouts (15) in 31 games since rejoining Buffalo, while continuing to see time in both center and right field.
9. Jose Peraza, IF/OF, Dodgers (last rank: unranked). It wasn't long after Peraza was traded to the Dodgers that he found himself in the Major Leagues filling in for an injured Howie Kendrick at second base. He played two games -- collecting a triple in six at-bats -- before he was optioned back to Triple-A Oklahoma City. The 21-year-old should rejoin the Dodgers next month in a reserve role, as he's seen time at second base, shortstop and center field since coming over from the Braves.
10. Nomar Mazara, OF, Rangers (last rank: unranked). The Rangers promoted the 20-year-old Mazara to Triple-A Round Rock earlier this week after learning that Leonys Martin could miss the remainder of the season with a fractured hamate bone. Mazara, who doesn't turn 21 until April, posted an .800 OPS with 13 home runs and 22 doubles over 111 games with Double-A Frisco, and he's collected five hits in 13 at-bats since joining Round Rock.
Dropped out: Byron Buxton, OF, Twins (last rank: 3/promoted); Micah Johnson, 2B, White Sox (last rank: 6); Robert Stephenson, RHP, Reds (last rank: 9); Rob Refsnyder, 2B, Yankees (last rank: 10).
Mike Rosenbaum is a reporter for MLB.com. This story was not subject to the approval of Major League Baseball or its clubs.