Robertson among 10 top prospect performers Thursday
Rays No. 5 prospect records a career-high 4 hits for Double-A Montgomery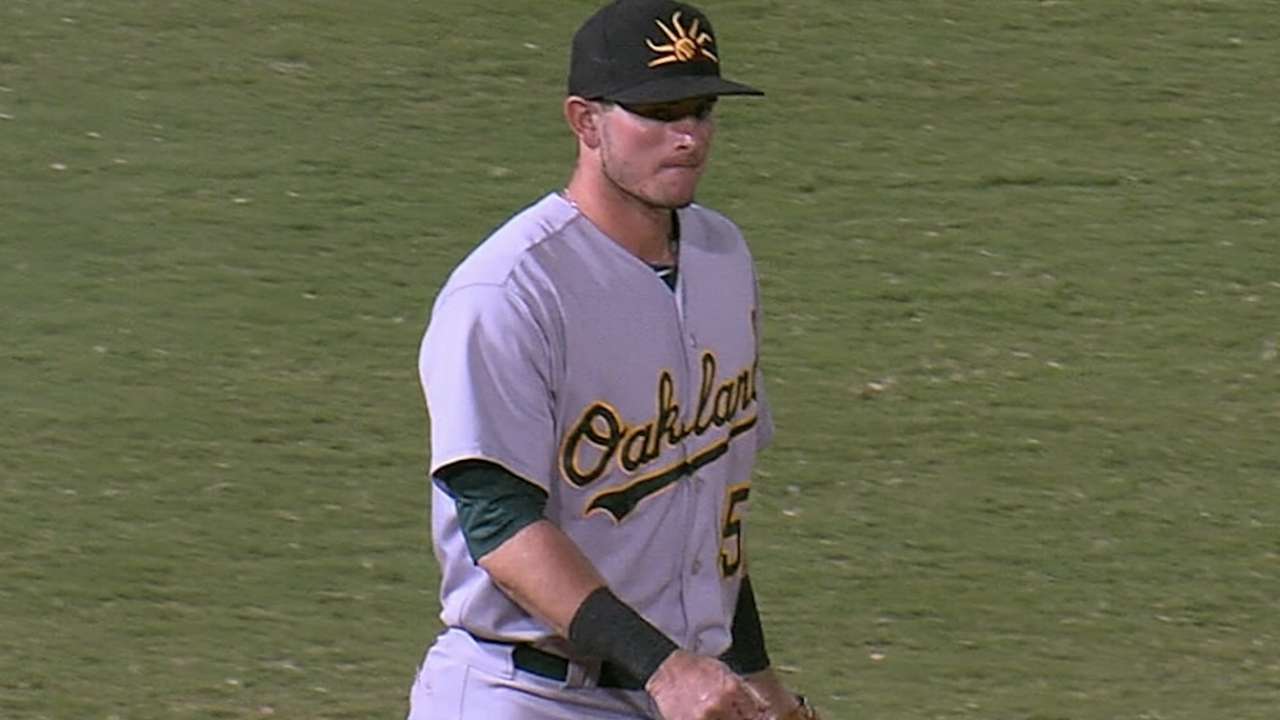 Daniel Robertson is getting comfortable, which is great news for Double-A Montgomery.
The Rays' No. 5 prospect (No. 89 overall) had a career-high four hits in Thursday's 17-4 blowout win over Tennessee. In the lineup as the designated hitter, Robertson finished 4-for-6 with two doubles, a two-run homer and four RBIs.
He's hit in eight straight games, and has three multi-hit contests since returning from a broken hamate bone in his left hand on Aug. 4.
"Once I was up here, it took me a couple more games to settle in," Robertson told MiLB.com. "All in all, it's baseball. I'm just trying to have fun. When you're away from the game for two months, it puts thing into perspective."
Montgomery also got a strong performance from starter -- and No. 6 prospect -- Taylor Guerrieri.
The 6-foot-3 right-hander allowed one run on three hits in five innings of work and struck out three. He's 2-1 with a 2.35 ERA in five starts since getting a promotion from Class A Advanced Charlotte in late July.
The rest of the 10 best performances from top Minor Leaguers
• D-backs No. 1 prospect (No. 11 overall) Dansby Swanson went yard for the first time in his pro career on Thursday night. The top overall pick in this June's Draft swatted a three-run shot in the eighth inning of Class A Short Season Hillsboro's 5-3 loss to Boise. He finished the night 1-for-4, bumping his batting average up to .172 after seven games with the Hops. His three RBIs were a new career-high for the 21-year-old shortstop, who now has two doubles, a triple, a homer and eight RBIs for Hillsboro.
• Dodgers farmhand Alex Santana went off for Rookie Level Ogden, going 4-for-5 with a triple, two homers and a career-high six RBIs in the Raptors' 13-8 win over Helena. A second-round pick by the Dodgers in 2011, Santana spent most of this season with Class A Great Lakes -- where he hit .238/.282/.324 with four homers -- before getting sent to Ogden on Aug. 9. His previous career-high was four RBIs, which he had accomplished twice.
• Giants No. 15 prospect Andrew Suarez made a splash in his debut for Class A Advanced San Jose. The southpaw allowed just one hit while striking out five in four shutout innings, continuing a strong season that's featured just four earned runs in 28 1/3 total innings. San Francisco drafted Suarez No. 61 overall this summer after an excellent career at the University of Miami. The former Hurricane received third-team All-ACC honors this spring after posting a 9-2 record in 15 starts.
• Mariners No. 7 prospect Tyler O'Neill moved into sole possession of third place in the Minor League home run race. The designated hitter cracked his 28th homer of the season for Class A Advanced Bakersfield, vaulting him past Double-A Chattanooga's Adam Brett Walker. He's only one behind Double-A Corpus Christi's A.J. Reed for second and two behind the Minor's overall leader - - Triple-A Louisville's Adam Duvall. O'Neill has been on a tear over the past month, ripping 12 dingers since returning from the Pan-Am Games on July 23.
• Nationals No. 1 prospect (No. 3 overall) Lucas Giolito picked up his second win for Double-A Harrisburg, collecting five strikeouts against five hits, three walks and one earned run in five innings of work. The 6-foot-6 right-hander moved to 2-1 with 3.77 ERA in five starts for the Senators. Giolito missed the first month of the season while in extended Spring Training to limit his innings this year and then recorded a 3-5 record with a 2.71 ERA in 13 appearances for Class A Advanced Potomac before getting a promotion to Double-A in late July.
• Orioles farmhand Mikey O'Brien was dominant for Class A Advanced Frederick on Thursday night, tossing a seven-inning no-hitter as the Keys took down Lynchburg, 2-0. The 5-foot-11 right-hander struck out nine batters while allowing just one walk as he breezed through seven frames. He has not surrendered an earned run in his past three starts, a total of 19 1/3 innings. Thursday's performance puts him at 3-4 with 1.76 ERA in 10 appearances for Frederick. O'Brien was a ninth-round Draft pick by the Yankees out of high school in 2008 and spent time in several farm systems -- most recently Tampa Bay this season -- before the O's signed him on May 31.
• Rockies No. 1 prospect (No. 10 overall) Brendan Rodgers recorded his third multi-hit game in his past four contests for Rookie Level Grand Junction, finishing 3-for-5 with a triple and two RBIs. Drafted No. 3 overall this June, the shortstop is hitting .259 with three doubles, two triples, two homers and 15 RBIs in 30 games for the Rockies. Thursday snapped an eight-game streak without an RBI for the 19-year-old.
• Rockies No. 28 prospect Helmis Rodriguez couldn't quite make history for Class A Asheville in a 3-1 win on Thursday night. The lefty hurler had Rome on the ropes with a no-hitter through 8 1/3 innings, but gave up a double to Luke Dykstra. Yoely Bello relieved Rodriguez and allowed a triple to Ryan Stephens as the Braves tied the game, 1-1. While he fell a bit short of nine no-hit innings, Rodriguez still turned in perhaps his best performance of the season. The 22-year-old struck out four while allowing four walks in the longest outing of his career. The Venezuelan did not earn a decision on Thursday so his record remains 8-7. However, he cut his ERA from 3.86 to 3.68 through 24 starts for the Tourists.
Alex M. Smith is a reporter for MLB.com. This story was not subject to the approval of Major League Baseball or its clubs.