Braves impressed by Foltynewicz's ability
Right-hander struggles in loss, but displays electric arm against Cubs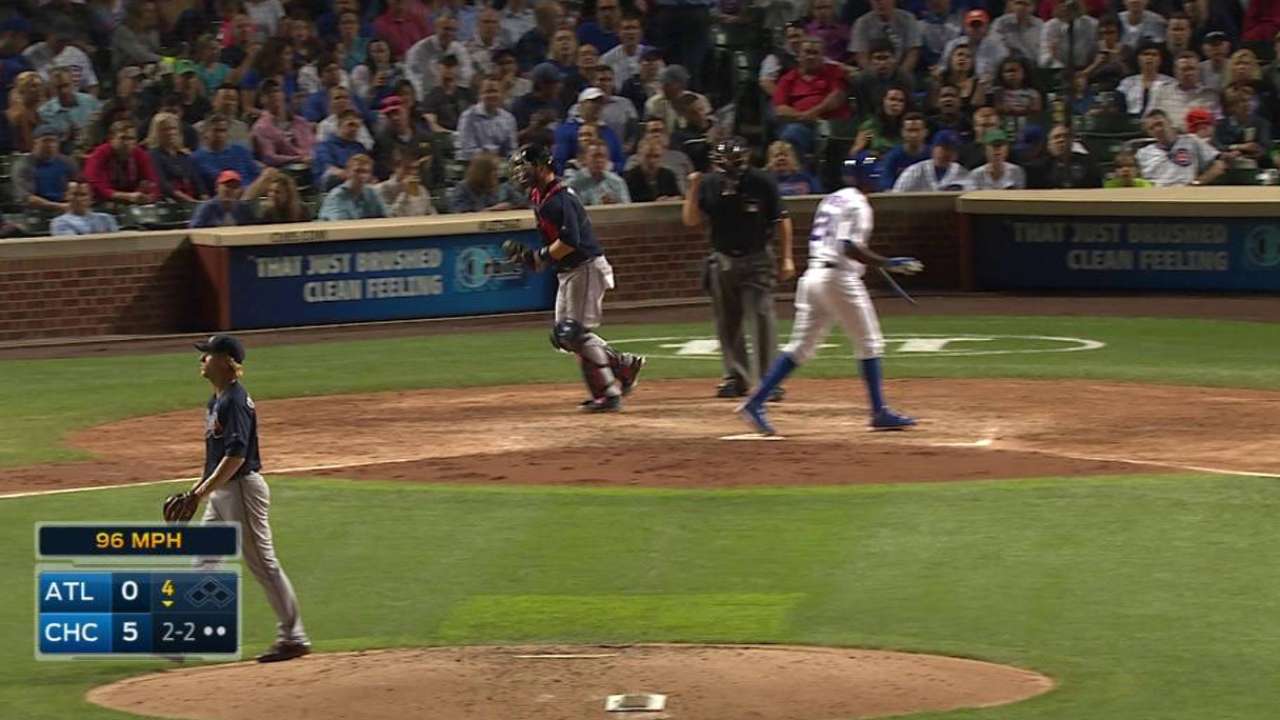 CHICAGO -- The Braves are quite confident Mike Foltynewicz has the stuff and makeup necessary to become an intimidating and effective late-inning reliever. At the same time, they know that he has a special arm that could also prove quite effective as a starter if they simply remain patient and allow him to learn from outings like one he produced during Thursday night's 7-1 loss to the Cubs at Wrigley Field.
"I told Folty to be proud of the way he threw tonight," Braves catcher A.J. Pierzynski said. "I know he gave up some runs. The linescore didn't match what he had tonight. But this was definitely a step in the right direction."
It is unusual for such complimentary words to be expressed about a pitcher who had just surrendered seven earned runs and eight hits in just 4 2/3 innings. But the sentiment was aimed more toward the overpowering stuff Foltynewicz displayed, while mixing a fastball that consistently registered 97-99 mph with an occasionally nasty slider that right now is just a little too inconsistent.
"The first two innings might have been the best two innings I've seen him throw," Braves manager Fredi Gonzalez said. "That's the first time through the lineup. Now we've got to get him to pitch the second time through the lineup and develop that."
If attempting to make an immediate evaluation to determine Foltynewicz's long-term role, it would be easy to simply stamp him as a setup man or closer. But with nothing but pride and future development to play for the rest of this season, the Braves are fortunately in a position to allow the hard-throwing rookie to spend the rest of the season in the starting rotation, where he can attempt to make the same adjustments that the likes of John Smoltz or Jake Arrieta (the Cubs' starting pitcher on Thursday) made early in their careers.
After getting ejected for arguing balls and strikes in the third inning, Gonzalez returned to the clubhouse and watched Arrieta extend his recent dominance -- 1.26 ERA in his past 12 starts. In the process, he looked up the numbers Arrieta produced during his early years and gained the sense Foltynewicz has the potential to develop in the same successful manner.
"It's like somewhere down the line, Jake figured out how to pitch and I think that is where we are with Folty," Gonzalez said. "He pitched two innings and then all of the sudden, we've got to go the second time through the lineup."
Foltynewicz surrendered three hits in the third inning, including a three-run homer that Anthony Rizzo managed to hit on a 98-mph fastball that caught just the inside edge of the plate.
"It probably got an inch of the plate, but during that first at-bat against him, I didn't show him anything else but a fastball," Foltynewicz said. "So, I think he just went up there and looked for it. Sometimes, you have to tip your cap when you can turn on 98 like that."
Foltynewicz's recognition of the importance of learning how to navigate his way through a lineup multiple times appears to be a step in the right direction. Now, he'll have time to lower the 6.04 ERA he's produced through his first 14 career starts.
"He did a lot of good things tonight," Pierzynski said. "Unfortunately, the numbers don't dictate that."
Mark Bowman is a reporter for MLB.com. This story was not subject to the approval of Major League Baseball or its clubs.