True ace: Archer answers call and then some
With Rays needing a strong start, righty delivers one-hit shutout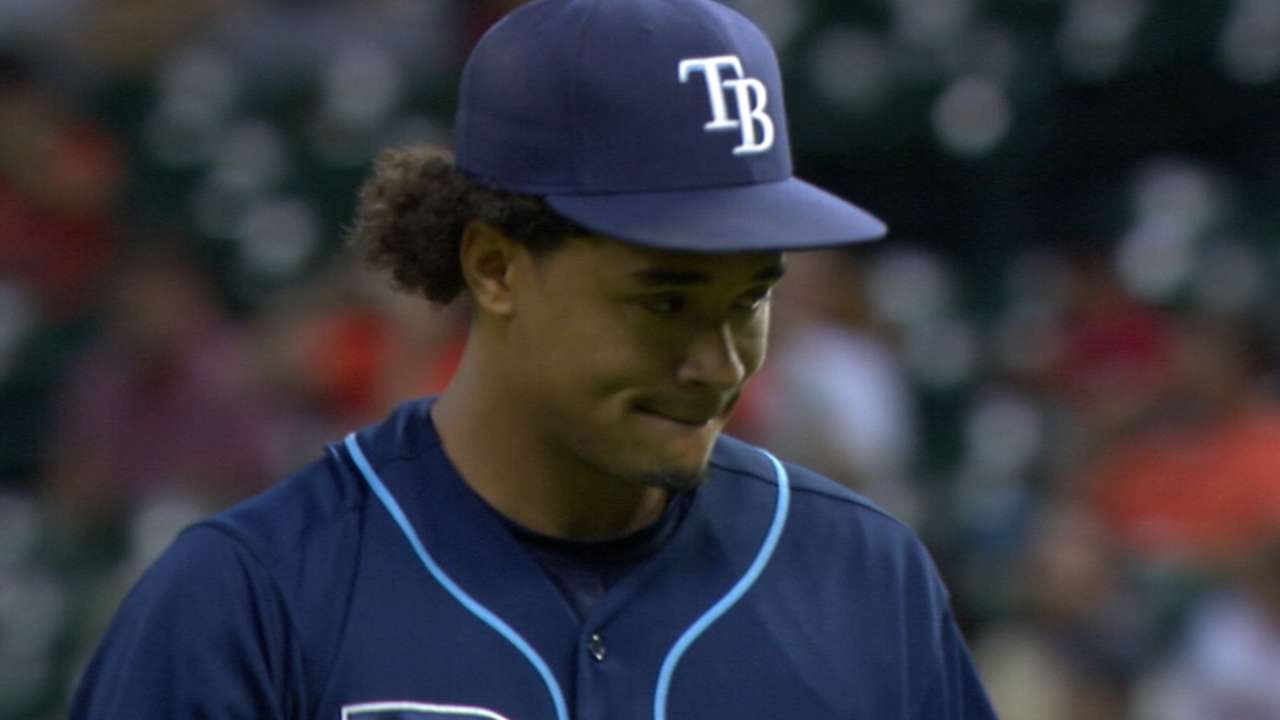 HOUSTON -- Chris Archer played the role of No. 1 to the hilt Thursday night, crossing off all the items on a staff ace's wish list in the Rays' 1-0 win over the Astros.
Archer pitched a shutout, he earned his team a split of the four-game series against a tough opponent, he saved the bullpen and he rebounded from a tough outing.
Pretty nice work for nine innings.
Archer's line read like a pitcher's dream: No runs on one hit and a walk with 11 strikeouts, and all on just 98 pitches. He became the fifth pitcher in the Wild Card era to strike out 11 or more on fewer than 100 pitches during a nine-inning complete game.
"I'm human," Archer said. "So I thought about the fact that our bullpen needed to breathe a little bit. It was either get 130 pitches and go six or seven or go eight or nine and give everybody a complete blow. But yeah, I thought about it.
"I didn't really let it affect how I was pitching. I pitched normal with the same mentality, but I knew that was going to be important."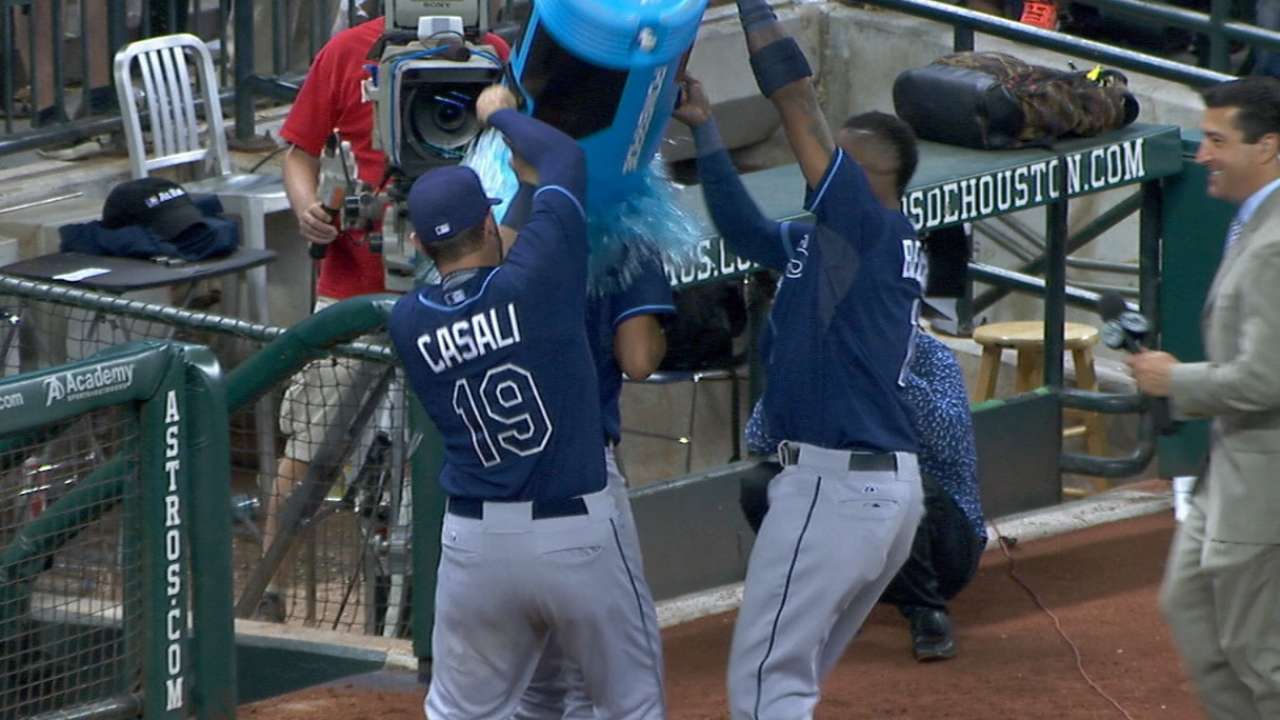 Archer's previous start came Saturday in Texas, and the Rangers roughed him up to the tune of eight runs (seven earned) on 11 hits in 5 1/3 innings.
"You guys always ask which is the best of Arch," Rays manager Kevin Cash said. "I can't say that that was the best, but that's got to be right up there at the top, simply because it was kind of like an ace knowing what we were faced with. Our bullpen being stretched out the past couple of nights. He kind of took the game on his shoulders and delivered.
"He was incredibly sharp. For him personally to bounce back from the Texas start the way he did shows a lot about him."
Archer's 11 strikeouts pushed him past the 200 milestone on the season (205 overall) to join Scott Kazmir, David Price and James Shields as the only pitchers in Rays franchise history to record 200 strikeouts in a season.
After walking Jose Altuve on four pitches to start the first inning, Archer didn't allow negative thoughts to creep into his mind, but he did go over a few "reminders." Those reminders led to strikeouts of Marwin Gonzalez and Carlos Correa before Altuve got thrown out attempting to steal second for the third out. He then retired the next nine hitters he faced before Colby Rasmus broke the spell with a single to right to lead off the fifth.
Looking unflappable, Archer retired the final 15 batters he faced to finish off his first shutout since July 27, 2013, against the Yankees in New York.
Archer's third career shutout snapped a string of 154 games without a shutout by the Rays dating back to Drew Smyly's 8-0 masterpiece against the Blue Jays on Aug. 22, 2014. Typical of Archer, he deferred credit for his feat, first giving some love to catcher Rene Rivera for his "unreal" pitch calling.
"Before every game I tell the catcher, 'Good finger tonight,' because -- it's kind of a joke -- but at the same time it's very important they call a good game," Archer said. "And we sat beside each other all three games leading up to tonight. And we talked about how to use my stuff against those guys. I think that really helped. Seeing the guys for three games and then three games prior to the All-Star break helped me to prepare."
Archer then paid homage to the Rays' defense, rattling off all the plays that were made behind him right up until the end when Evan Longoria charged Altuve's swinging bunt and threw out the Astros' pesky leadoff man to end the game.
"To cap the night off, the play Longo made, to put an exclamation point on it," Archer said. "This wasn't just me. It was a team effort, I just happened to be the one on the mound tonight."
And that was a good thing, because Archer did exactly what aces do when their team needs a big game.
Bill Chastain is a reporter for MLB.com. This story was not subject to the approval of Major League Baseball or its clubs.