Not a fan of Iassogna's strike zone, Girardi ejected
Yankees manager takes issue with umpire's calls on Ellsbury, McCann
NEW YORK -- Yankees manager Joe Girardi said he typically doesn't have any issues with umpire Dan Iassogna and the calls he makes, but on Thursday, that wasn't the case. Displeased with the strike zone, Girardi was ejected in the ninth inning of the Yankees' 3-2 loss to the Indians after he came out of the dugout to share a few words with Iassogna.
Iassogna had just called Brian McCann out on strikes, and after McCann spoke with Iassogna on his own, Girardi left the dugout to follow up. Girardi said he didn't say anything to Iassogna before he was ejected.
"I thought the ball was up to Mac," Girardi said. "He threw me out before I even said something. So what if I was going to go out and say, 'What was the conversation?' I don't think that's right either. Now if I say something first, that's different."
After the game, Iassogna briefly explained his side.
"I ejected Joe for leaving his position to argue balls and strikes," Iassogna said. "I was just dealing with the situation at hand, discussing it with him and getting him to leave the field and resuming the game."
After he was tossed, Girardi didn't hold back in letting Iassogna know how he felt. He was already upset with Jacoby Ellsbury's strikeout in the eighth inning, saying one of the pitches was "four inches outside." Girardi pointed out that had Ellsbury gotten on base in that at-bat, it could have changed the dynamic of the game, as Stephen Drew was on first base and the Yanks were down by two runs. Girardi used his foot to draw a diagram in the dirt to make a point, and then began to clap his hands vigorously in Iassogna's face, his frustration clearly coming through.
"I just want the strike zone to be right ... I want the strike zone to be the strike zone," Girardi said. "I know they're not going to be perfect. I understand that. But it's a real important time. And for me and that one on Jacoby, it's not like he hadn't seen [Josh] Tomlin's backdoor slider. He had seen it all night, so I took issue."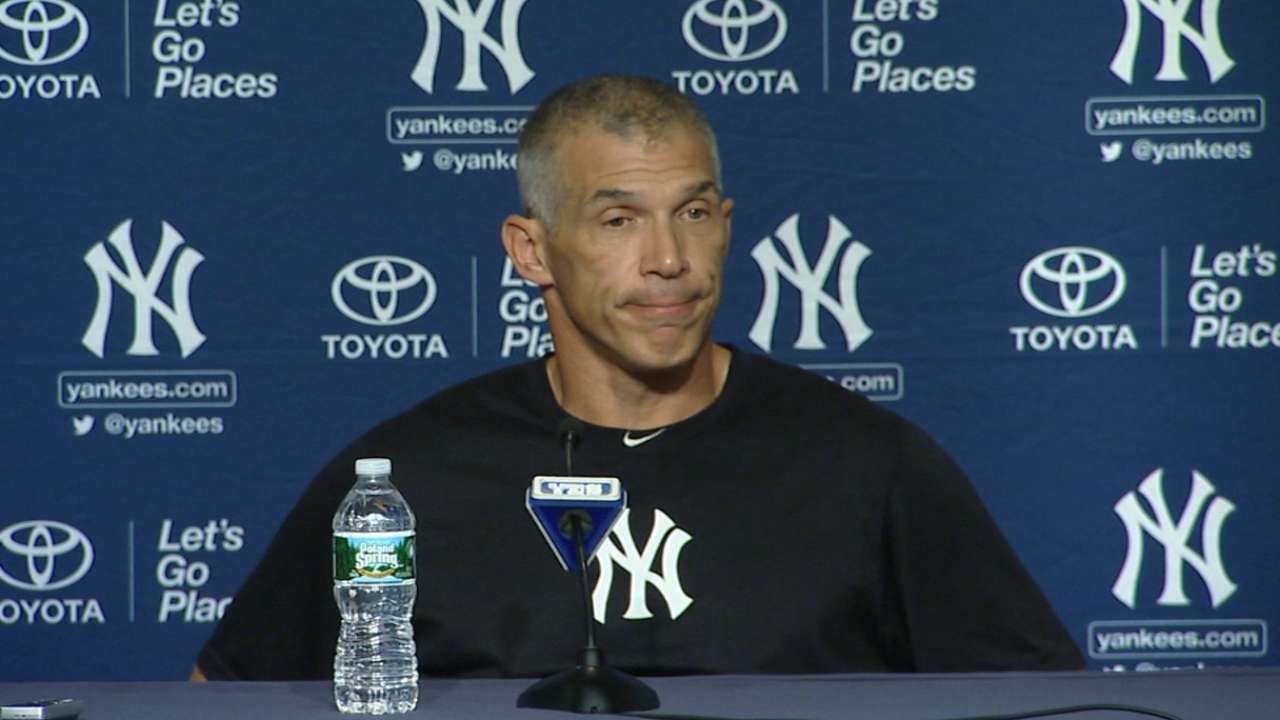 McCann, however, seemed to take no issue with the strike zone, and said the call wasn't the reason why he struck out.
"It's just, you're in the heat of a battle," McCann said. "I like Dan. I've caught in front of him for a long time and I thought the ball was up. But he's a great umpire. It's one [call]. We just had a disagreement."
McCann had no comment on the nature of Girardi's ejection and whether the manager said anything before he was tossed.
Yankees starting pitcher Ivan Nova, who took the loss after allowing three runs in five innings, said he thought some of his pitches that Iassogna called balls were strikes. But Nova didn't go into it and instead chalked up his outing to a shaky curveball and the nature of baseball.
"I guess I couldn't do it today and unfortunately we got the loss today," he said. "You're going to have a game like this. You're trying to be perfect every time you go out there. Obviously, it's not going to happen, and today's one of those days."
Grace Raynor is an associate reporter for MLB.com. This story was not subject to the approval of Major League Baseball or its clubs.