Rangers stymied by Simon's splitter
Texas held to one hit by Tigers' right-hander in 4-0 loss
DETROIT -- The Rangers' surging offense was shut down by another right-hander who throws a split-finger fastball, this time by Alfredo Simon in Thursday's 4-0 loss to the Tigers at Comerica Park.
Detroit's right-hander recorded his first career shutout with a one-hitter, and for Texas manager Jeff Banister, his club's struggles against Simon may have hinted of déjà vu. On Tuesday, the Rangers had managed just two runs over seven innings in defeat to the Mariners and Hisashi Iwakuma, who also throws a splitter.
"That's part of it," Banister said, "but it's not just the split. It's all the pitches combined, really. [Simon], like Iwakuma, had all his pitches in play. He was capable of throwing strikes, and he was able to expand just off the edge of the plate, also."
Thursday's result was a disappointing return to Detroit for Prince Fielder, who was dealt to Texas in November 2013, and an 0-for-2 night for Will Venable, who was making his Rangers debut.
Fielder grounded out on splitters in the first and sixth innings -- including an inning-ending double play -- and lined out on one in the ninth. Venable was able to work a walk in the sixth, but he was retired twice by the pitch.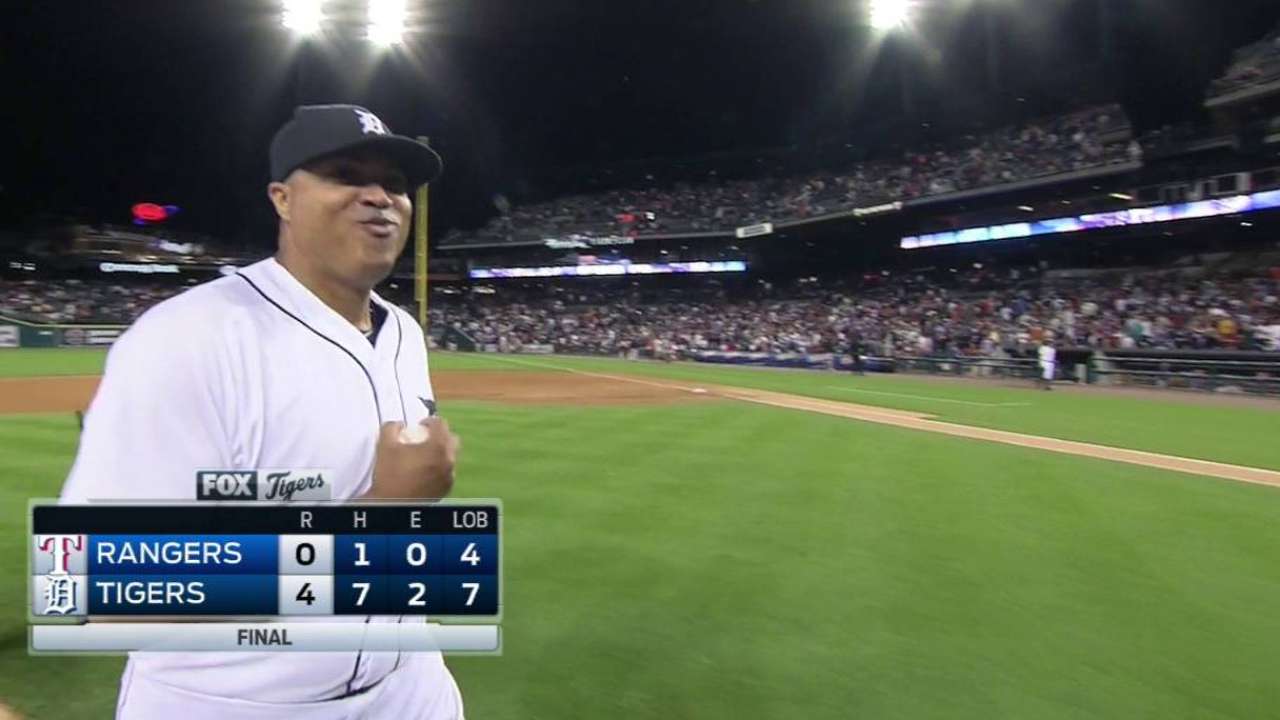 "There were splits there -- the soft breaking ball and the hard slider," Banister said of Simon. "He threw strikes. He threw strikes with all of his pitches. When a pitcher of his caliber can do that, and he's working both sides of the plate, he seemed to be getting a low strike very well -- found the range with the low strike and poured it in there. He was able to use his secondary stuff to get our hitters off the barrel."
On Tuesday, Texas plated two runs against Iwakuma -- a Rougned Odor home run and a Bobby Wilson sacrifice fly -- but managed just five hits against the Mariners' righty and struck out six times. Iwakuma also retired 13 straight batters at one point.
Simon, who entered Thursday with an 8.19 ERA over his previous 10 starts, flummoxed Texas even more. He yielded a double to Odor in the fifth and issued just two walks, and he worked around errors in the second and ninth innings.
The Rangers were shut out for the seventh time this year, and Thursday marked their third one-hit performance of the season. However, with the Angels' 8-2 loss to the White Sox, the Rangers remained 1 1/2 games back for the second American League Wild Card.
"When a guy pitches a game like that, you don't like it," Banister said. "It doesn't feel good."
Alejandro Zúñiga is an associate reporter for MLB.com. Follow him on Twitter @ByAZuniga. This story was not subject to the approval of Major League Baseball or its clubs.