With Chapman unavailable, 'pen out of sorts
Badenhop called on to work eighth as Hoover awaits ninth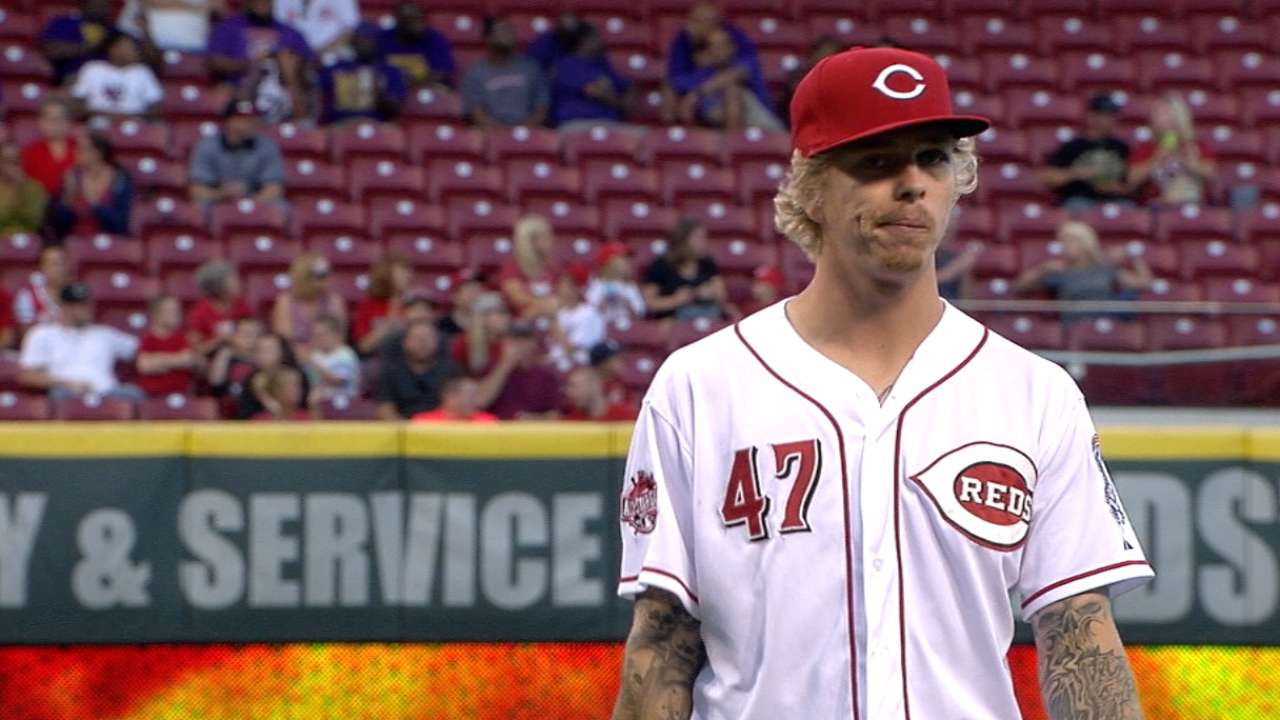 CINCINNATI -- Reliever Burke Badenhop has turned his season around quite nicely, but when the Reds lead games in the eighth, the inning usually belongs to setup man J.J. Hoover.
During Thursday night's 5-4 loss to the D-backs, Badenhop entered the eighth with a one-run lead and allowed two runs that decided the game while Hoover remained behind the bullpen door. As for closer Aroldis Chapman? It was revealed postgame that he's been unavailable the last two games because of stiffness in his left shoulder.
"The game [Chapman] had the other day against Kansas City, he never was able to get loose," Reds manager Bryan Price said after the loss. "So the last couple of days we just needed to give him treatment and rest. We're hoping with each day that goes by, that he's ready to return. We're not going to force anything, but with our bullpen limitations, we need guys to pitch deep into the games and starters to be aggressive in the zone. We need to get healthy in a hurry."
Chapman blew his second save of the season, and his first one at home since 2012, on Tuesday during a 13-inning loss to the Royals.
Between the extra-inning game on Tuesday and the need for 6 2/3 innings of relief on Wednesday, Cincinnati's bullpen was taxed. Sam LeCure had pitched two innings and Pedro Villarreal worked three innings.
Reds starter John Lamb had 97 pitches through five innings, but he was needed to return for the sixth in his second big league start. When he hit trouble with one out and the original 4-0 lead narrowed to one run, Ryan Mattheus carried through 1 2/3 scoreless innings.
"I knew Mattheus would have to pitch those sandwich innings and either way, Badenhop in the eighth and Hoover in the ninth -- win or lose," said Price, whose club is mired in a six-game losing streak. "Three healthy relief pitchers that were available. One guy who would pitch in extra innings, that was [Jumbo] Diaz, and he was hanging a little bit. Then we would have used one of the starters in extra innings if need be."
Hoover wound up working a perfect ninth inning, but his team was trailing by then. Badenhop started the eighth with Yasmany Tomas' single and was poised to get out of it until pinch-hitter Jarrod Saltalamacchia drove a double to left field. Following Ender Inciarte's four-pitch walk, A.J. Pollock's two-run single doomed the Reds.
Thus ended the longest scoreless streak of Badenhop's career -- 20 games and 18 1/3 innings -- since he was last scored against on July 3.
"It was just one pitch, a bad 0-2 pitch to Saltalamacchia -- a guy that's offensively not having a great year," Badenhop said. "I just didn't throw it. He stuck his bat out and got a good piece of it and hit it off the wall. I still had a chance to redeem myself there, but that's honestly been the best my sinker has been in terms of getting ground balls. Tomas, that's going to happen. I had a chance to get out of it but didn't make the pitch to Saltalamacchia."
Mark Sheldon is a reporter for MLB.com. Read his blog, Mark My Word, follow him on Twitter @m_sheldon and Facebook and listen to his podcast. This story was not subject to the approval of Major League Baseball or its clubs.