Ozuna hits long HR off top of left-field foul pole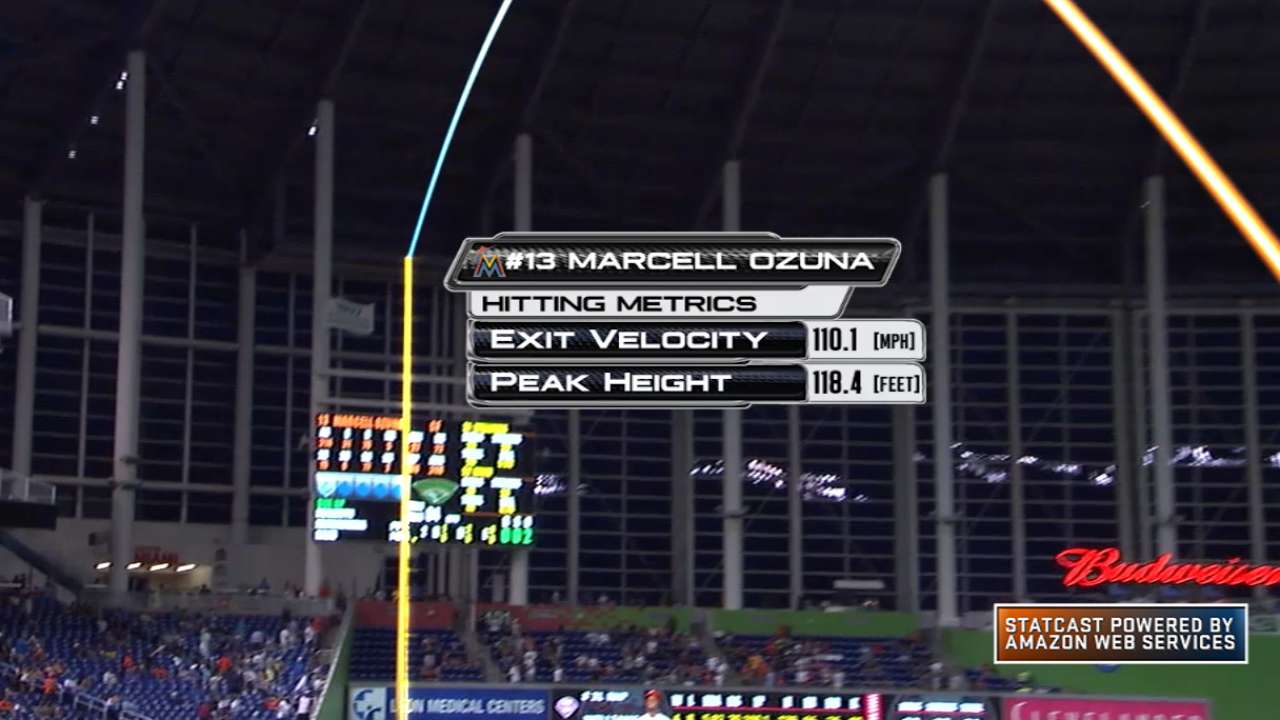 MIAMI -- Finally, Marcell Ozuna was able to circle the bases with a home run at Marlins Park. And this time there was no dispute, and the towering drive had concrete evidence that it counted.
Ozuna launched a two-run homer that bounced off the top of the 90-foot high left-field foul pole in the second inning of the Marlins' 9-7 win over the Phillies on Thursday. It was the center fielder's sixth homer of the season, and first at home.
The drive was an absolute shot.
"The ball Ozuna hit, I've personally never seen a ball hit the top of the foul pole like that, just a bomb," manager Dan Jennings said.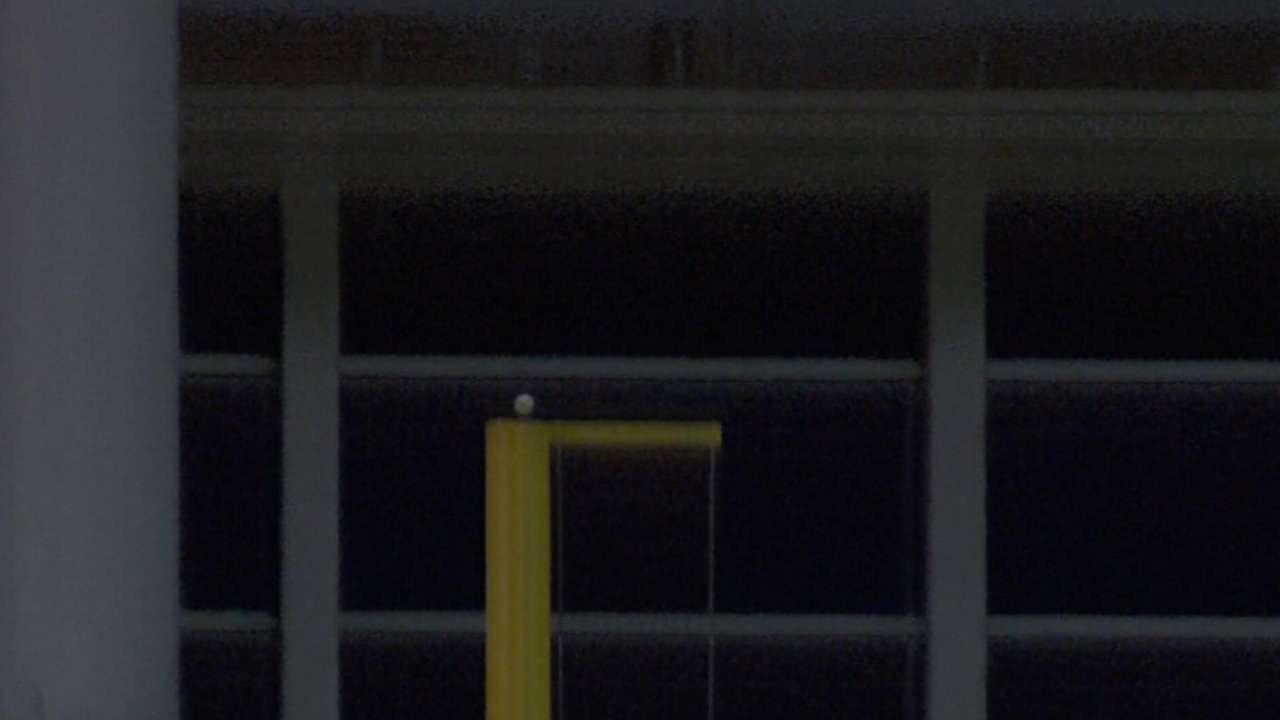 Statcast™ projected the home run off Jerome Williams traveled 434 feet from home plate, with an exit velocity of 110 mph. The launch angle was 32 degrees.
For Ozuna, it was a fitting shot in a four-run inning, because several times earlier in the season, he's blasted balls that drifted just foul to left.
"At the beginning of the season, I hit a couple of balls that were foul balls," Ozuna said. "Then, one time, it was ruled fair. Then they made a review and they called it foul."
That agonizing moment came in the fourth inning on June 12 against Kyle Kendrick of the Rockies. Ozuna connected on a drive that was near the pole. Initially it was rule fair, and the 24-year-old circled the bases as if he had homered.
But after a review, the call was overturned. Ozuna regrouped and delivered a single on the extended at-bat.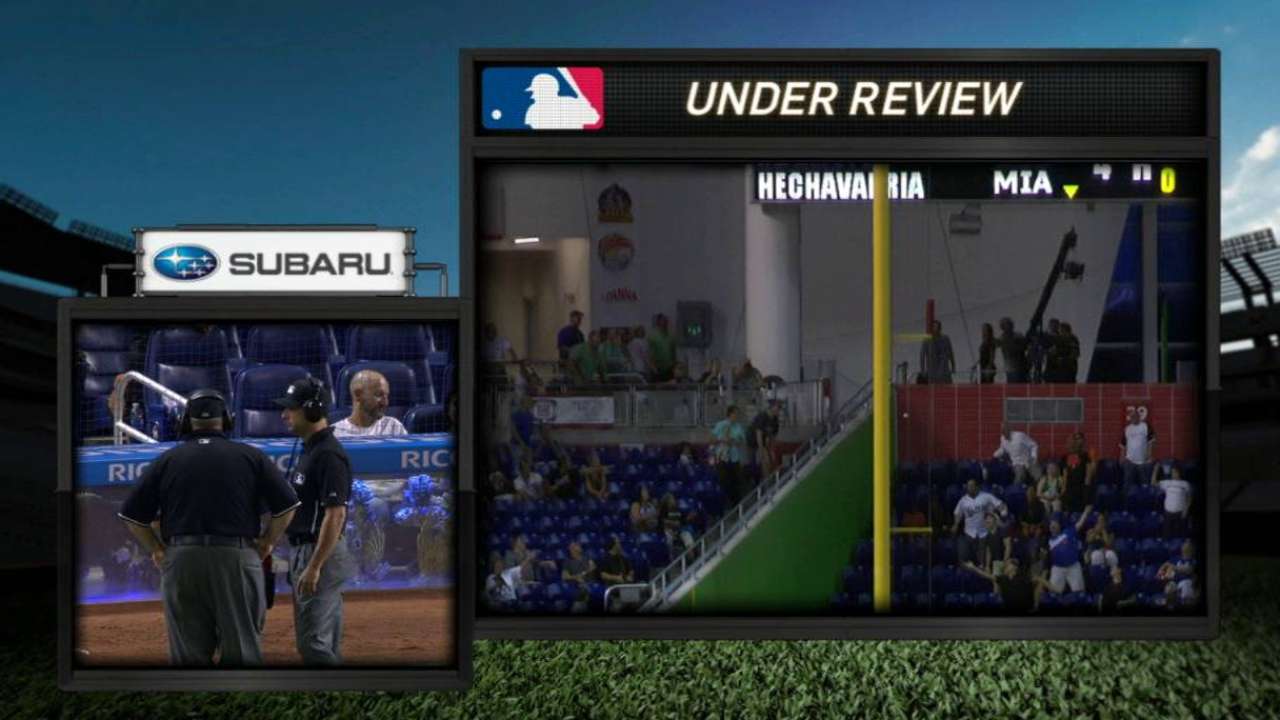 The foul pole worked in Ozuna's favor on Thursday.
"I thought that one was going to be foul, but the pole helped me," said Ozuna, who has homered in consecutive games. "It was a pretty good feeling at home plate. Get yourself ready and let it fly."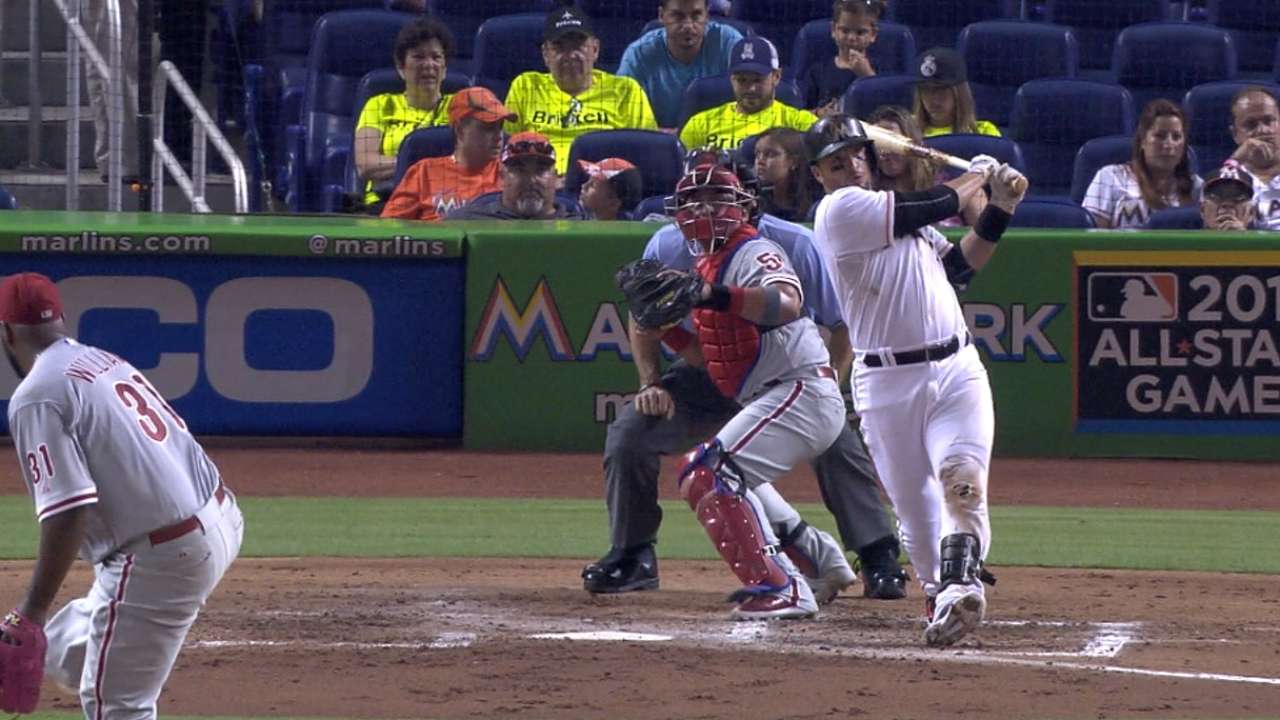 It's been an up-and-down season for Ozuna, who belted 23 homers last year, and has the reputation of being a streaky hitter.
He spent more than a month in Triple-A New Orleans, where he was working on the timing of his swing. His lower half had been moving forward too quickly, before his hands could catch up.
Ozuna got everything into his drive on Thursday.
"He was more kind of tying himself up with his swing," Jennings said of Ozuna's struggles. "Now, I think his mindset is looking away. He has such fast hands that he can adjust inside. You saw that on the ball that he hit. His approach. You see him now with much better balance."
Joe Frisaro is a reporter for MLB.com. He writes a blog, called The Fish Pond. Follow him on Twitter @JoeFrisaro and listen to his podcast. This story was not subject to the approval of Major League Baseball or its clubs.