MLB.com Columnist
Mike Petriello
The secret to Britton's unique dominance
MLB-best 79.2 percent of plate appearances end in whiff or grounder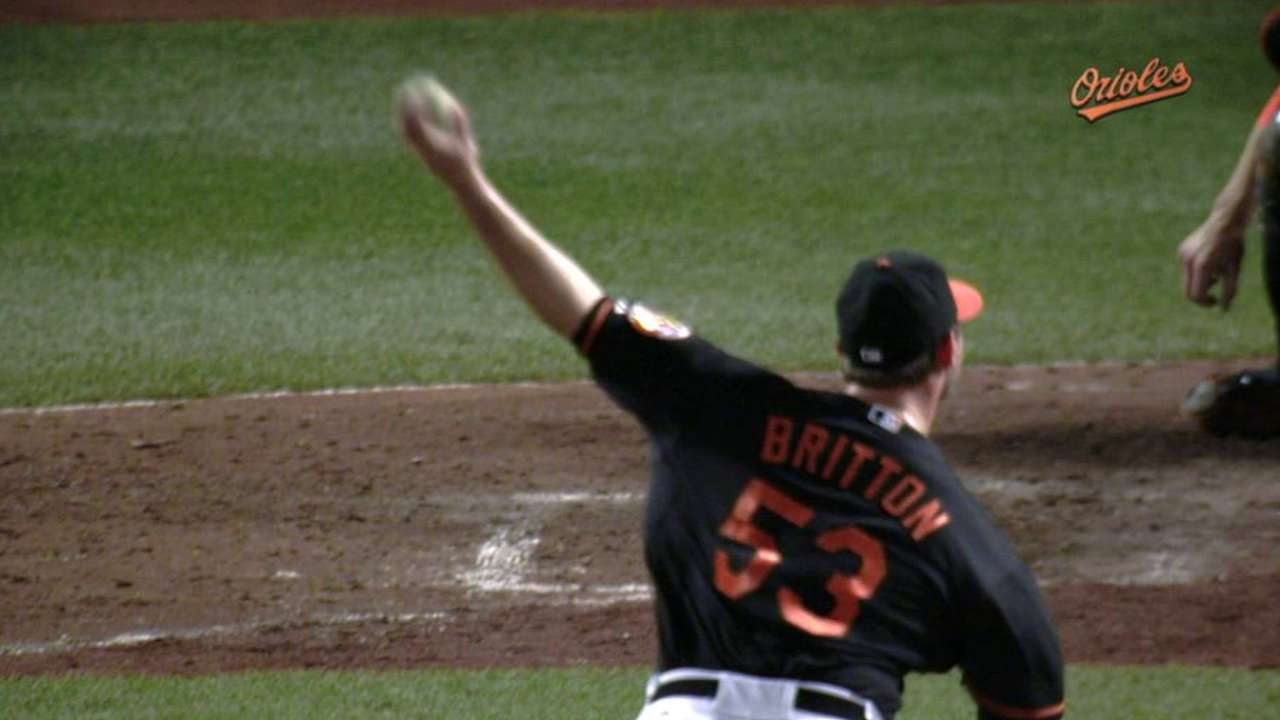 Entering the 2014 season, Zach Britton was seemingly on the verge of unemployment. After eight seasons as a starter in the Orioles' system, including parts of three with the big league team, he was unable to gain a hold on a regular job. In 40 Major League innings in 2013, he'd whiffed an unfathomably low 18 batters, giving him the third-lowest strikeout rate of any pitcher with who had appeared as often that season, and he'd been only moderately better in 103 1/3 Triple-A innings. At 26, he was out of options and nearly out of time, at least with the Orioles.
Just over 16 months later, Britton is still in Baltimore, and he no longer has to worry about job security. Though he's rarely mentioned in the top echelon of closers like Aroldis Chapman or Craig Kimbrel, Britton has transformed from a struggling starter to one of the most dominant relievers in the big leagues -- and perhaps the most unique.
We'll dig into exactly what we mean by that, but it's probably easiest to show it with a chart, which shows 2,114 pitcher-seasons of at least 40 innings pitched since 2010, measuring strikeout percentage on the vertical axis and ground-ball rate on the horizontal. You might notice that among the mass of dots right in the middle, there's one that stands out in the upper right:
So Zach Britton's having himself quite the interesting year... pic.twitter.com/eXnEvl4NQZ

— Mike Petriello (@mike_petriello) August 20, 2015
That's Britton, and that's the point. It's one thing to get grounders, as Britton did as a starter and still does now. It's another thing to have the highest ground-ball rate on record (dating back to 2002, when batted ball records were first kept), and yet another thing to pair it with a skyrocketing strikeout rate of 29 percent, up from last year's 21.8 percent and hugely from 9.8 in '13. Ground-ball pitchers just don't miss bats like that, except Britton does, and it comes just two years after a tremendously disappointing season threatened to derail his career.
So how did a middling starter turn into a reliever with an ERA of 1.80 and a FIP of 1.99, both ranking among the best in baseball? Much like Wade Davis, Britton's move from the rotation allowed him to make two adjustments. First, the ability to go all-out for an inning at a time rather than needing to pace himself for an entire start allowed Britton's velocity to skyrocket, jumping from 92-93 mph as a starter to 96.71 mph this year, fifth-highest on the Statcast™ leaderboards among the 151 pitchers who have thrown it at least 100 times.
Second, the move let him streamline his repertoire, abandoning his four-seam fastball, changeup and slider in favor of a sinking two-seamer that he now throws 90.7 percent of the time. No other non-knuckleballer with at least 40 innings has thrown any one pitch even 80 percent of the time. (Yes, Kenley Jansen has thrown his cutter 86 percent of the time, but he hasn't reached 40 innings.)
Britton's two-seamer is nasty, and it looks like this:
But "starter moves to bullpen, starts throwing his one above-average pitch harder and succeeds" was last year's story, when Britton moved from a middle relief role into the closer's spot in mid-May after Tommy Hunter was unable to get the job done. This year, Britton has managed to improve with that big strikeout jump (21.8 to 29.0 percent) and reducing his walk rate (8.1 to 5.2 percent), despite having a higher ERA in part due to worse batted ball luck (BABIP up from .215 to .304).
What that means is that Britton has an incredible 79.2 percent of his plate appearances end in either a strikeout or a grounder, two scenarios that rarely end well for the hitter. That's up from 72.9 last year, and it's easily the best mark in baseball, by quite a bit:
Percentage of plate appearances ending with strikeout or grounder (min. 40 IP)
1) Britton, 79.2
2) Brad Ziegler, 69.3
3) Carson Smith, 67.8
4) Jaime Garcia, 67.4
5) Dallas Keuchel, 67.1
How has Britton managed that? By throwing fewer strikes, believe it or not, with that two-seamer that looks like a strike right up until it doesn't. Britton has thrown fewer pitches in the zone (down to 44.0 percent from 44.8 percent), but hitters are swinging at more balls outside the zone (up to 41 percent from 34.1 percent), and thus making more bad contact (making contact on 49.4 percent of swings outside the zone, up from 42.6.)
It's hard to get by in baseball with just one pitch. It's even harder to excel. In Britton's case, being an extremely rare left-handed sinkerballer with elite velocity helps. It's helped him succeed in a way that just about no one else has.
Mike Petriello (@mike_petriello) is an analyst for MLB.com. This story was not subject to the approval of Major League Baseball or its clubs.