Fredi tossed after arguing with home-plate ump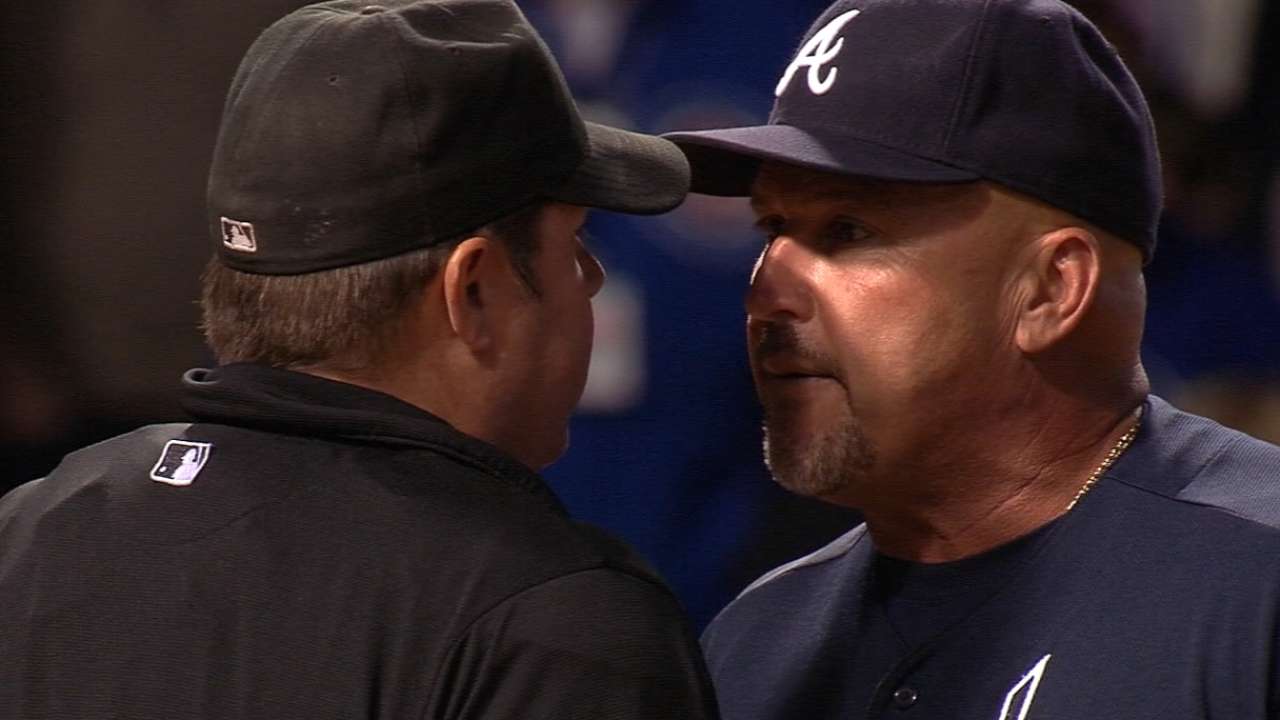 CHICAGO -- Braves manager Fredi Gonzalez expressed his anger in a colorful manner after he was ejected for arguing balls and strikes with plate umpire Doug Eddings during the third inning of Thursday night's 7-1 loss to the Cubs at Wrigley Field.
Gonzalez was ejected after reacting to Eddings' call on a 1-0 fastball that Mike Foltynewicz threw to Chris Coghlan. After being tossed, the usually mild-mannered skipper stormed out of the dugout and got in Eddings' face before offering some choice words.
Gonzalez kicked dirt around the plate and then had a few more things to say to Eddings before he retreated to the dugout.
"I just said a few things, it wasn't anything crazy or anything," Gonzalez said. "But you can't argue balls and strikes, so I got to watch the rest of the game on TV."
Gonzalez's displeasure with Eddings' strike zone began in the second inning when Anthony Rizzo drew a six-pitch walk in which two inside pitches clearly appeared to be strikes.
"I watched Folty's body language," Gonzalez said. "During Rizzo's first at-bat, I thought he made some great pitches. Rizzo stands so close to the plate that it's either going to be a strike or it's going to hit him."
Foltynewicz had limited the Cubs to just two hits before Coghlan concluded the at-bat with an RBI single. Moments later, Rizzo hit a three-run homer to give the Cubs a 4-0 lead.
Though the damage was produced immediately after the argument, Foltynewicz said he was not adversely affected in any way by the short delay.
"I think I needed a little breather there," Foltynewicz said. "It's great to see my manager has my back there. When you're out there competing and trying to win a game, it's really nice to see."
Mark Bowman is a reporter for MLB.com. This story was not subject to the approval of Major League Baseball or its clubs.