Gray impresses with confidence on mound
'I see a kid that's very much at ease right now,' Weiss says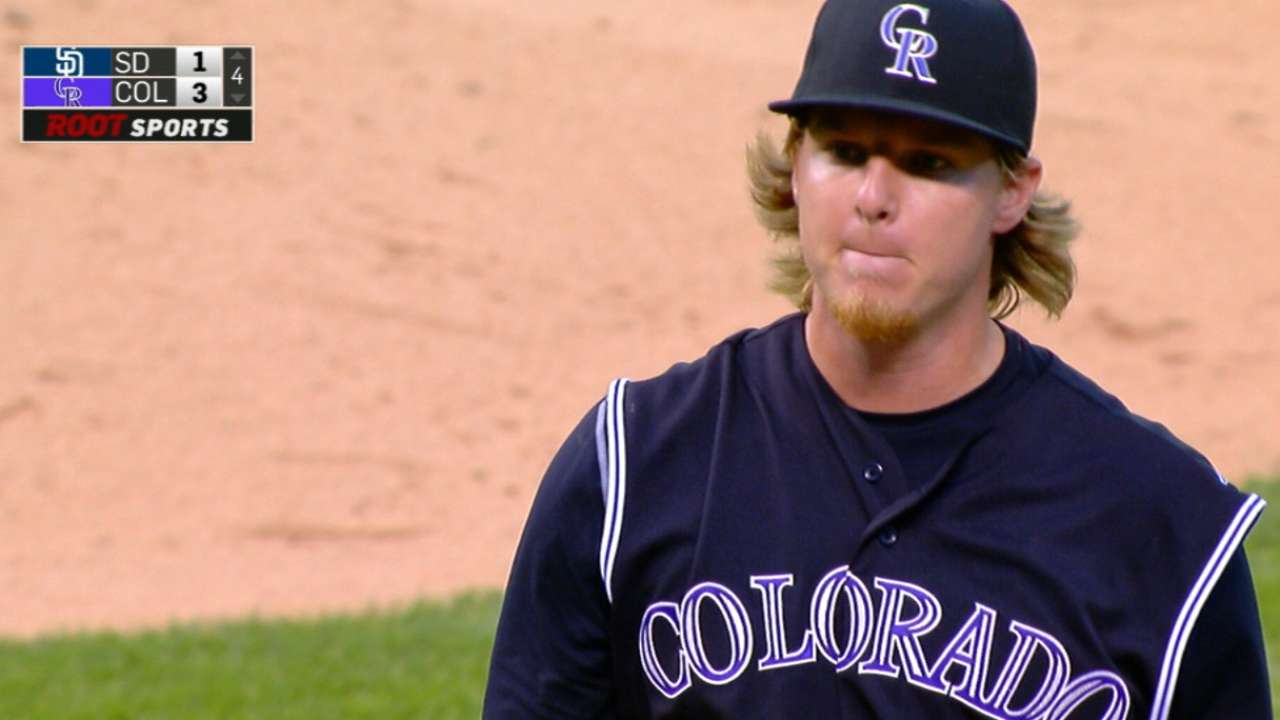 DENVER -- For the first time, Rockies rookie right-hander Jon Gray will face a team with a "book' on him when he starts against the National League East-leading Mets on Friday night. Not that any of this scares Gray, who held the Mets to one run and one hit -- a Travis d'Arnaud second-inning home run -- on Aug. 10 at Citi Field.
"It's a little different, something I haven't done before at this level," Gray said Thursday. "These guys watch video on us and we watch video on them. Maybe they're looking for what I did the first time. If I can find two or three ways to get guys out, that really would be a big help."
Since giving up two runs (one earned) and two hits in the first inning of his debut on Aug. 4 against the Mariners, Gray has given up just three runs and eight hits in 14 innings. He left his last two starts, against the Mets and against the Padres, with leads, only to see the Rockies lose.
But with the Rockies in last place in the National League West, and with Gray on a tight pitch limit -- around 75, which can be bent slightly depending on how an inning is going -- the focus is more on how Gray, the third overall pick in 2013 out of Oklahoma, is doing and how he's doing it.
The confidence Gray has shown is striking. During his last start, when he fanned five and gave up one run on four hits on five innings (69 pitches) against the Padres, he finished each strikeout with a flourish of the arm and a finishing kick with his push-off right leg.
"It was one of those games. … When you're in control, you feel it," Gray said. "You don't realize that you're pitching in the game. You're not thinking about anything else but the glove and it zooms by you. It seems like four or five innings are crammed into 20 minutes. It's crazy.
"The confidence comes out. You see good results and your body lets you know. Regardless how you want to act out there, your emotions come out at times. You're just trying to keep the negative ones out and the good ones in."
Rockies manager Walt Weiss said the confidence has grown since that rough first inning of the debut.
"I saw it in New York, too," Weiss said. "I see a kid that's very much at ease right now, very confident. He's shown the ability to control the game from the mound in his few outings up here. There's been a lot of growth in that area."
Thomas Harding is a reporter for MLB.com. Follow him on Twitter @harding_at_mlb, and like his Facebook page. This story was not subject to the approval of Major League Baseball or its clubs.