White Sox romp vs. Angels with five-run fifth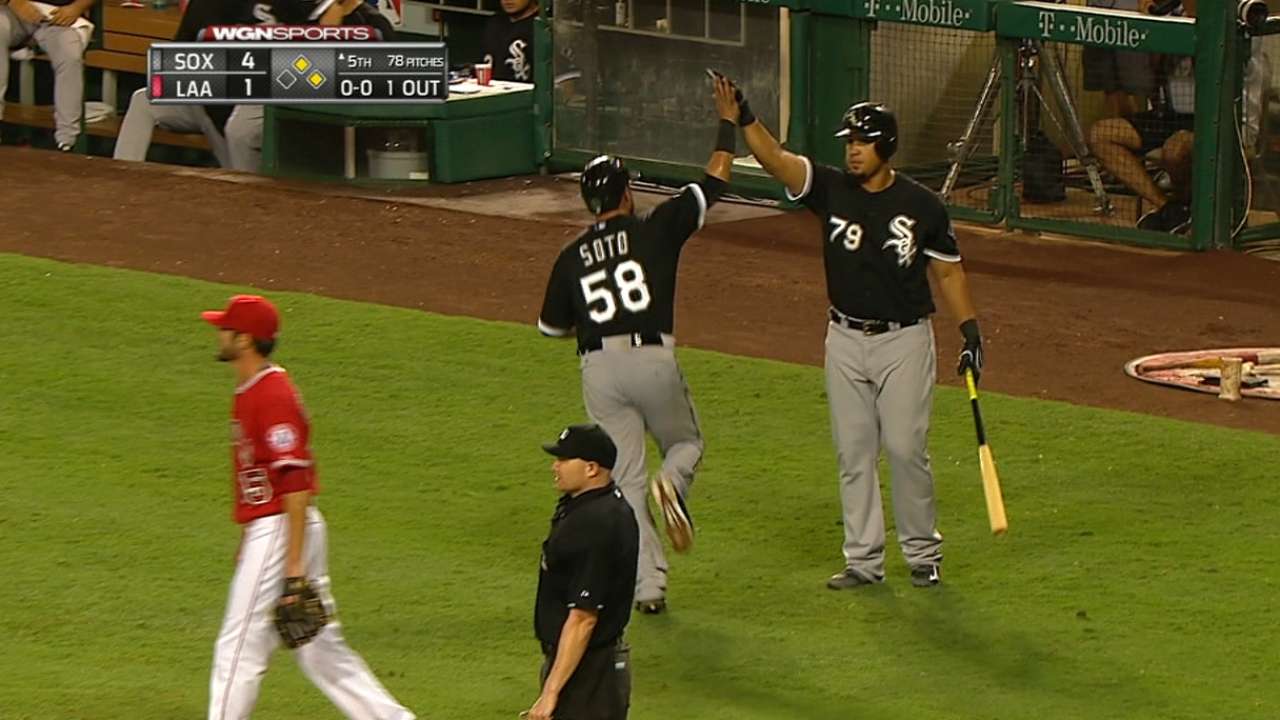 ANAHEIM -- Jose Quintana threw six innings of two-run baseball and the White Sox broke open Thursday night's series finale against the Angels with a five-run fifth inning, avoiding a four-game sweep at Angel Stadium with an 8-2 win.
Jose Abreu had the big hit in the fifth, a two-run double down the left-field line that put a quick end to Angels starter Nick Tropeano's night. The rookie right-hander, who was called up to make his third start of the season in place of the optioned Matt Shoemaker, allowed six runs in 4 1/3 innings. Adam LaRoche added a two-run homer in the eighth, which gave him his first multi-hit game in August and just his second since July 9.
"It just seemed like in the fifth, things got a little bit away from what Nick was trying to do out there," Angels manager Mike Scioscia said. "Lost his fastball command a little bit, struggled putting some guys away, and they put together a pretty good string and knocked him out of the game."
"Guys swung the bats tonight right out of the gate," White Sox manager Robin Ventura said. "Just a nice job of going to the plate and making stuff happen."
Mike Trout had a pair of hits for the Angels, giving him three in his last two games after a season-long four-game hitless streak in which he went 0-for-12. Albert Pujols lined a two-out RBI single in the fifth, his first hit with runners in scoring position in 12 chances. With the Astros, Orioles and Rangers all losing Thursday, the Angels held onto their half-game lead for the second American League Wild Card spot and remained 2 1/2 games back of Houston in the AL West.
MOMENTS THAT MATTERED
Quintana handles adversity: The White Sox southpaw found himself in a bases-loaded, two-out situation in the third with the game tied at one. It was a situation almost of design, as Quintana walked Trout and Pujols after Kole Calhoun's single, being very careful with the two sluggers. C.J. Cron swung at the next pitch and grounded out to Tyler Saladino to end the inning.
"I tried not to make any mistakes to Trout and Pujols," Quintana said.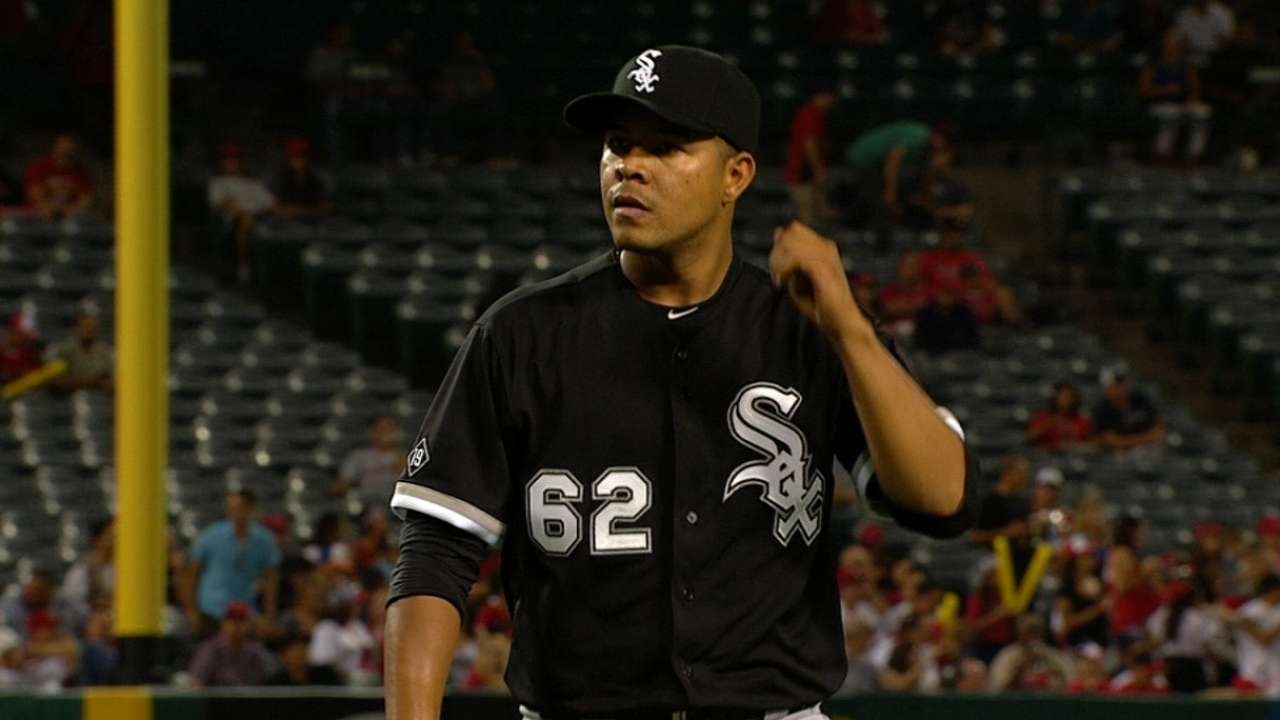 Iannetta snaps skid: Angels catcher Chris Iannetta, who entered Thursday's game mired in a 3-for-43 slump going back to July 24, ended an 0-for-17 hitless stretch with a single through the middle in the sixth inning. Iannetta had played just once in the past week, using what Scioscia called a "breather" to work with hitting coaches Don Baylor and Dave Hansen. Iannetta hitting would be an important boost for the Angels, considering the veteran's value behind the plate: Iannetta is, for example, a much better pitch framer than rookie Carlos Perez. More >
"This whole thing's been really weird. It has. I've felt really good at the plate this whole stretch," Iannetta said. "I've just been through this stretch of 40 at-bats that have been awful. But in that time, I've felt really good. I can't identify anything mechanically that I'm doing -- and I've changed a bunch of things up since then."
Soto digs the small ball: Six hits contributed to five runs for the White Sox in the fifth, but none might have been bigger than Geovany Soto's bunt single. His bunt actually came on a two-strike pitch, following singles from LaRoche and Alexei Ramirez to open the inning.More >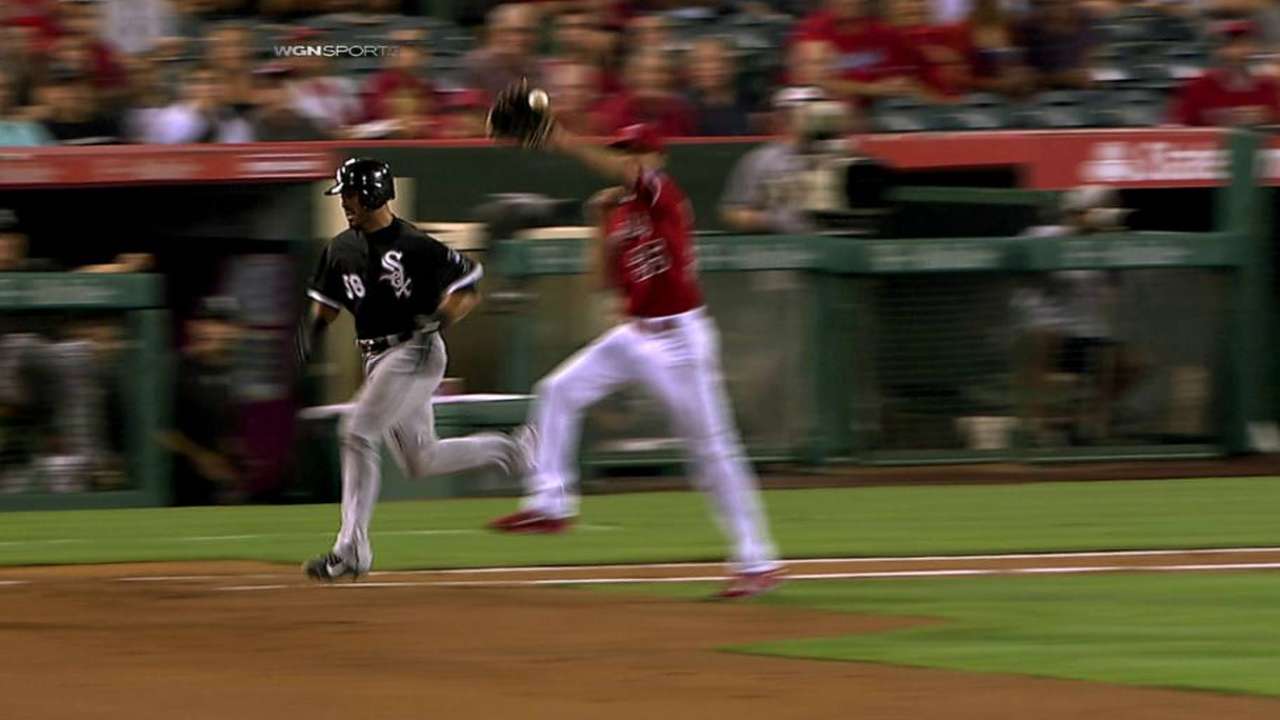 Tropeano struggles: Tropeano looked solid through the first four innings, holding the White Sox to two hits and one run on a groundout. But in the fifth, Tropeano couldn't get anything going -- Chicago opened the frame with six hits and a sacrifice fly, scoring five times off Tropeano. The Angels' defense didn't help, as first baseman Cron mishandled a bunt and left fielder Shane Victorino made a poor throw home on the sac fly, allowing baserunners on first and second to tag up and advance into scoring position.
"On the defensive side, there's no doubt that we added fuel to the fire in that inning with a couple of things," Scioscia said. "Shane in left field, who's a really good outfielder, just airmailed a cutoff man and really had no play at home, which let two guys move up. And the bunt with two strikes where we couldn't get an out hurt also."
LAROCHE BREAKS LOOSE
Entering Thursday's series finale, LaRoche had five hits in August and one home run over the last two months. LaRoche posted his first multi-hit game of August and also homered for just the second time in his last 43 games.
"It seems to be throughout my career that I always go back, revert back to what has worked," LaRoche said. "That's what I've stuck with lately and today felt a lot better. It would be nice to build off of that. I've had some of these days where I've felt really good and come back out and not have it for a few days. So it's a positive to see some pitches better. I wasn't chasing today."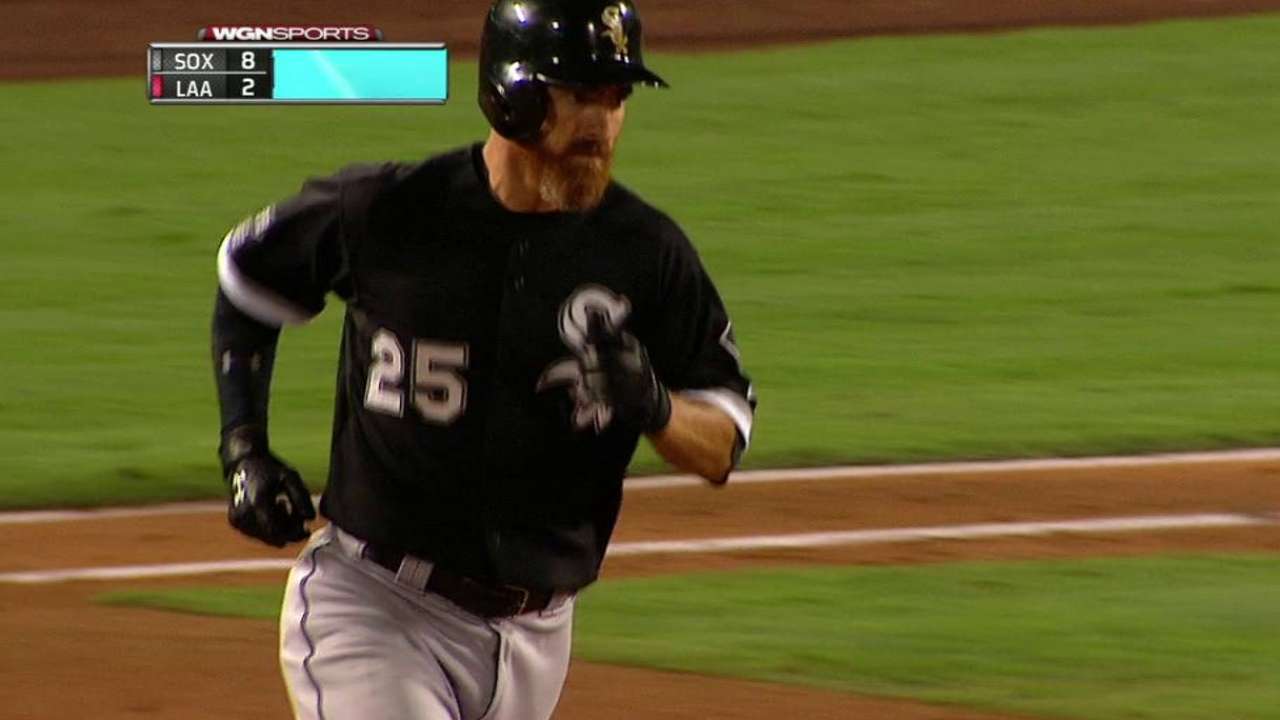 QUOTABLE
"We left too many balls over the middle of the plate; that was the bottom line. They're a great hitting team, but they capitalize on mistakes, and we made a bunch of them tonight. And the balls that got hit hard were all pitches over the center of the plate." -- Iannetta, on the White Sox offense Thursday
"Maybe the collars. South Side Hitmen showed up or something." -- Ventura joking about the White Sox announcement of the Throwback Thursday jersey announcement coinciding with the offensive breakout
UPON FURTHER REVIEW
With runners on first and third and three White Sox runs already home in the top of the fifth inning, Abreu turned on an 83-mph changeup from Tropeano and ripped a line drive down the left-field line. Third-base umpire Dana DeMuth initially called the ball foul, but Chicago challenged, and replays showed the ball hitting the foul line. The call was overturned and umpires awarded Abreu a double and judged that both runners would have scored on the hit. The White Sox took a 6-1 lead on the play and knocked Tropeano out of the game.
"Yeah, I think he would have scored," Scioscia said of Saladino, the runner on first. "He was running on the pitch and I think that from where he was when the ball was hit, he was gonna score. I didn't really take exception to that."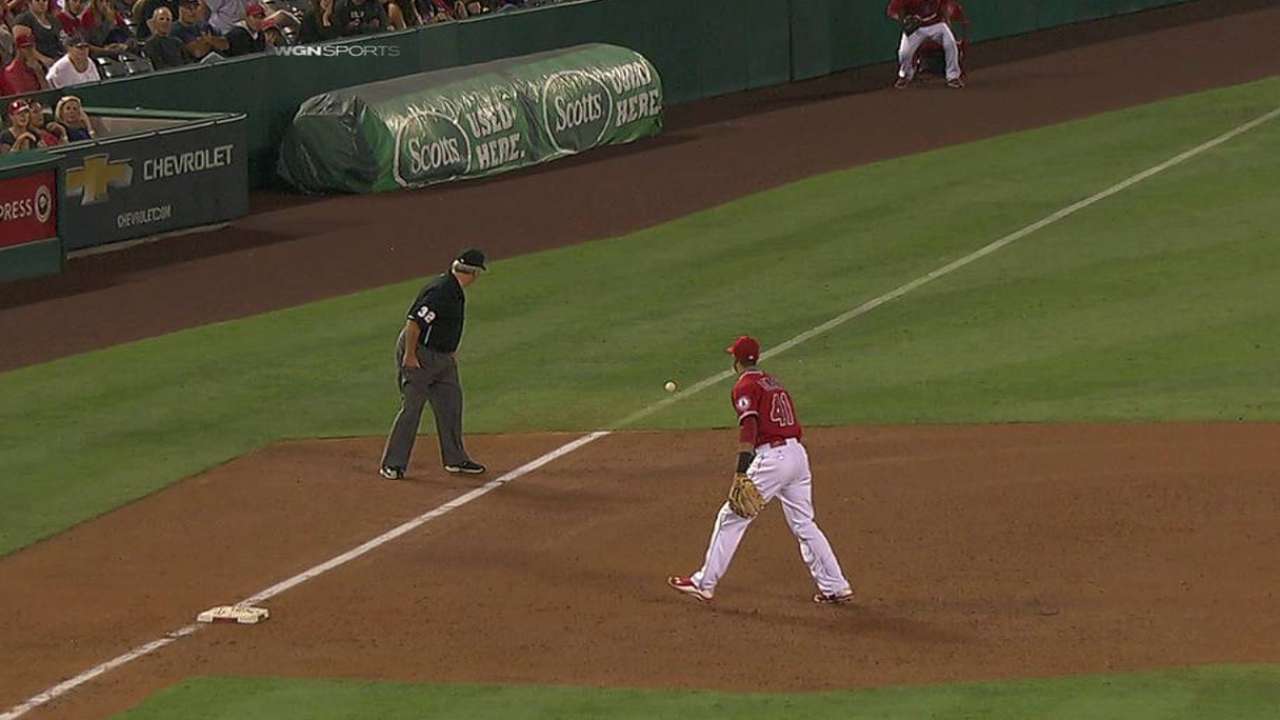 WHAT'S NEXT
White Sox: Chris Sale makes his first trip to the mound since matching a career-high by striking out 15 and allowing one hit to the Cubs over seven innings in a home victory on Sunday. Sale is 2-0 with a 1.26 ERA over his last two starts and will be making his 12th road start.
Angels: Left-hander Hector Santiago starts Friday's series opener against the Blue Jays at Angel Stadium, the first of three big games between the two American League Wild Card leaders. Santiago bounced back from his rockiest stretch of the season, four starts in which he posted a 5.91 ERA, to hold the AL-best Royals to two runs over seven innings his last time out.
Watch every out-of-market regular season game live on MLB.TV.
David Adler is an associate reporter for MLB.com. Scott Merkin is a reporter for MLB.com. Read his blog, Merk's Works and listen to his podcast. This story was not subject to the approval of Major League Baseball or its clubs.