Span building innings in encouraging rehab
'He's an integral part of our team,' Williams says of Nats' center fielder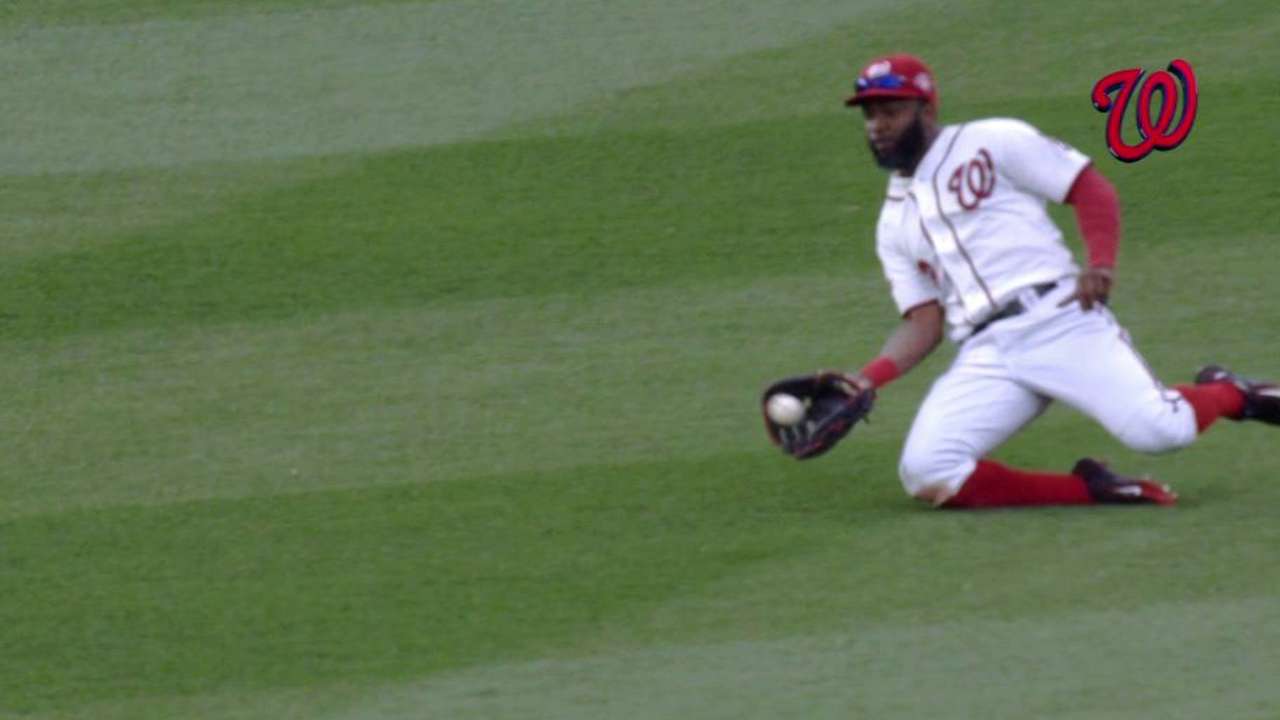 DENVER -- Denard Span and Dan Uggla were both scheduled to continue their rehab assignments on Thursday at Class A Hagerstown, but the game was rained out. Nationals manager Matt Williams said the duo would continue their road back on Friday at Double-A Harrisburg.
Span, who hasn't played since July 6 with back tightness, has gone 4-for-7 with a walk and a run scored in three rehab games -- one with Class A Advanced Potomac and two with Hagerstown. In total, he's played 13 innings in center field, and after a workout in D.C. on Thursday, Williams said he expected Span to play seven defensive innings on Friday.
"He's a integral part of our team, and the record is out there for everybody to see when he's in the lineup," Williams said. "That being said, we want him back healthy. He still hasn't made it to nine [innings]. We've got to get him to there."
Wednesday's outing, though, was particularly encouraging. Williams said that Span had the option of playing the field or just serving as a designated hitter, but the Nationals outfielder opted to play five innings in center.
"The fact that he felt good enough to play in the field and chose to do that is a great sign for him and for us," Williams said. "So we'll give him seven [innings] tomorrow, and see where he is after that."
Uggla, meanwhile, began his rehab assignment on Wednesday, going 0-for-2 in five innings at second base. Back spasms have kept him out since Aug. 7, and Williams said Uggla is scheduled for at least five innings on Friday.
Worth noting:
• Reed Johnson, who hasn't played since April 28 with a left calf strain, has gone 5-for-16 with two homers and five RBIs in five rehab games with Potomac. Johnson was off on Thursday and will continue more work in the outfield, which Williams said is more of a concern than Johnson's hitting, given the injury.
"The test is being able to go in the gap and catch, so that's why he's playing so much outfield," Williams said. "So that's coming. That's a gradual process any time you have an injury that's as severe as that, but again, he's on his way."
• David Carpenter, who hasn't pitched since July 5 with right shoulder inflammation, is scheduled to make his second rehab appearance on Friday. Williams said he'd throw "no more than 20 to 25 pitches."
• Williams said Aaron Barrett, who was sent to the disabled list with a right elbow sprain on Aug 8, has been effectively shut down and is "seeking opinions" on the next step.
Dargan Southard is an associate reporter for MLB.com. This story was not subject to the approval of Major League Baseball or its clubs.