Yanks surprise special needs cheerleaders
Players visit with Hunterdon Huskies Contender cheer team for HOPE Week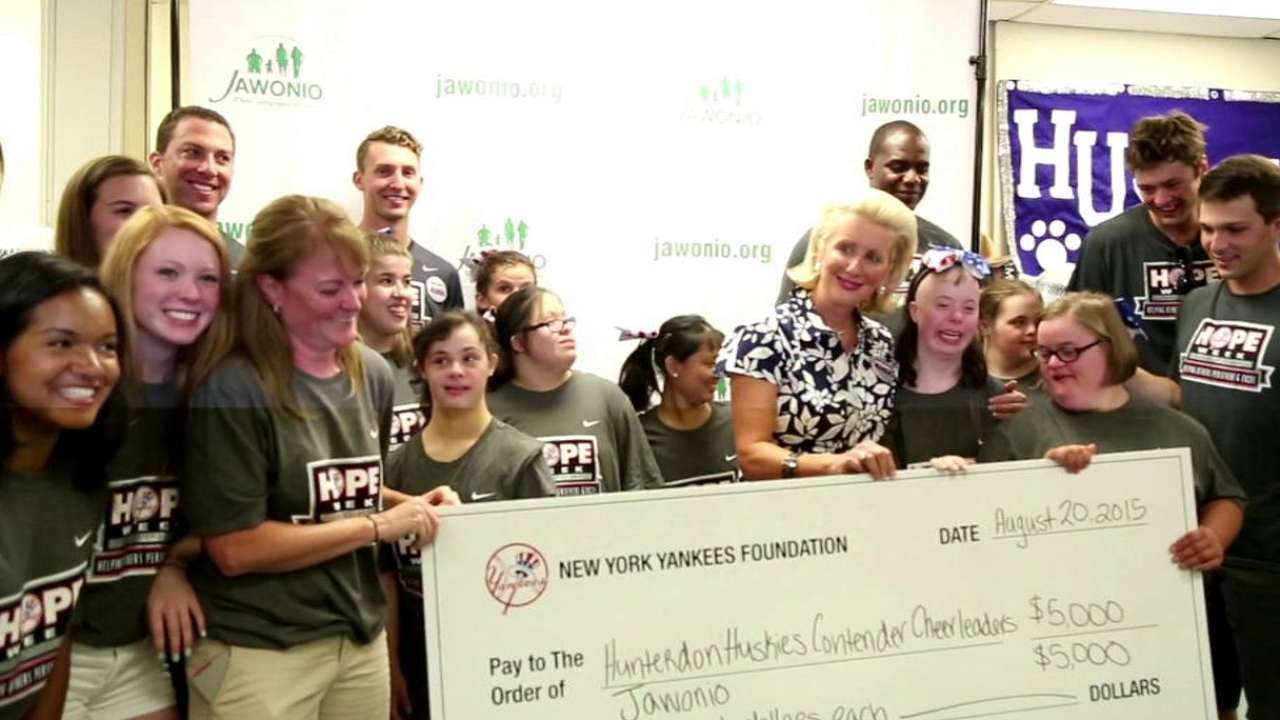 NEW CITY, N.Y. -- A group of Yankees traded their bats and gloves for some pom-poms Thursday afternoon to join the Hunterdon Huskies Contender Cheerleaders in a rousing cheer.
The girls' faces in the room lit up while being surprised by several Yankees -- Andrew Miller, Michael Pineda, John Ryan Murphy, Chris Capuano, Chasen Shreve and third-base coach Joe Espada -- and professional wrestlers Titus O'Neil and Darren Young of WWE at the Jawonio Center in New City, N.Y., on Thursday afternoon as part of the team's annual HOPE Week.
"I couldn't believe that from such a small area we had gotten so far as to get to the Yankees," said Debbie House, the coach of the Hunterdon Huskies Contender Cheerleaders.
About five years ago, House noticed a void in her community for special needs children. She said she developed the idea of a cheerleading team while watching the televised national cheerleading competition and noticing teams of special needs cheerleaders performing between competitive routines.
And while none of her own children have special needs, her passion comes from working at the Jawonio Center -- the premiere provider of lifespan services for developmental disabilities, mental illness and chronic health issues, according to its website.
So the Hunterdon Huskies Contender Cheerleaders, a special needs cheer team, was born. The girls practice twice a week and cheer at Sunday games, and House said she treats them just like any other cheer team.
"For me, I just want as many people as I can tell to tell the story of these girls," she said. "For them, I feel like there needs to be a time when this isn't special. There needs to be a time when every community is doing this and it's not as special as it seems today."
The Yankees donated $5,000 to the cheer team and to the Jawonio Center.
The girls also got to watch batting practice from the field, along with WWE's Naomi, The Miz and Sasha Banks, and created pom-pom tunnels for the Yankees players as they were announced to their positions prior to Thursday night's game against the Indians.
"It's pretty cool," Murphy said. "Just to see how happy those girls are, it takes so little out of our day, it takes so little effort from us, and can really just make their day, make their week."
Jamal Collier is a reporter for MLB.com. Follow him on Twitter @jamalcollier. This story was not subject to the approval of Major League Baseball or its clubs.