Wrist improving, Springer takes dry swings
Astros outfielder could participate in batting practice next week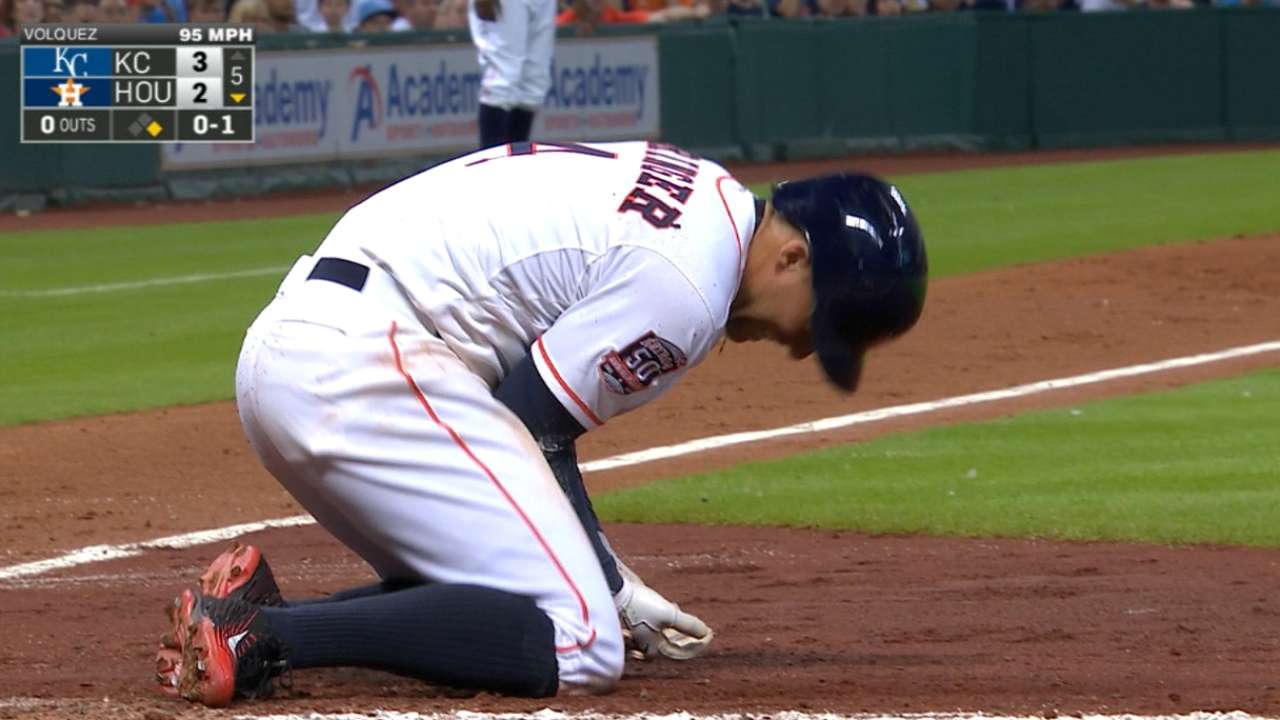 HOUSTON -- Though he's yet to swing a regular bat, Astros outfielder George Springer is pleased with the rehabilitation of his right wrist fracture and hopes to begin hitting balls soon.
In addition to shagging balls, lifting weights and staying in shape, Springer has swung a fungo bat in the cages for the last few days, though they were dry swings that didn't involve making contact with balls.
"It feels good, I like the progression of my hands so far," Springer said of the swings. "We'll obviously take it one day at a time and whatever happens, happens."
Springer, who was hit by an Edinson Volquez fastball on July 1 and placed on the disabled list the next day, was cleared to resume baseball activities last Friday. Astros general manager Jeff Luhnow said when he was cleared that Springer had exceeded doctors' expectations.
Before Thursday's series finale against the Rays, Astros manager A.J. Hinch said the goal was to get Springer back on the field relatively soon. The success of the Astros' farm system also aids the process, as both Triple-A Fresno and Double-A Corpus Christi appear primed for playoff runs, meaning more games for Springer to use as possible rehab assignments.
"The progression of his swings are going to increase in intensity and create some resistance by hitting an actual ball," Hinch said. "You know, obviously if we need that much time it's always nice to have available games [in the Minor Leagues], but I'm not sure how the timing collides yet until we really get George into a BP session to where we know when he's ready to play."
Hinch said Springer's first batting practice would likely come during the team's upcoming six-game road trip to New York and Minnesota. Springer said he's felt some "standard" soreness since he's resumed baseball activities, but it's come more from his six weeks of immobilization and the need to shake off some cobwebs.
For now, Springer said he'll continue to bring the same levity and energy to the ballpark each day, continuing his rehab and playing video games -- he claimed working the controllers also help his wrist.
"I understand I have to be even more patient now and be smart about it," Springer said. "Just continue to support the guys."
Chandler Rome is an associate reporter for MLB.com. This story was not subject to the approval of Major League Baseball or its clubs.