Red Sox rookie Shaw starting to hit his stride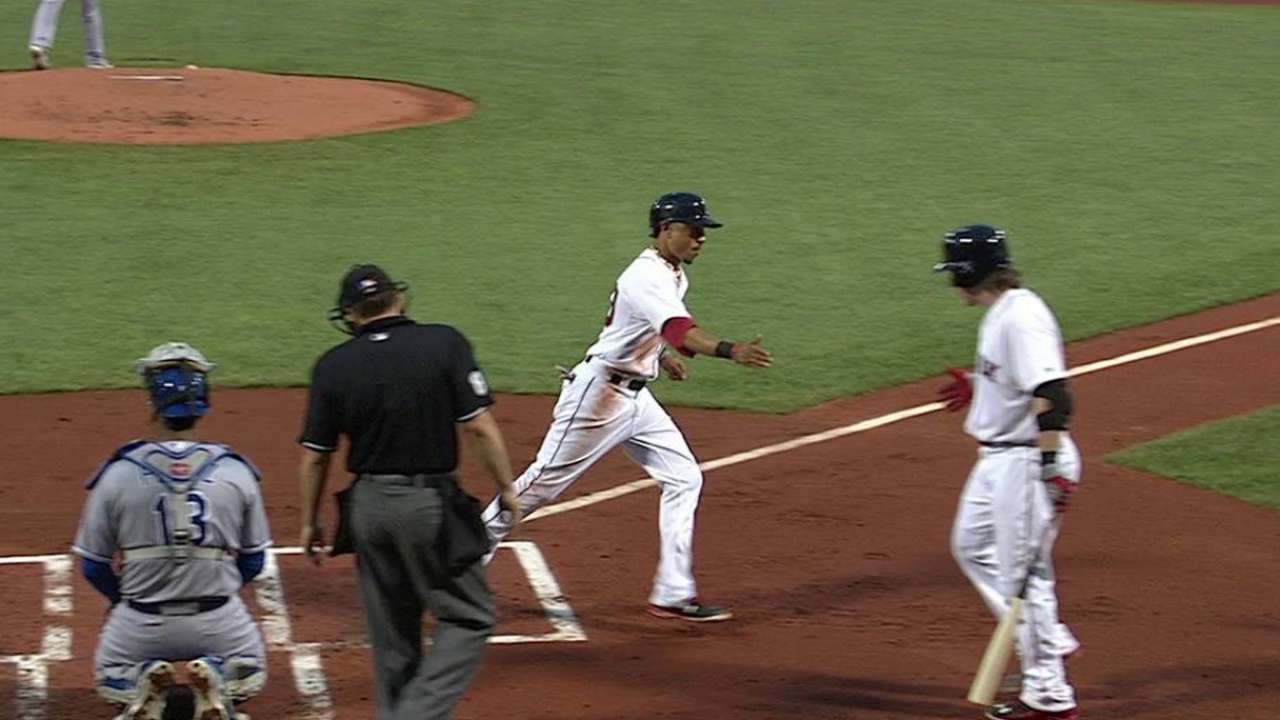 BOSTON -- For a while, Red Sox rookie Travis Shaw was simply trying to stay afloat. Now, the first baseman is peaking at exactly the right moment.
In what has become a nightly event, Shaw continued his week-long romp at Fenway Park on Thursday night, smacking two hits and drawing a bases-loaded walk in the 4-1 win over the Royals. The performance marked Shaw's fifth multi-hit effort in seven games since the team returned from its last road trip.
The 25-year-old Shaw is batting .500 and slugging .967 with four home runs and two doubles over that scorching stretch -- one so good that catcher Ryan Hanigan felt compelled to tell reporters that Shaw deserved another interview.
"He's awesome, man," Hanigan said. "He's been doing a fantastic job, really impressive. Hitting lefties for power, extra-base hits. Driving in runs. Walking. Bases-loaded walk was big for us. Just attacking balls in the zone. Looks real free and easy."
Shaw's latest showing comes two days after the Red Sox hired Dave Dombrowski as president of baseball operations. With Dombrowski closely evaluating the entire roster as he prepares for the offseason, the final weeks of the season have morphed into something of an audition for the new decision-maker.
That Shaw has left a strong first impression certainly eased his concerns about the future.
"When I introduced myself to Dave, he knew who I was," Shaw said. "So that was something that made me feel good about myself."
Given that Shaw only compiled a .249/.318/.356 slash line with Triple-A Pawtucket this year, his sudden jump in production at the Major League level might come as a surprise. In fact, he already has more home runs (six) in 23 big league games than he did in 77 with the PawSox.
But even if the left-handed-hitting Shaw did not expect to post such impressive splits -- he has a 1.407 OPS against southpaws so far -- the rookie still knew the potential to do so resided somewhere within himself.
"I always thought I could do it," Shaw said. "And then coming up here, earlier in the year, when I got sent back down it was like, I feel fine up here. And then having a couple big breakout games helped me relax. Obviously, it's shocking a little bit the way I've hit off lefties. I just feel like trying to come here every day and try to prove something, I've put myself in that position, and so far it's paid off."
How long Shaw's wave keeps roaring remains to be seen. But when it does finally crest, he'll regroup with a renewed confidence that he can return to these heights once again.
"I heard him say the other day that things are just clicking," interim manager Torey Lovullo said. "Things are moving in a good direction for him. He feels like he's seeing the ball very, very well and those are little runs that every player wants to get on."
Alec Shirkey is an associate reporter for MLB.com. This story was not subject to the approval of Major League Baseball or its clubs.