Hinske helps shape Rizzo into complete hitter
Cubs slugging first baseman credits coach for help against left-handers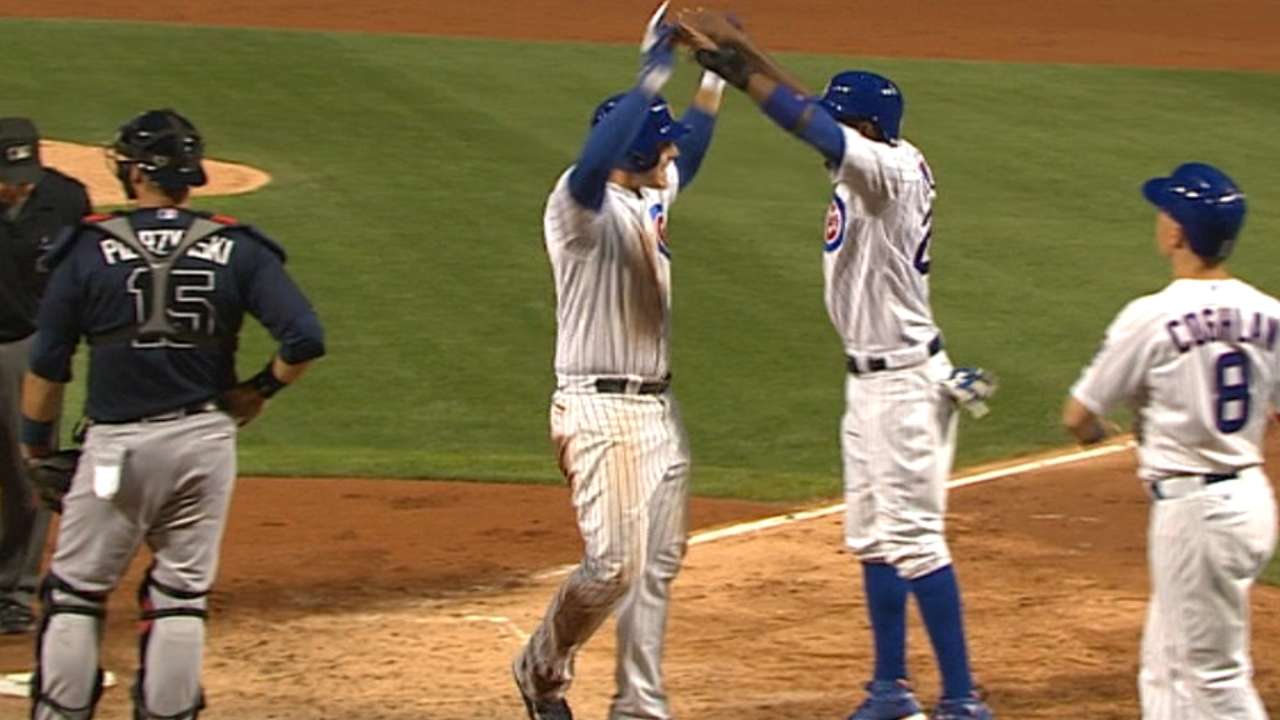 CHICAGO -- In 2013, Anthony Rizzo batted .189 against left-handed pitchers. This year, the Cubs first baseman was batting .333. What's the difference? Give assistant hitting coach Eric Hinske credit.
"He deserves a lot of credit," Rizzo said. "Everything he says makes sense."
Hinske noticed how far Rizzo was off the plate against southpaw pitchers. What that does, Hinske said, is makes you swing at balls you think you can hit. But it doesn't always produce results.
"I told him if you crowd the plate, and get right on top of the plate against lefties, you'll get hit more, which he does," Hinske said of Rizzo, who leads the Majors in being hit by pitches. "But it intimidates [pitchers] to the point where they feel they can't get in there on you because you're all over the dish, and he's a big dude.
"They can't get the ball inside on him, so what you do now is make the outside pitch middle," Hinske said. "You can stay with your approach, but you're making the outside pitch middle, and you can cover away. You're just eliminating everything inside."
Part of Hinske's motivation to get Rizzo to move closer to the plate was to help him beat the defensive shifts a lot of teams employ against the first baseman.
"I couldn't hit lefties -- I was a platoon player for a reason," Hinske said, laughing. "But I can tell somebody how to do it."
Rizzo has taken it to another level. He ranks among the top five in the National League in batting average against left-handed pitchers, and also is among the top hitters in on-base percentage, slugging and OPS. And the Cubs' two-time All-Star should be in the conversation for Most Valuable Player, Hinske said.
"He's a freak," Hinske said of Rizzo. "He's one of the best players in baseball."
On Thursday, Rizzo hit a three-run homer in the Cubs' 7-1 victory over the Braves, which snapped a three-game losing streak.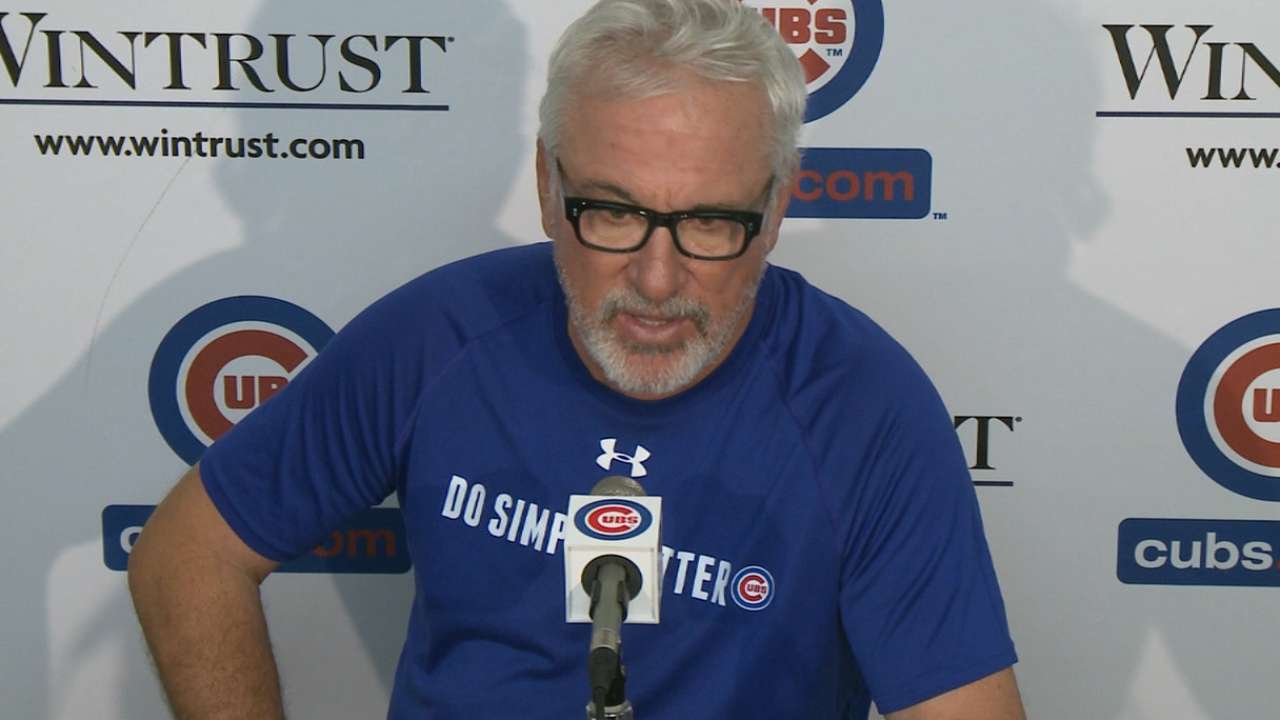 "Keeping that ball fair is quite a feat," manager Joe Maddon said of Rizzo's shot down the right-field line. "Fastball in, to stay inside on that ball and have it not hook, that's not easy to do."
The Cubs won't be taking batting practice for the rest of this homestand, part of Maddon's "American Legion week" theme. It worked on Thursday, and Rizzo said he took advantage of the extra time to enjoy an afternoon nap. Rizzo and Hinske will be in the batting cage prior to Friday's game. The two head down about a half hour before first pitch.
"I need him there," Rizzo said. "It's something we do and it gets us going. I'll start yelling, he'll start yelling and the next swing is probably my best swing of the night. We have a good thing going."
If Hinske isn't there, he hears about it.
"If I'm not there watching him, he gets mad," Hinske said. "He's got this routine -- it's this whole superstition thing. He's still pretty much 25 years old."
Carrie Muskat is a reporter for MLB.com. She writes a blog, Muskat Ramblings. You can follow her on Twitter @CarrieMuskat and listen to her podcast. This story was not subject to the approval of Major League Baseball or its clubs.