Delgado gets chance to audition for rotation
Primarily a reliever for the past two seasons, righty replaces Hellickson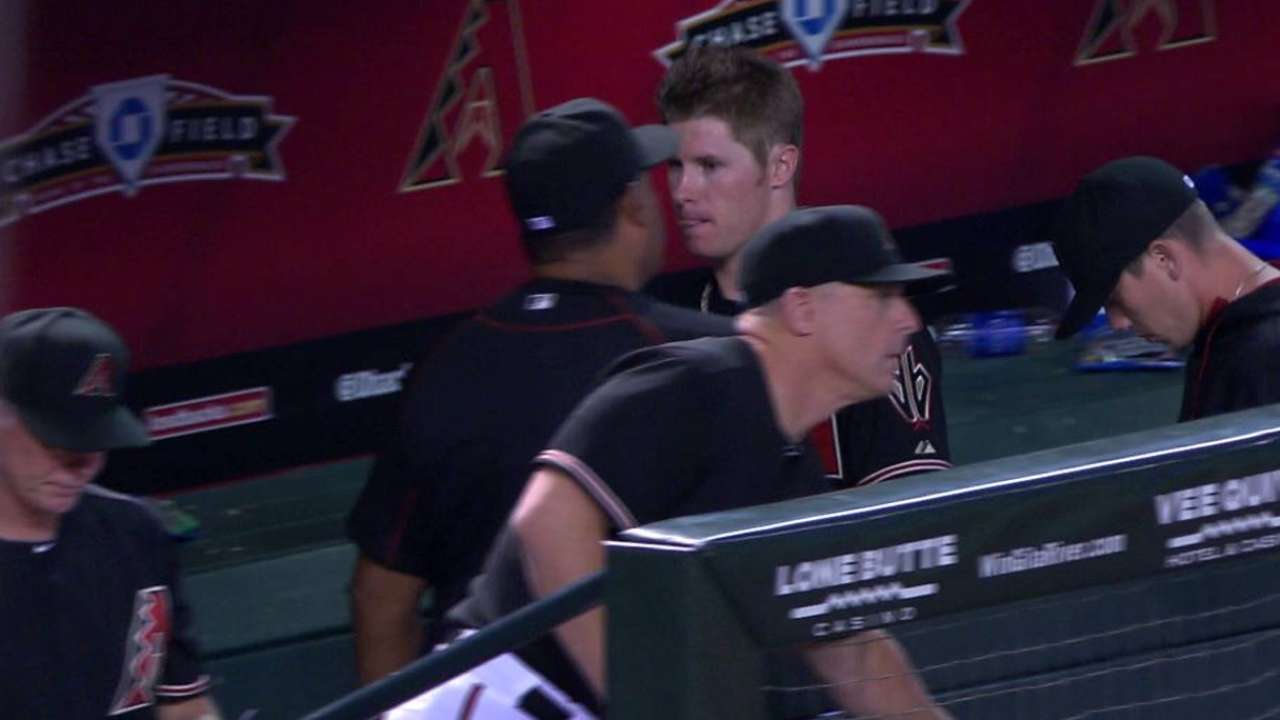 CINCINNATI -- With Jeremy Hellickson on the disabled list, right-handed pitcher Randall Delgado will return to a familiar place -- the rotation.
After primarily being used as a starter in his first three seasons in the Majors, Delgado has worked out of the bullpen the last two years and will make his first start of the season on Saturday against the Reds at Great American Ball Park. Delgado will replace Hellickson, who was sent to the 15-day disabled list on Thursday with a strained left hamstring.
"I'm trying to be ready for everything," Delgado said of being named a starter. "I'm just trying to get ready for starting, basically for Saturday as a starter."
Delgado is 11-19 with a 4.23 ERA in 47 career starts, with 43 of his first 45 career appearances coming as starts. He started his career with the D-backs as a starter with a 5-7 record and 4.17 ERA in 19 starts in 2013.
However, he has only made four starts in his last 90 appearances, with his last start coming on Sept. 11, 2014, against the Giants. He is 4-3 with a 2.70 ERA across 50 innings in 43 appearances this season.
With the current shuffle in the rotation, D-backs manager Chip Hale said it felt like a good opportunity to see if Delgado has the ability to be a long-term option.
"With his velocity and repertoire of pitches that he has, [and] I think [D-backs senior vice president and general manager] Dave [Stewart] wants to get an idea if this guy can be a starter for us in the future, so he wants to give him a shot," Hale said. "Obviously, we toyed with it in Spring Training, wasn't that he did anything not to start. It's just that he fit better at that time in our bullpen with what we needed in length and flexibility. That's one thing we will miss with him not down there."
"He's got good stuff, he's started in the past. He's still a young guy. He's 25 years old, so let's see what he's got."
Hale added he expects Delgado to remain in the rotation for the rest of the season.
Delgado is excited about the opportunity to start again, to show what he's gained during his last two years in the bullpen. He said he picked up a lot of experience in the bullpen and feels like a stronger pitcher.
"I've learned a lot, so I would like to know, excited to see what I have learned and try to do it Saturday," said Delgado, who expects to throw around 70 pitches in his first start. "I feel different, I feel happy for [being in] the bullpen. I learned a lot, like I said, so just feel different mentalities, but I'm not afraid. I just want to go out there and play."
Robert Bondy is an associate reporter for MLB.com. This story was not subject to the approval of Major League Baseball or its clubs.