Prince focused on playoff push, not Detroit return
First baseman helped Tigers reach World Series in 2012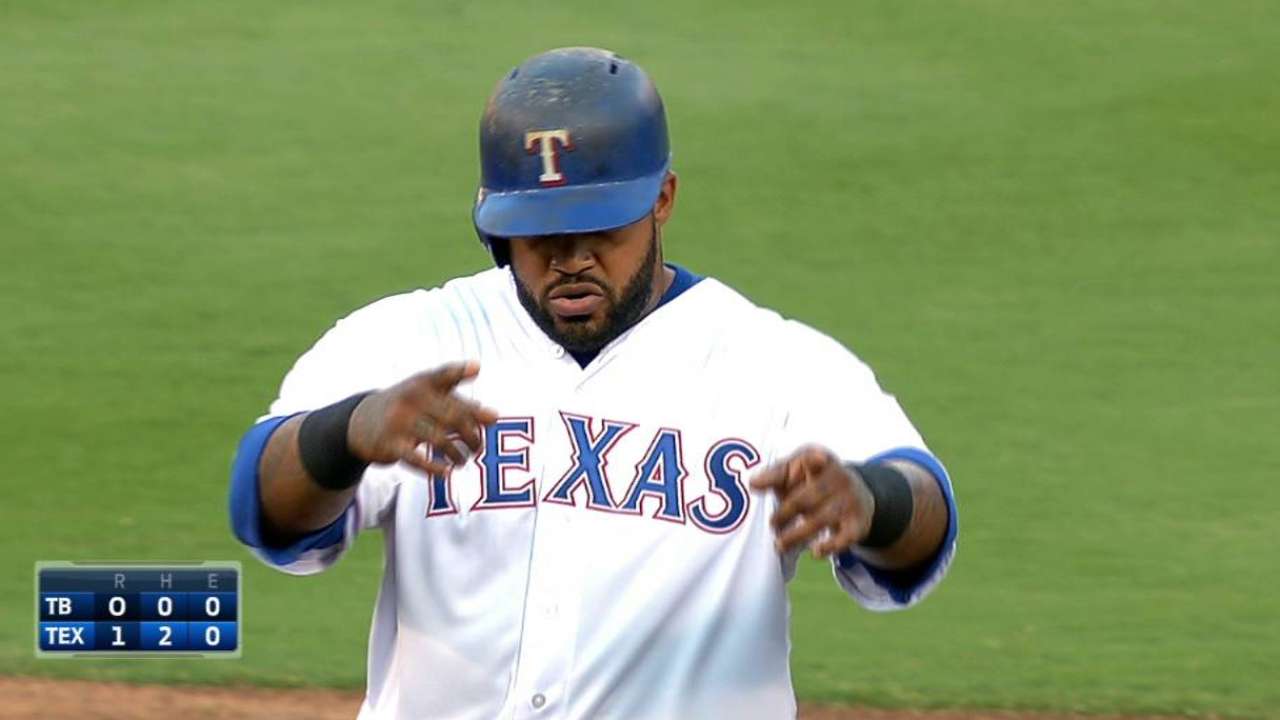 DETROIT -- First baseman Prince Fielder remembers Oct. 17, 2013, the last time he played at Comerica Park. Mired in a postseason slump, the slugger was booed by his hometown fans. Now that Fielder is a Ranger, he expected -- and received -- a similar reception throughout his club's four-game series against the Tigers.
Fielder was dealt to Texas with cash in exchange for Ian Kinsler in November 2013, and the first baseman said it's been long enough that he doesn't find any added significance from returning to Detroit for the first time.
"I'm on the Rangers," he said before Thursday's 4-0 loss to the Tigers. "It's just like going to any other place to play."
Fielder finished Thursday's game 0-for-4.
Over two years with the Tigers, during which he played in all 324 regular season games, Fielder batted .295 with 55 homers. In 2013, though, he posted the lowest slugging percentage, OPS and home runs in his career, and that season culminated with a .182 batting average against the Red Sox in the American League Championship Series.
"They were good," Fielder said of his seasons in Detroit. "We went to the playoffs both times. One time [in 2012] went to the World Series. Didn't win, but went to the playoffs."
Both Fielder and Kinsler are in the midst of productive seasons. Kinsler is batting .388 since the All-Star break, and Fielder leads the American League with 146 hits entering Thursday.
That offensive firepower has helped push Texas back into the playoff race. The Rangers, winners of six of their last seven, entered Thursday just 1 1/2 games back of the second Wild Card spot.
Fielder said staying healthy and reaching the playoffs remains his focus, but manager Jeff Banister added he wouldn't be surprised if competing in Detroit carried a little more significance for the slugger.
"It's a big series for all of our guys based on where we are in the standings and what these guys want to play for," Banister said. "It just happens to be that we're in Detroit.
"I'm sure that any time a player goes back to a city that they played for, there's a little extra added into the emotional part of it -- the intensity of it all. But that's just the way he plays."
Banister called Fielder the Rangers' "heart and soul," and teammates raved about the first baseman's leadership in the clubhouse. Veteran left fielder Josh Hamilton said Fielder is among his favorite teammates of all-time.
And if the former Tiger shows any extra emotion this weekend, Banister said it would surprise him. After all, the manager explained, Fielder exudes passion during every game.
"I see him play that way every day," Banister said. "I don't know how he can turn up the intensity level anywhere he goes. He plays at a high intensity level every single game. … If he's got another gear, I'd love to see it."
Alejandro Zúñiga is an associate reporter for MLB.com. Follow him on Twitter @ByAZuniga. This story was not subject to the approval of Major League Baseball or its clubs.