Utley replacements Hernandez, Blanco look good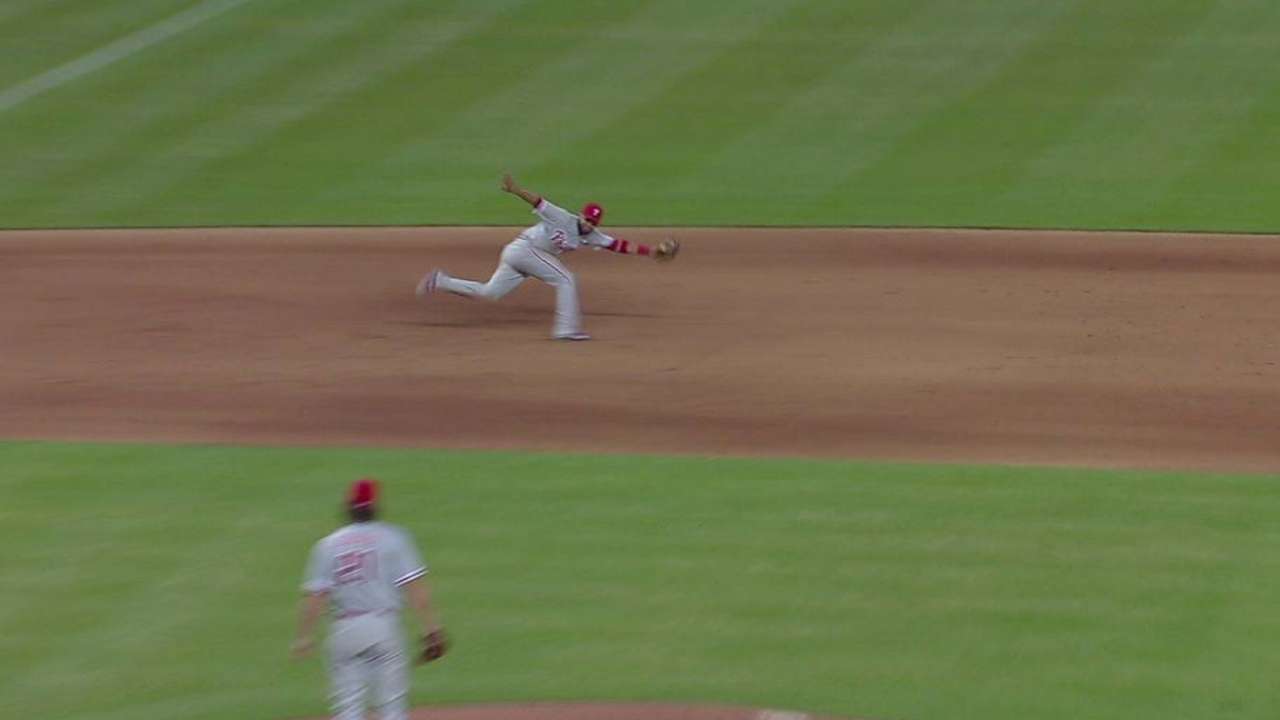 MIAMI -- Not that Phillies interim manager Pete Mackanin is glad Chase Utley is gone, but with the longtime second baseman's departure on Wednesday, it clears things up at second and third base for Philadelphia going forward.
Prior to Thursday's 9-7 loss at Marlins Park, Mackanin named Cesar Hernandez as the second baseman and Andres Blanco as the third baseman moving forward. Both responded by going 2-for-5, including notching back-to-back singles in the Phillies three-run seventh inning that sparked their comeback attempt that fell just short.
Hernandez moves to second base fulltime in place of Utley for the remainder of the season. Meanwhile, although Darnell Sweeney -- who was acquired in the Utley deal -- will get looks at third base, Blanco will mainly handle the hot corner for the rest of 2015 with Maikel Franco on the disabled list.
"As far as where we stand right [now, Blanco's] the guy that's gonna get the most playing time over at third base," Mackanin said. "And Cesar's priority is at second. I don't want to keep moving him around."
Hernandez, batting .281 in 105 games, filled in at second base for the injured Utley earlier in the season and has played 66 games at the position so far. When Utley returned, prior to being traded, the 25-year-old recently started three games at third base, four at second and one at shortstop.
"He's made a few errors in the last few games," Mackanin said. "He looked so good at second base over that time he started playing, I don't want to screw him up."
While Blanco has been the Phillies utility man, most of his appearances have come at third base (15). Batting .297 in 118 at-bats, the 31-year-old has also played one game at first base, 10 at second base and five at shortstop.
Even though Mackanin is handing Blanco the reigns to third for now, he's doing so with caution.
"I don't want to overexpose Blanco," Mackanin said. "He's been so good -- some guys are really good part-time players -- and sometimes if you overexpose them, they're not at their best. Blanco is an outstanding utility player."
In turn, the newly acquired Sweeney may get opportunities at third.
The 24-year-old made his Major League debut in Thursday's loss, popping out to second in a fifth-inning pinch-hit appearance. Mackanin said Sweeney will work out at various positions prior to Friday's game, adding "I don't have any real priority to play him right away."
While he hit .271 in 116 games for the Dodgers' Triple-A team in Oklahoma City this season, he mainly played second base (45 appearances). However, he also played 43 games in center field and 19 in left field -- with just four appearances coming at third base.
"We're gonna work him out at third base and second base [Friday]," Mackanin said. "We're coming out early and we're gonna get a look at him and see what his actions look like. He didn't play much at third, but if he looks OK, I can sneak him in there and see how he reacts during a game."
Steve Willaj is an associate reporter for MLB.com. This story was not subject to the approval of Major League Baseball or its clubs.