Martin's hammy among stretch-run stories to watch
Stroman's return, Buehrle's workload also key as Blue Jays go for pennant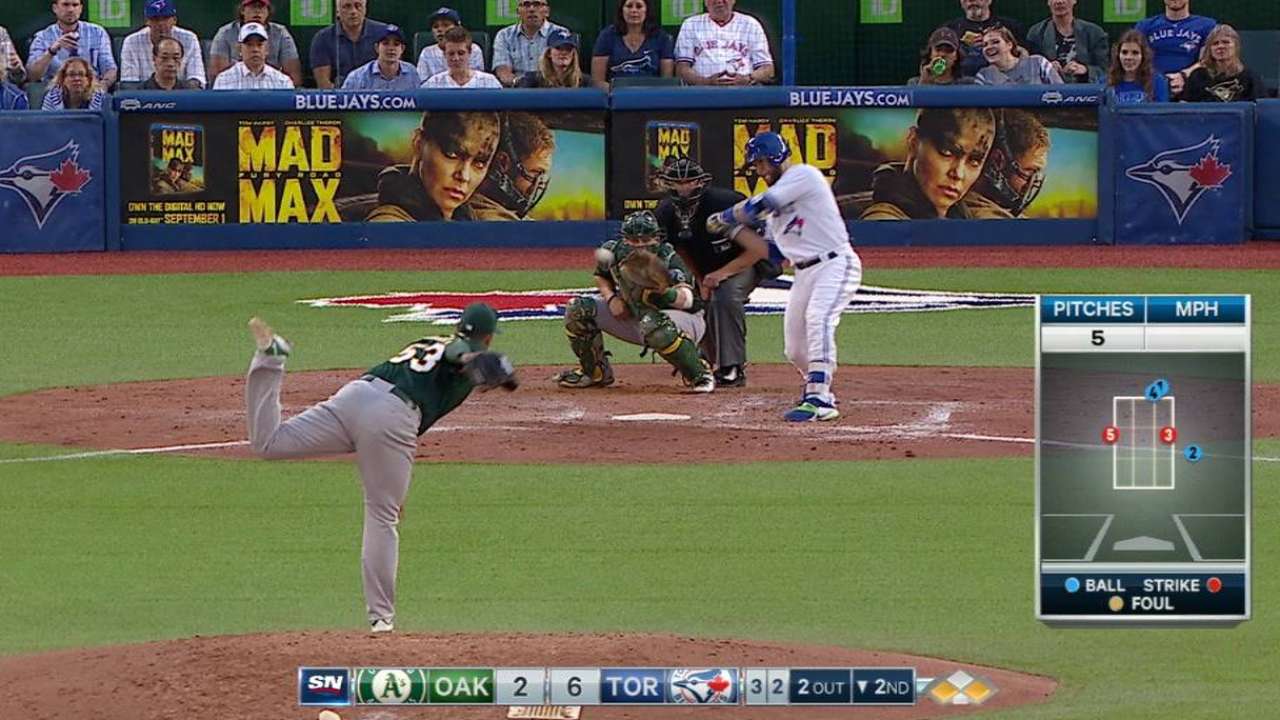 TORONTO -- The honeymoon phase surrounding the revamped Blue Jays has come to an end, and the focus now shifts away from the recent acquisitions and toward finding out what it will take to win the American League East.
Toronto hit a bit of a roadblock in Philadelphia by splitting a two-game series to find itself two games back of the Yankees for first place in the division. That minor disappointment followed a series loss to New York, and it goes to show the pennant race won't be over any time soon.
The Blue Jays went from afterthought to favorite in recent weeks, but winning the division for the first time since 1993 will not be an easy task. Here are the Top 5 storylines as Toronto enters the stretch run:
1. Russell Martin's left hamstring
Martin has been playing through an injury for several weeks, but the most noticeable sign of discomfort happened during Wednesday's 7-4 loss to the Phillies. Toronto's veteran catcher hit a ground ball in the ninth inning and had difficulty getting out of the batter's box and running up the first-base line.
The 32-year-old would likely be best served with an extended period of rest, but he prides himself on being in the lineup almost every day. Toronto is at its best when Martin is on the field -- even when he is not at 100 percent -- but the club will have to weigh the short-term benefits with the long-term consequences.
The Blue Jays need a healthy Martin for the stretch run, and at the very least, he's going to require semi-regular rest until his leg fully heals. One possible solution would be promoting Josh Thole from Triple-A Buffalo and giving more at-bats to backup Dioner Navarro.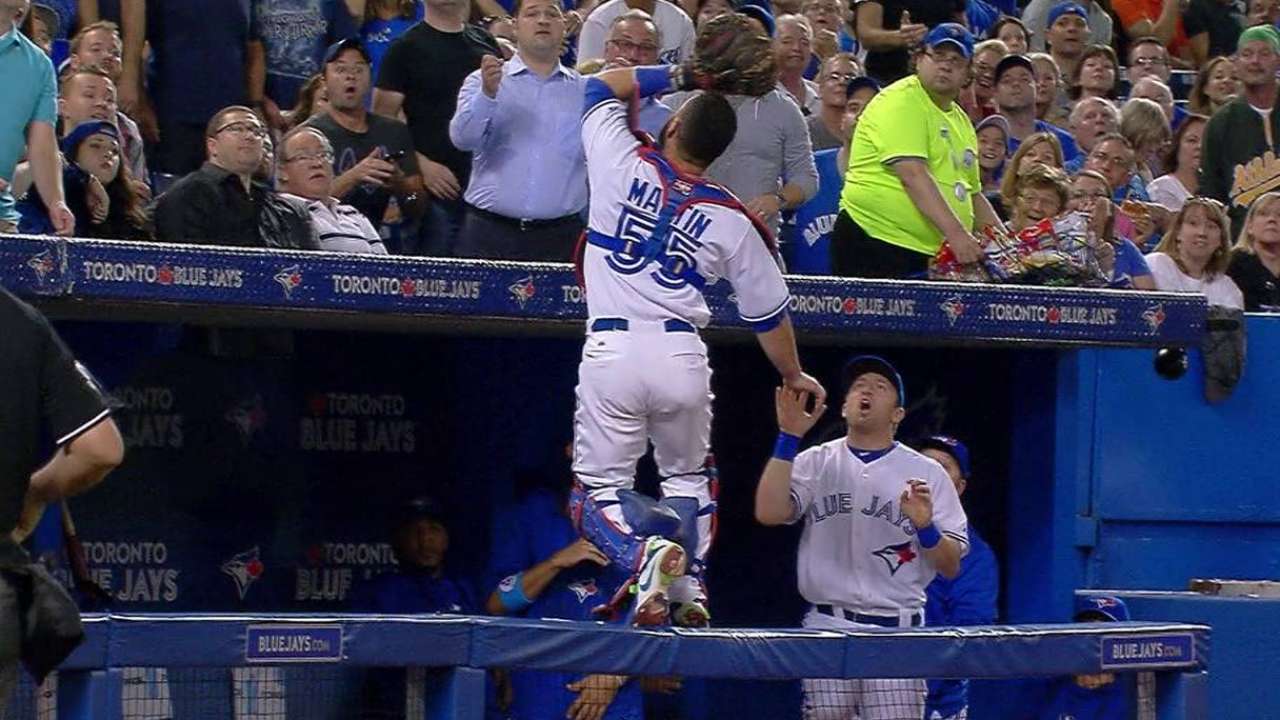 2. The pending return of Marcus Stroman
The question seems to be when -- not if -- Stroman will return to the big leagues in 2015. He's scheduled to pitch in a simulated game on Monday, and he will repeat that process on Aug. 29. After that, Stroman is expected to make a rehab start for Buffalo, and it's possible he could make two appearances for the Bisons before their season wraps up on Sept. 7.
The big debate is what to do with Stroman when he returns, but that's something that won't be finalized for at least another couple of weeks. If Stroman exceeds expectations, it's possible he could take Drew Hutchison's spot on the staff, and there's even a scenario where Toronto could temporarily go to a six-man rotation. If Stroman doesn't respond well to the early workload, then he'll likely find a spot in the bullpen.
It's a good problem to have, especially for an organization that doesn't have much starting depth in the Minors. Stroman clearly intends on coming back as a starter, but he's going to have to prove he's ready every step of the way.
3. Mark Buehrle's workload
Buehrle has defied the odds throughout his career, and he continues to prove people wrong with the Blue Jays. When he arrived in 2013 and got off to a slow start, everybody seemed to think that his best days were behind him. Buehrle bounced back later that year, had a strong season and continued to perform in 2014.
This year, there has been even more success, but one would assume Buehrle can't continue to perform at his current pace. Prior to giving up four runs over four innings on Wednesday night, Buehrle surrendered three earned runs or fewer in 13 consecutive starts. That's an incredible run, but it's also one that's not entirely sustainable.
There have been rumblings all year about Buehrle's health, and the Blue Jays have occasionally gone out of their way to make sure he pitches on extra rest. That strategy may continue down the stretch, because Toronto needs a healthy Buehrle not only in September, but also October. Buehrle's on pace to hit 200 innings for the 15th consecutive year, but unlike the previous two seasons, that won't be a point of emphasis down the stretch. If he needs rest, the Blue Jays will have to make sure he gets it.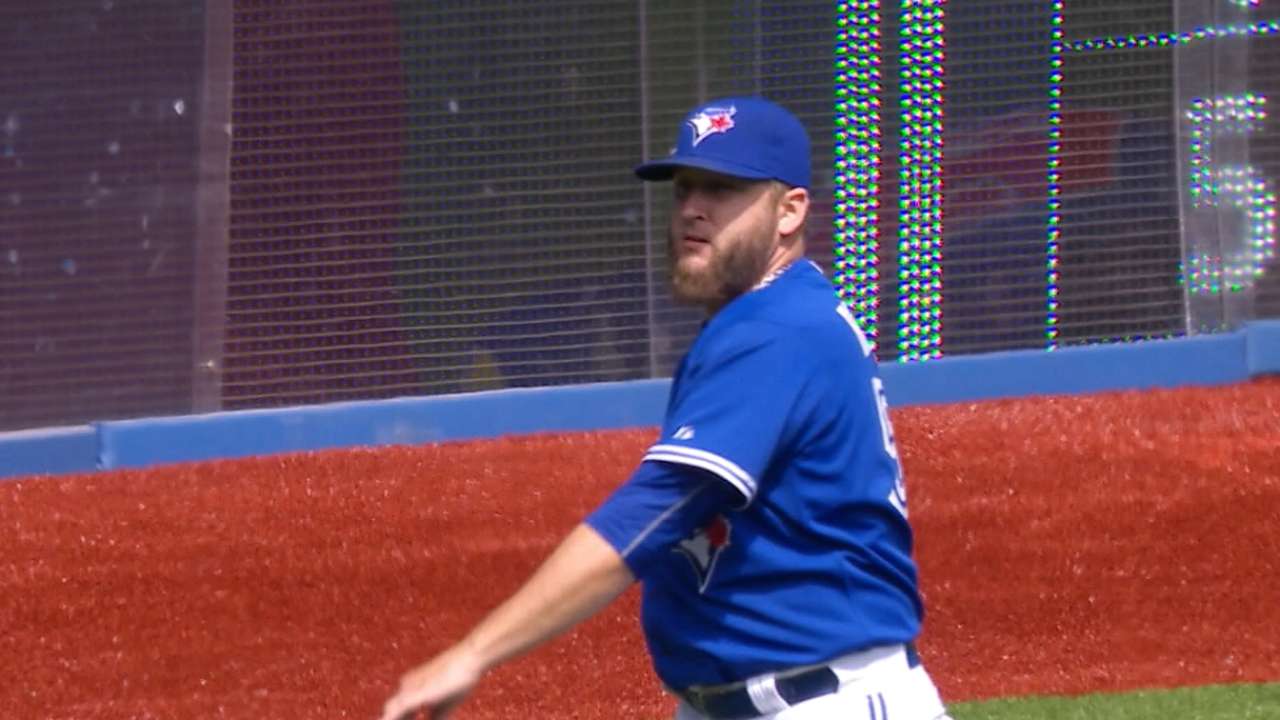 4. The first-base platoon
The Blue Jays have opted to use Edwin Encarnacion primarily as a designated hitter in recent weeks, which has opened the door for Justin Smoak and Chris Colabello to split time at first. That situation has worked out well, but eventually the club will have to pick its preferred option.
Smoak has the edge on defense as an elite fielder, and 11 home runs in just 205 at-bats shows there's some value in his bat. The problem is that Colabello has been an integral part of the lineup for most of the year, and he continues to produce. People have been waiting for Colabello's production to dip, but he is still hitting .324, with 11 homers, 46 RBIs and an .875 OPS in 262 at-bats.
5. Waiting on Tulo
Tulowitzki's arrival in Toronto coincided with an 11-game winning streak, so all of the early reports were positive, even though the 10-year veteran has yet to look fully comfortable in a Blue Jays uniform. He's hitting .219 with six extra-base hits in 19 games, and at times he appears to be been pressing at the plate.
That's a concern, but Tulowitzki is simply too good of a hitter for the lack of production to continue. It's only a matter of time before he heats up, and when that happens, Tulowitzki has the type of bat that can help carry a team. The sooner it happens, the better for Toronto, but one luxury the club does have is a high-powered offense, which makes waiting on Tulowitzki a lot easier.
Gregor Chisholm is a reporter for MLB.com. Read his blog, North of the Border, follow him on Twitter @gregorMLB and Facebook, and listen to his podcast. This story was not subject to the approval of Major League Baseball or its clubs.