McGee has torn meniscus, out 6-8 weeks
Lefty to undergo surgery; Rays call up Romero to fill spot in bullpen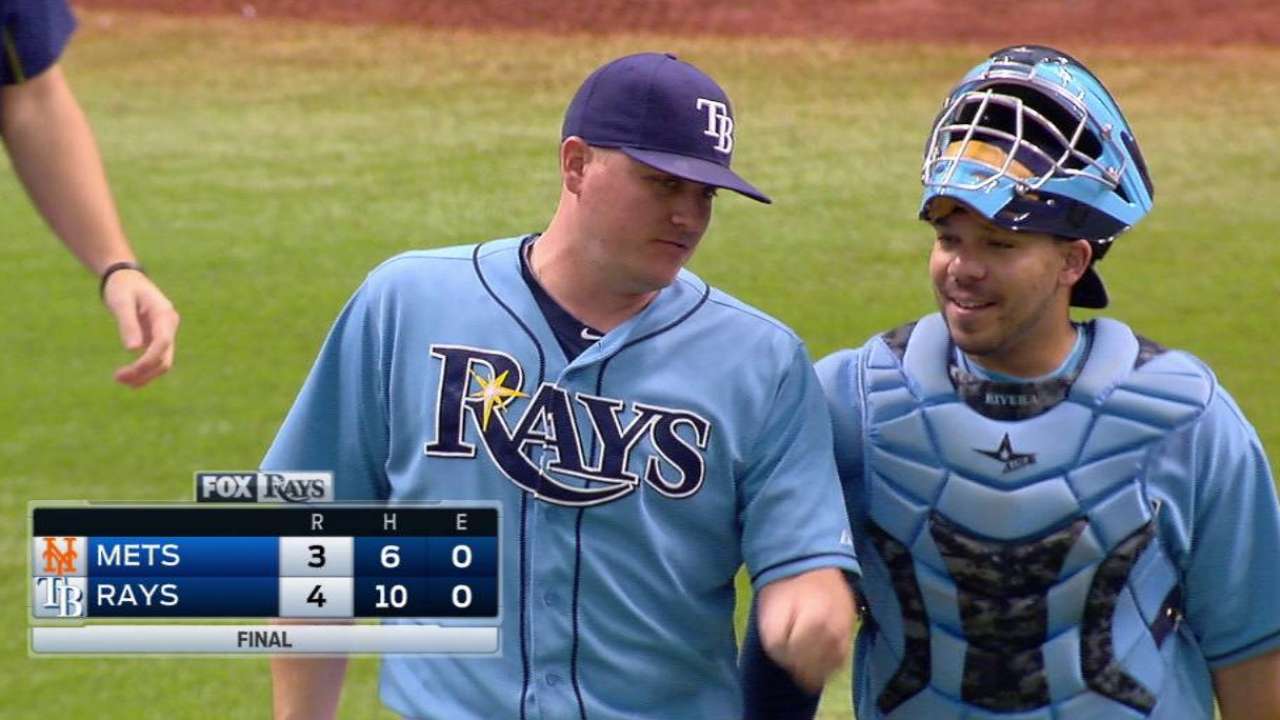 HOUSTON -- Bad news hit the Rays' bullpen on Thursday. Reliever Jake McGee will miss 6-8 weeks after being diagnosed with a torn meniscus in his left knee, putting his return this season in question.
"It's frustrating," Rays manager Kevin Cash said. "Jake is such a big part of our bullpen, part of our team. We were kind of hopeful this was going to be more of a week, take some time, let it rest. But he went and saw the doctor and he's going to have the procedure done and have the rehab and hopefully we'll see him back."
McGee, who was placed on the 15-day disabled list retroactive to Wednesday, will undergo arthroscopic surgery on Friday. Tampa Bay called up lefty Enny Romero from Triple-A Durham in his place.
McGee served as the team's closer in 2014, and he's largely been used as the setup man for Brad Boxberger this season. The Rays must now deal with filling the hole left by McGee.
"I think we've got some guys who are throwing the ball really well in the bullpen right now," Cash said. "Obviously, Alex [Colome] is. [Xavier] Cedeno continues to do that. And Brandon Gomes, his last three or four outings have been really good. We'll kind of mix and match, kind of like we've done all year long. Just some different names."
Cash was asked if McGee's absence would bring a different game plan for how he uses Boxberger.
"Not really, I don't think," Cash said. "If we think it's best for Box to come in and get three big outs in the eighth, then we'll do that. So, no, I don't think it's any different going forward."
Colome, who struck out the side on 10 pitches in the eighth inning of Wednesday night's 3-2 loss, seems to be the guy the Rays are most excited about right now. When pressed if Colome could see action in the ninth inning, Cash said: "We could see anybody in the seventh, eighth or ninth innings."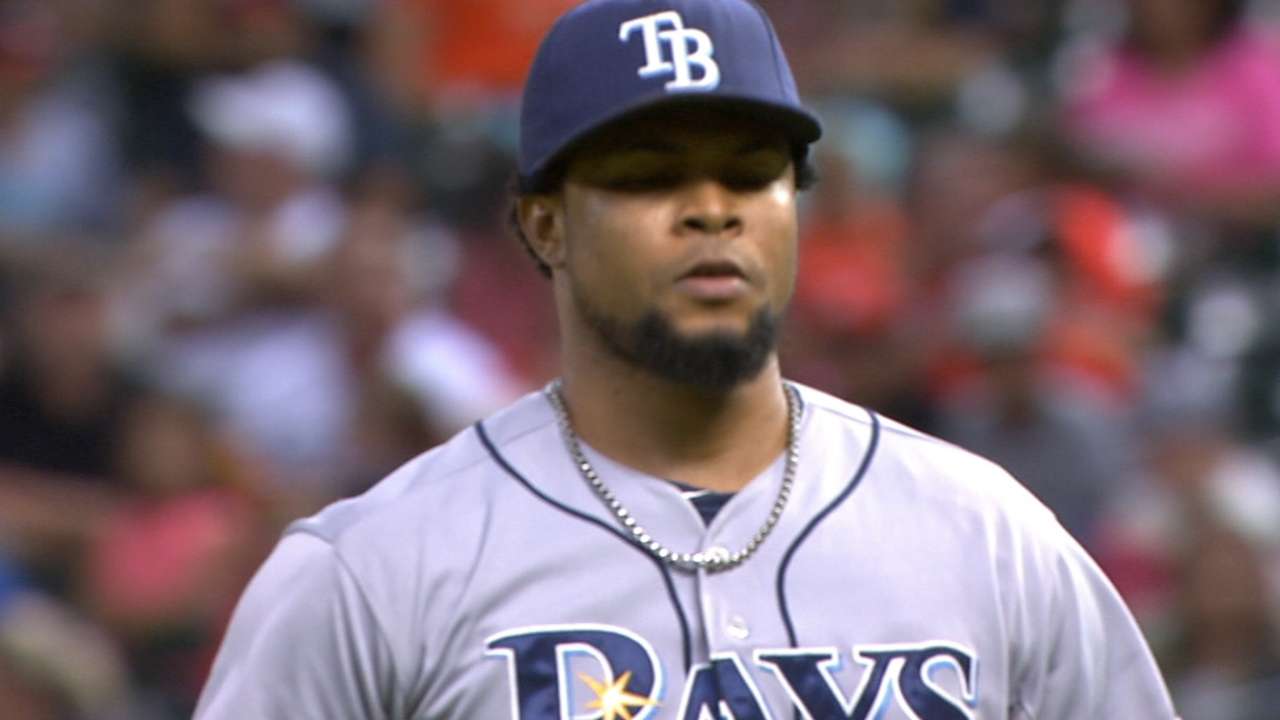 Colome began the season in the rotation and made 13 starts before moving to the bullpen. Though he had to make some adjustments to the new arrangement, the Dominican right-hander has done particularly well since the All-Star break.
"You look at a lot of young starters who go to the bullpen and maybe they simplify some things," Cash said. "Hopefully that's what he's doing, because the weapons are there. I have no idea what the future entails for him -- starter or reliever. But right now he's in our bullpen and really seems to be taking to it."
Cash noted that there are plenty of stories about starters who become relievers and have success. Colome has the physical tools to make that possibility a reality.
"You're talking about a power fastball and what he's shown lately, a power slider," Cash said. "Another thing he does really well, and he did this as a starter, he holds runners really well. He's so quick with his delivery. And that's a big, big asset to have when you're pitching in tight ballgames."
McGee first felt the injury toward the end of his 33-pitch outing on Tuesday in Houston. In 36 appearances for the Rays this season, he has a 2.57 ERA and a 0.91 WHIP.
McGee will become the fourth Rays player to undergo surgery during the season, joining outfielder Desmond Jennings, left-hander Jeff Beliveau and right-hander Alex Cobb.
Romero, meanwhile, has made six appearances for the big league club this season, allowing nine earned runs in 11 1/3 innings. This will be his fifth tour of duty with the Rays this season.
Bill Chastain is a reporter for MLB.com. This story was not subject to the approval of Major League Baseball or its clubs.