MLB.com Columnist
Jim Callis
Draft prospects pack 18-and-under national team
USA Baseball announces squad that will compete in World Cup in Japan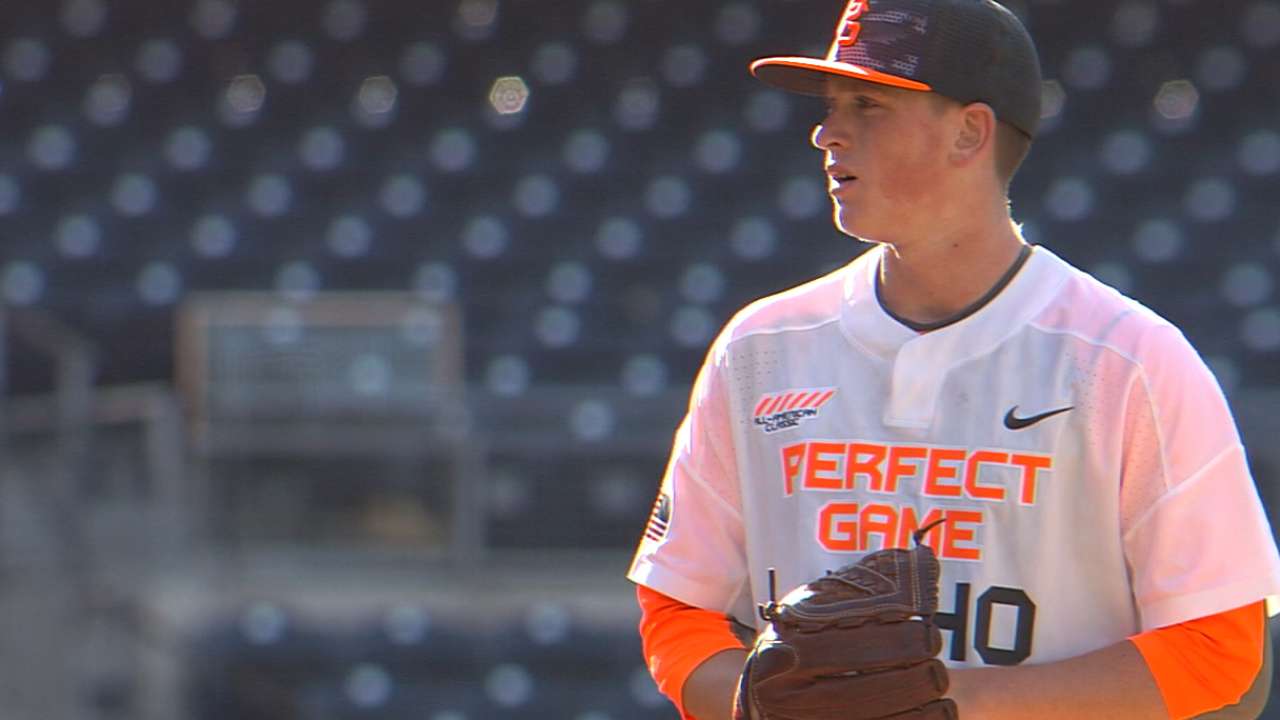 USA Baseball completed its final four days of trials and announced its 18-and-under national team on Wednesday. The squad will compete in the World Baseball Softball Congress 18U Baseball World Cup from Aug. 27-Sept. 6 in Osaka, Japan, after winning the gold medal in the last WSBC World Cup two years ago in Taiwan.
This summer's 18U team features several of the best high school prospects for the 2016 Draft. Right-handers Austin Bergner (Windemere, Fla., Prep), Ian Anderson (Shenendehowa High, Clifton Park, N.Y.) and Reggie Lawson (Victor Valley High, Victorville, Calif.) -- all potential first-round choices -- will headline the pitching staff. The lineup features first baseman/outfielder Will Benson (The Westminster Schools, Atlanta) and outfielder Blake Rutherford (Chaminade Prep, Los Angeles), the top two position prospects in the 2016 prep crop, as well as outfielder Mick Moniak (La Costa Canyon High, Encinitas, Calif.).
Four of the players won't be Draft-eligible until 2017. Right-hander/catcher Hagen Danner (Huntington Beach, Calif., High), left-hander Jordan Butler (Alonso High, Tampa, Fla.), outfielder/lefty Hunter Greene (Notre Dame Prep, Sherman Oaks, Calif.) and first baseman/lefty Nick Pratto (Mater Dei High, Santa Ana, Calif.) are all rising juniors.
The team will be coached by Barbe High's (Lake Charles, La.) Glenn Cecchini, who has worked at numerous Team USA events and has two sons in pro ball -- Red Sox big leaguer Garin and Mets prospect Gavin. The 18U squad has won gold medals in tournament play in each of the past four years.
The complete 20-man roster, including the hometown for each player:
Michael Amditis, C, Boca Raton, Fla.
Ian Anderson, RHP, Rexford, N.Y.
Daniel Bakst, SS, New York
William Benson, IB/OF, Atlanta
Austin Bergner, RHP, Windermere, Fla.
Jordan Butler, LHP, Odessa, Fla.
Hagen Danner, RHP/C, Huntington Beach, Calif.
Braxton Garrett, LHP, Florence, Ala.
Kevin Gowdy, RHP, Santa Barbara, Calif.
Hunter Greene, OF/LHP, Stevenson Ranch, Calif.
Cooper Johnson, C, Mundelein, Ill.
Reggie Lawson, RHP, Adelanto, Calif.
Morgan McCullough, SS, Seattle
Mickey Moniak, OF, Encinitas, Calif.
Nick Pratto, 1B/LHP, Huntington Beach, Calif.
Nicholas Quintana, SS, Las Vegas
Ryan Rolison, LHP, Jackson, Tenn.
Blake Rutherford, OF, Simi Valley, Calif.
Cole Stobbe, SS, Omaha, Neb.
Forrest Whitley, RHP, San Antonio
Jim Callis is a reporter for MLB.com and writes a blog, Callis' Corner. Follow @jimcallisMLB on Twitter. This story was not subject to the approval of Major League Baseball or its clubs.