MLB.com Columnist
Roger Schlueter
Stats of the Day: Bird in rare air with fast start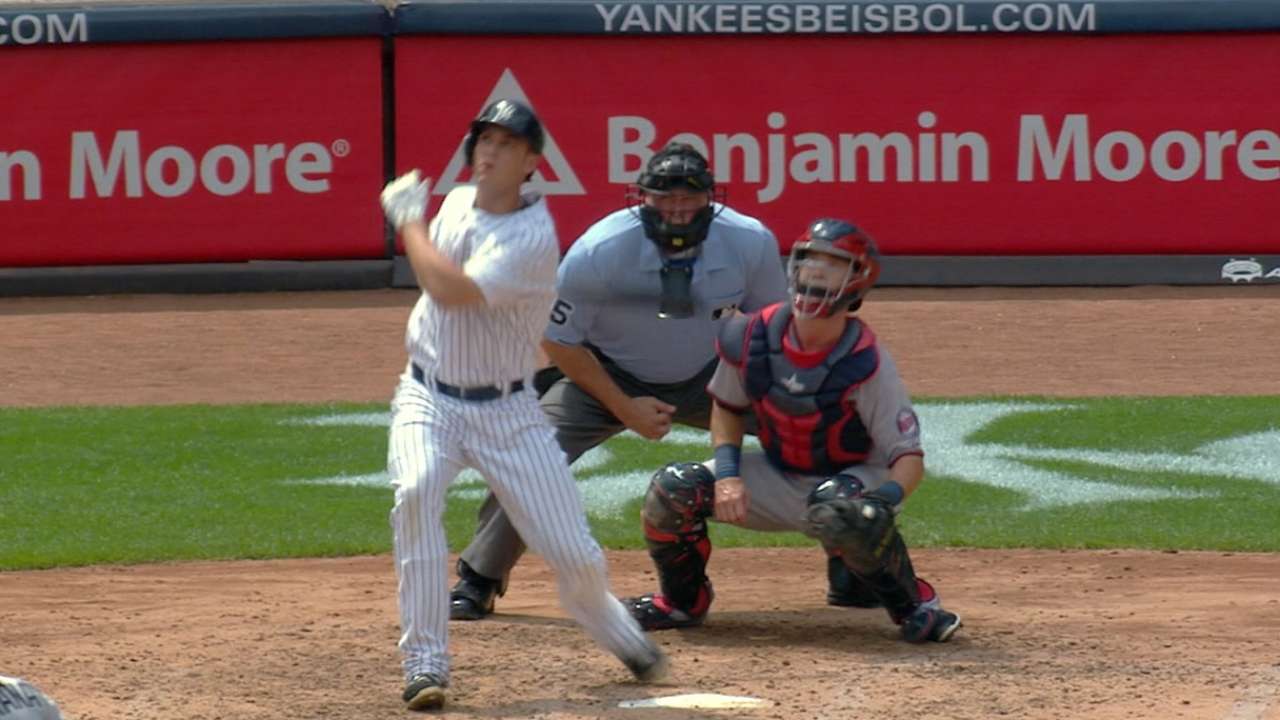 Here are five interesting items from around the big leagues on Wednesday …
In the Yankees' 4-3 win over the Twins, Greg Bird put together his first multihomer game (hitting a pair of two-run shots). With the feat coming in his fifth career contest, Bird became the third Yanks player in a century to produce a multihomer game so quickly out of the gate. He joins Shelley Duncan (2007) and Jesus Montero ('11).


Ortiz hits homer No. 492

CLE@BOS: Ortiz hits a solo homer for No. 492

8/19/15: David Ortiz connects for a solo homer, No. 492 of his career, to give the Red Sox a 1-0 lead



David Ortiz's 492nd career home run headlined a Red Sox attack that produced four round-trippers at Fenway Park in a 6-4 victory over the Indians. While Ortiz is now one home run shy of tying Lou Gehrig and Fred McGriff for 27th on the all-time list, he is also two homers shy of tying Dwight Evans for the fourth most hit at Fenway Park. With 199, Evans trails Ted Williams (248), Carl Yastrzemski (237) and Jim Rice (208).



Molina's 100th career homer

SF@STL: Molina drills his 100th career home run

8/19/15: Yadier Molina hammers the 100th home run of his career, a solo shot to left that gives the Cardinals a 4-3 lead in the 8th



Yadier Molina's eighth-inning solo homer gave the Cardinals a 4-3 lead (and eventual win) over the Giants, and gave the 33-year-old backstop his 100th career four-bagger. Molina is the second Cards catcher with 100, joining Ted Simmons and his 172. The homer also represented Molina's first as a cleanup hitter.



Perez's solo homer

CWS@LAA: Perez breaks the deadlock with a solo homer

8/19/15: Carlos Perez rips a solo homer, his third of the season, to give the Angels a 1-0 lead in the 6th inning



Carlos Perez hit a solo home run in the sixth inning that both began and ended the scoring as the Angels took a 1-0 decision against the White Sox. The Halos have three games this season in which they have won, 1-0, with the only run coming on a long ball. On June 13, Albert Pujols was the hero in a win against the Athletics, and on July 17, Mike Trout hit a walk-off against the Red Sox. Before this season, the Angels last had a game like this in 2009, and the last season to see them have as many as three was '02. The franchise's most in any one season came in 1964, when it had four. Three of the four in '64 gave Dean Chance a win.

The Tigers (five) and Cubs (three) combined for eight home runs in a 15-8 decision for the visiting team at Wrigley Field. A few notes: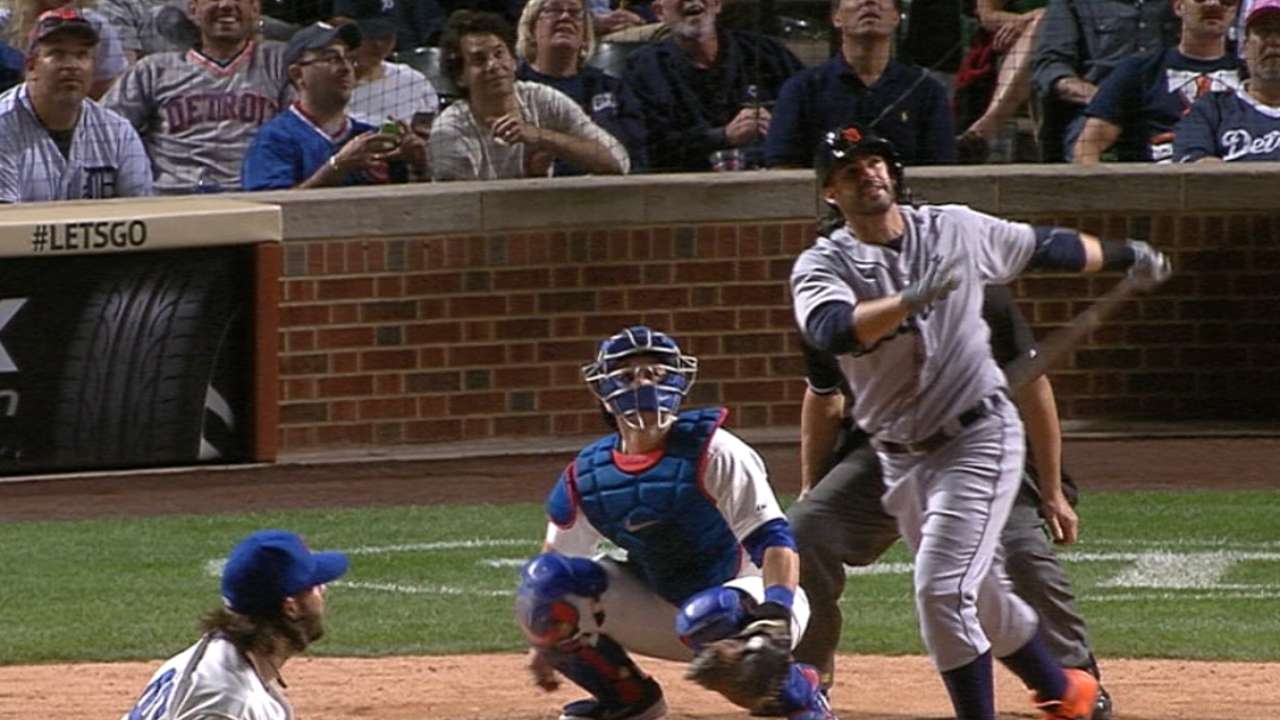 In his first Major League plate appearance, Tigers starting pitcher Daniel Norris homered. Norris is the seventh Detroit player to homer in his first plate appearance, joining Hack Miller (1944), George Vico ('48), Gates Brown ('63), Bill Roman ('64), Gene Lamont ('70) and Reggie Sanders ('74). Norris is the first pitcher to do this since the Nationals' Tommy Milone in 2011.
Nick Castellanos connected for two home runs, including his second grand slam of the year. Before Castellanos, Brandon Inge in 2009 had been the last Tigers player to have multiple slams in a season.
For the Cubs, Kris Bryant hit his 17th home run and Kyle Schwarber landed his 10th. Bryant's 17 tie him with Bill Serena (1950) and Mel Hall ('83) for the eighth most by a Cubs rookie. With 25 in '61, Billy Williams holds the team record. With Schwarber reaching double digits, the Cubs are the 23rd team to have multiple first-year players with at least 10 round-trippers. The 1955 Cubs -- with Jim King and Bob Speake -- are on this list. The '58 Giants had five players, for the most: Orlando Cepeda, Jim Davenport, Willie Kirkland, Bob Schmidt and Leon Wagner.
Milestone watch for Thursday
Max Scherzer needs six strikeouts for 200 in 2015. With the milestone, Scherzer would have at least 200 in four straight seasons.

Jake Peavy needs one strikeout to tie teammate Tim Hudson (2,069) for 67th on the all-time list. With six K's, Peavy would tie Fernando Valenzuela for 66th.
Roger Schlueter is a contributor to MLB.com. This story was not subject to the approval of Major League Baseball or its clubs.