Top prospects: Garrett, Sparks among 10 best Wednesday
Reds No. 3 prospect hurls a seven-inning shutout, No. 23 goes 3-for-3 for Tortugas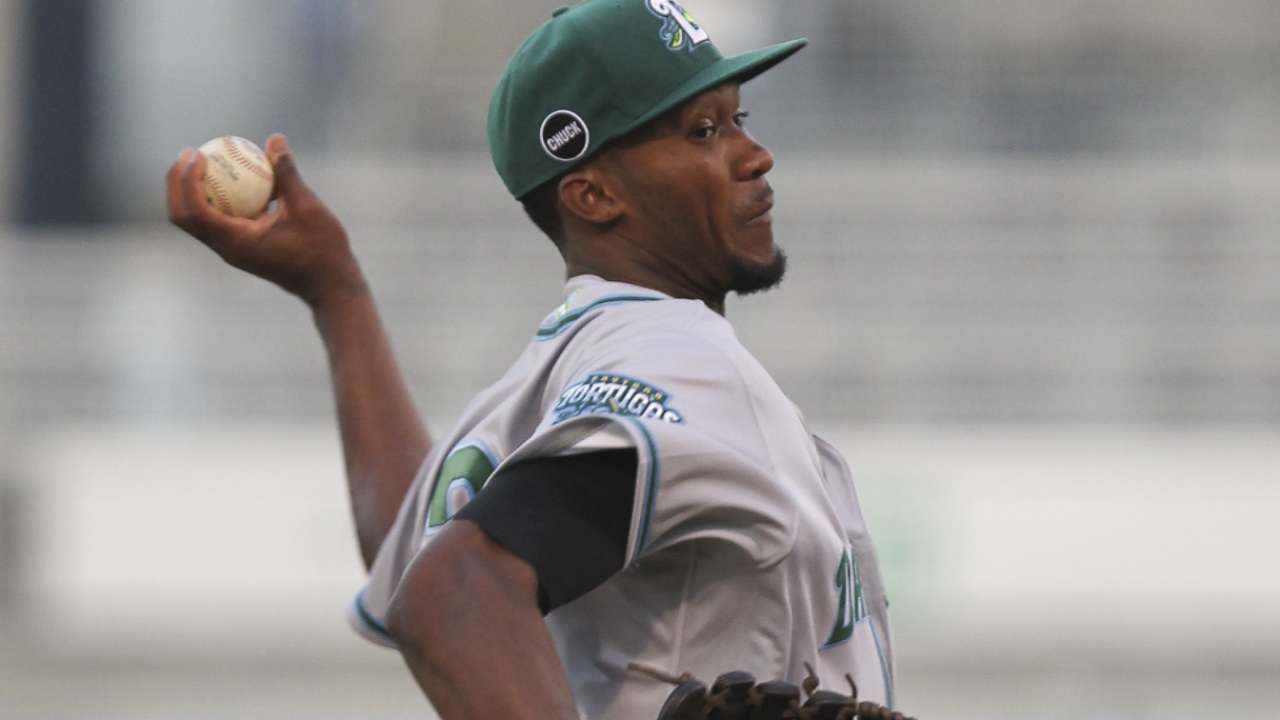 Class A Advanced Daytona leaned on two players -- pitcher Amir Garrett and third baseman Taylor Sparks -- to outlast Brevard County, 4-0, in the first game of a doubleheader on Wednesday.
Garrett, the Reds' No. 3 prospect (No. 79 overall), delivered a seven-inning shutout for the Tortugas. He struck out six and walked none and has not allowed a run in his past two starts (14 total innings).
Garrett's record stands at 9-6 with a 2.38 ERA -- his lowest since early April -- and he has not lost in his past seven outings.
Sparks provided the offense on Wednesday. The third baseman went 3-for-3 with a triple, home run and three RBIs. While he was 0-for-2 in the second game, he did pick up his 52nd RBI of the season on a first-inning sacrifice fly.
The Reds' No. 23 prospect is hitting .255/.304/.411 with 20 doubles, 12 homers and 12 stolen bases for the Tortugas, who took both games of the doubleheader and sit in first place of the Florida State League North division with a 32-19 second-half record.
The rest of the 10 best performances from top Minor Leaguers
• Angels No. 1 prospect (No. 23 overall) Sean Newcomb set a new Double-A high mark with eight strikeouts for Arkansas. The 6-foot-5 southpaw won his second straight for the Travelers, allowing one run on four hits and three walks. He's 2-0 with a 1.71 ERA in four Double-A starts, after posting a 6-1 record and 2.47 ERA in 13 starts for Class A Advanced Inland Empire. Drafted in the first round last summer, Newcomb is 9-2 in 30 pro starts, over which time he's collected 170 strikeouts -- an average of 5.67 per outing.
• Padres No. 1 prospect (No. 81 overall) Hunter Renfroe turned in an excellent debut for Triple-A El Paso. He went 3-for-4 with a double, home run and a tied his career-high with four RBIs as the Chihuahuas took down Memphis, 8-1. Renfroe hit .259/.313/.425 with 14 homers and 54 RBIs for Double-A San Antonio before getting promoted Wednesday. San Diego's first-round Draft pick in 2013, Renfroe had recorded four hits once before - - on May 22 of this season. Wednesday's homer was his first since Aug. 1. Renfroe singled in the first inning then followed with a sacrifice fly in the fifth and a double in the sixth and a homer in the eighth inning.
• Rays No. 2 prospect (No. 46 overall) Blake Snell continues to spin swell starts for Triple-A Durham. The southpaw won his third straight for the Bulls and boasts a 4-2 record and a 1.53 ERA through six starts. He went five innings Wednesday, allowing one run on one hit and striking out seven. He's been one of the most consistent starters in the Minors this year and has a 13-4 record with a 1.29 combined ERA across three levels in 2015.
• Red Sox No. 6 prospect Andrew Benintendi made up for a hitless debut by going 2-for-4 with two homers and a walk in Class A Greenville's 7-5 win over Greensboro on Wednesday night. The outfielder got a promotion from Class A Short Season Lowell on Monday, but he went 0-for-4 in his first game with the Drive. After a day off Tuesday, he showed why he was the No. 7 overall pick in this summer's Draft. Benintendi homered in his first at-bat with a runner on and one out. Then, with the game tied in the 10th inning, he followed up Rafael Devers' go-ahead RBI single with an insurance dinger.
• Tigers No. 9 prospect Kevin Ziomek's extraordinary night ended without making history. The southpaw had a no-hitter going with only one out left in Class A Advanced Lakeland's 3-1 win over Tampa, but he could not finish it. Down to his final strike, Yankees No. 20 prospect Dustin Fowler ripped a double to stop the hitless effort and ruin Ziomek's bid for a no-no. Tampa added a walk and then an RBI singled from No. 22 Miguel Andujar before Ziomek was replaced by Whit Mayberry, who promptly ended the game by inducing a groundout. While he undoubtedly would've preferred a different outcome against Fowler, Ziomek still picked up his seventh win of the season and cut his ERA from 3.82 to 3.70. He collected four strikeouts and has allowed just four earned runs in his past four starts (25 2/3 innings).
• Twins No. 6 prospect Max Kepler went 4-for-5 with a two-run homer for Double-A Chattanooga. His blast to left center helped the Lookouts coast to an 11-0 win over Pensacola. The center fielder is currently on an eight-game hitting streak, over which time he's boosted his line from .326/.411/.544 to .342/.424/.578. The German-born Kepler also has 31 doubles, 12 triples, nine homers and 59 RBIs -- along with 16 stolen bases -- for Chattanooga this season.
• White Sox No. 1 prospect (No. 42 overall) Tim Anderson reeled off his sixth multi-hit game in the past 10 contests and ripped his first home run since July 30 for Double-A Birmingham. The designated hitter finished 3-for-5 with two runs, a double and a solo blast. His .317 average is tied for his best since April 30 and he has 11 doubles and four homers to go with 40 RBIs. The speedster was caught stealing Wednesday, but he's still swiped 46 bags in 59 tries.
• Yankees No. 2 prospect (No. 20 overall) Aaron Judge launched his seventh homer for Triple-A Scranton/Wilkes-Barre, and his 23rd overall. The highly touted right fielder finished 2-for-3 and his fourth-inning solo shot proved to be the go-ahead shot in a 2-1 triumph over Lehigh Valley. Judge has hit in seven of his past eight games and stands at .247/.328/.420 with 25 RBIs in 43 games for the RailRiders.
Alex M. Smith is a reporter for MLB.com. This story was not subject to the approval of Major League Baseball or its clubs.