Strasburg dominates to earn first win at Coors
Nationals starter holds Rockies to two hits, fans five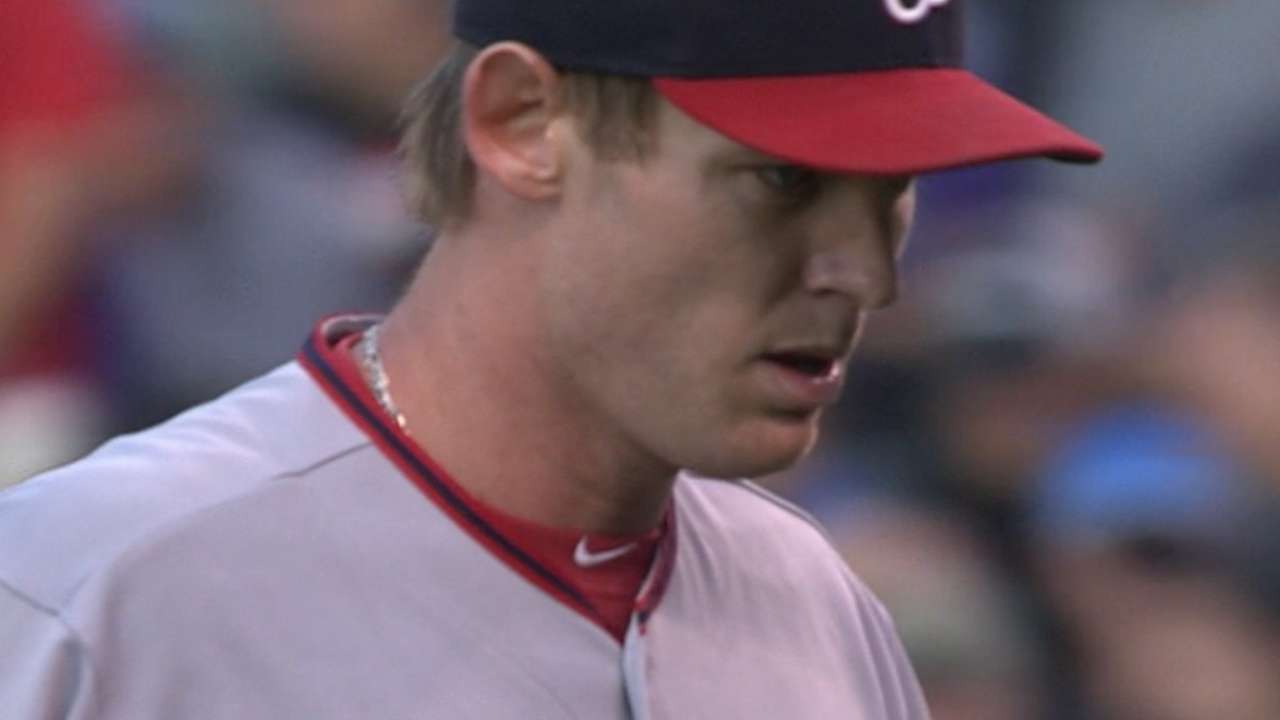 DENVER -- Jayson Werth has been a teammate of Stephen Strasburg's for the last five seasons, so he knows as well as anyone what the right-handed flamethrower is capable of on the mound.
Wednesday night was exactly that.
For the second time in less than two weeks, Strasburg dominated the Rockies, surrendering just two hits and one run (zero earned) over seven innings. He picked up his 50th career win -- his first at Coors Field -- in propelling the Nationals to a 4-1 victory over Colorado.
"When you think of Stephen Strasburg, that's what you think of," Werth said.
After Ben Paulsen reached on a second-inning error and eventually scored on a wild pitch, Strasburg was nearly flawless. He retired 17 of the final 18 hitters he faced, including the last 10.
He did all of that on just 93 pitches, the second lowest pitch count for Strasburg in a start that lasted at least seven innings this season.
"In this ballpark, that's saying something," Nationals manager Matt Williams said. "It worked out for us that we pinch-hit for him and got a couple runs in the [eighth] inning. He could've gone back out. He was in command the whole game. He threw it where he wanted to and threw well."
Although the altitude at Coors Field is often a treacherous obstacle for pitchers, Strasburg has experience with it. While pitching for San Diego State, he experienced many Mountain West Conference venues that were stationed at higher altitudes, giving him something to fall back on during his preparation.
Breaking pitches are most affected by the higher elevation, so Strasburg began tinkering with his curveball as soon as he arrived.
"You've just got to play with [your curveball] a little bit," Strasburg said. "Yesterday, I was spinning a lot of curveballs in batting practice, just trying to see the break and everything. The biggest thing is not trying to overthrow it and just trust it."
Since returning from the disabled list on Aug. 8, Strasburg has been nearly untouchable in three starts. Two of those dominant outings have come versus the Rockies. Over his last 14 innings against them, Strasburg has given up five hits and two runs (one earned) with zero walks and 17 strikeouts.
The Nationals will certainly need more of that in an important final six weeks of the season.
"It's good to see him getting back into form," said Werth, who backed Strasburg with a two-out, two-run triple in the eighth inning. "Going down the stretch, we're going to need everybody, and we're going to need him to continue to pitch like that."
Dargan Southard is an associate reporter for MLB.com. This story was not subject to the approval of Major League Baseball or its clubs.