Fenway's quirks get best of Kluber
Tribe's ace surrenders four homers but otherwise flashes dominant stuff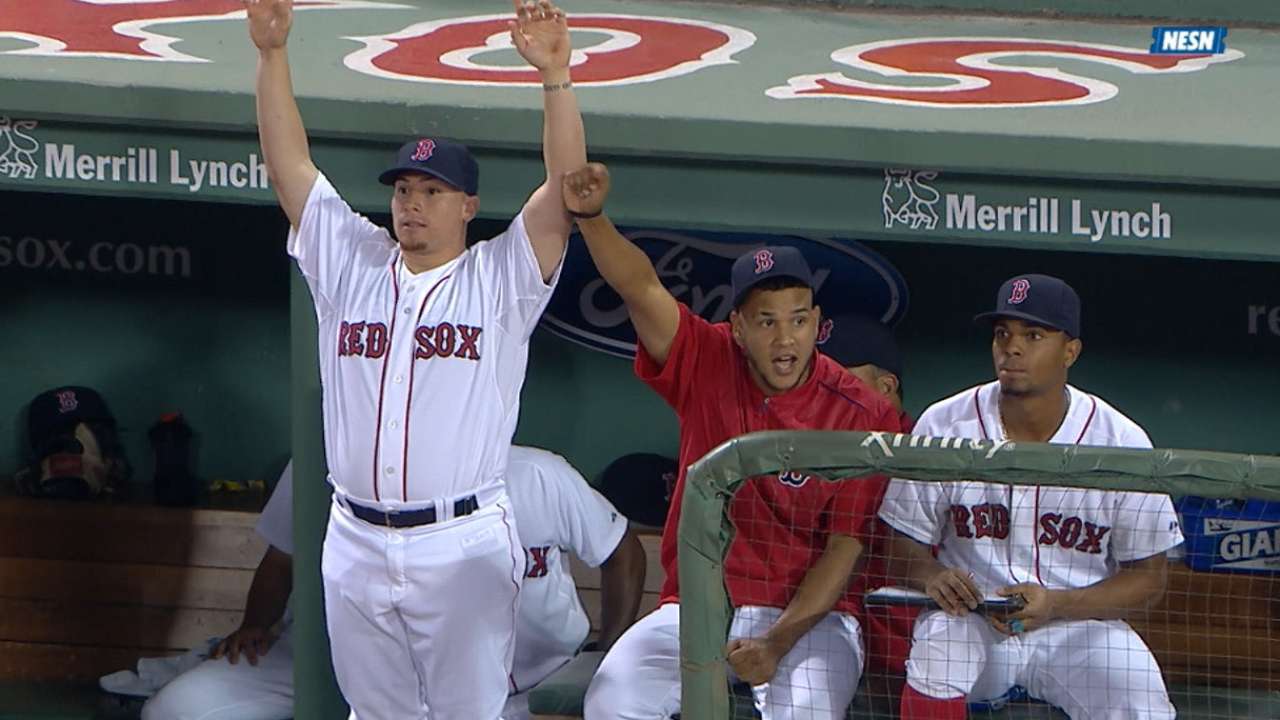 BOSTON -- Corey Kluber did what he could to shrug off one of the strangest outings of his career on Wednesday night. The Red Sox launched four home runs off the Indians ace, marking the most he had yielded in a start, but Kluber felt he was, at least in part, a victim of Fenway Park's peculiar dimensions.
"They hit two popups that accounted for four runs," Kluber said in the wake of Cleveland's 6-4 loss to Boston. "Other than that, it was pretty good."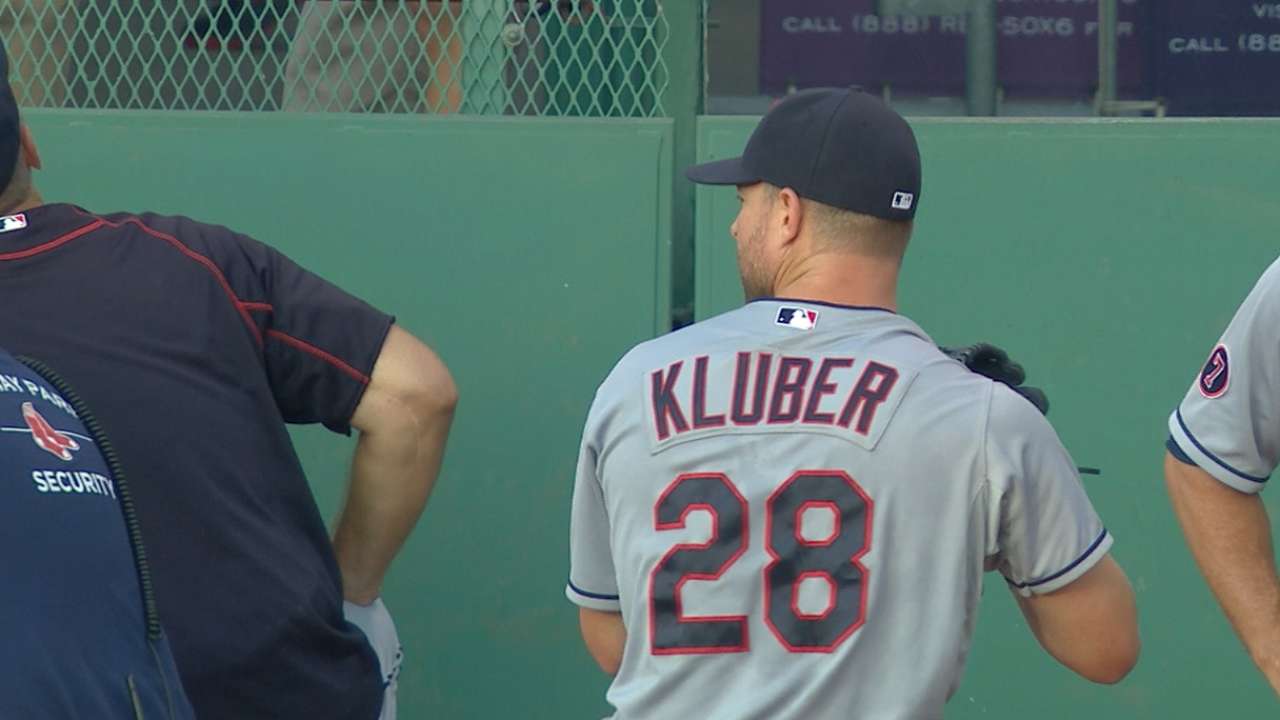 Unfortunately for Kluber, those "popups" found their way over the fence, putting the Indians in a six-run hole by the fourth inning in the finale of a three-game series. Kluber's dominance was on display in the form of nine strikeouts over his six innings, but the four home runs -- a pair of back-to-back shots -- created too much damage for Kluber or the Tribe's lineup to overcome.
David Ortiz and Travis Shaw belted consecutive homers off Kluber to open the second inning, and Jackie Bradley Jr. and Ryan Hanigan followed suit with back-to-back home runs with two outs in the fourth. The second set served as the final blow against Kluber.
And yet ...
"In this ballpark, what might be a double to left field ends up being a home run," Indians manager Terry Francona said. "A couple of his fastballs, they weren't terrible pitches, they just weren't located like he can locate them, and they took advantage of them."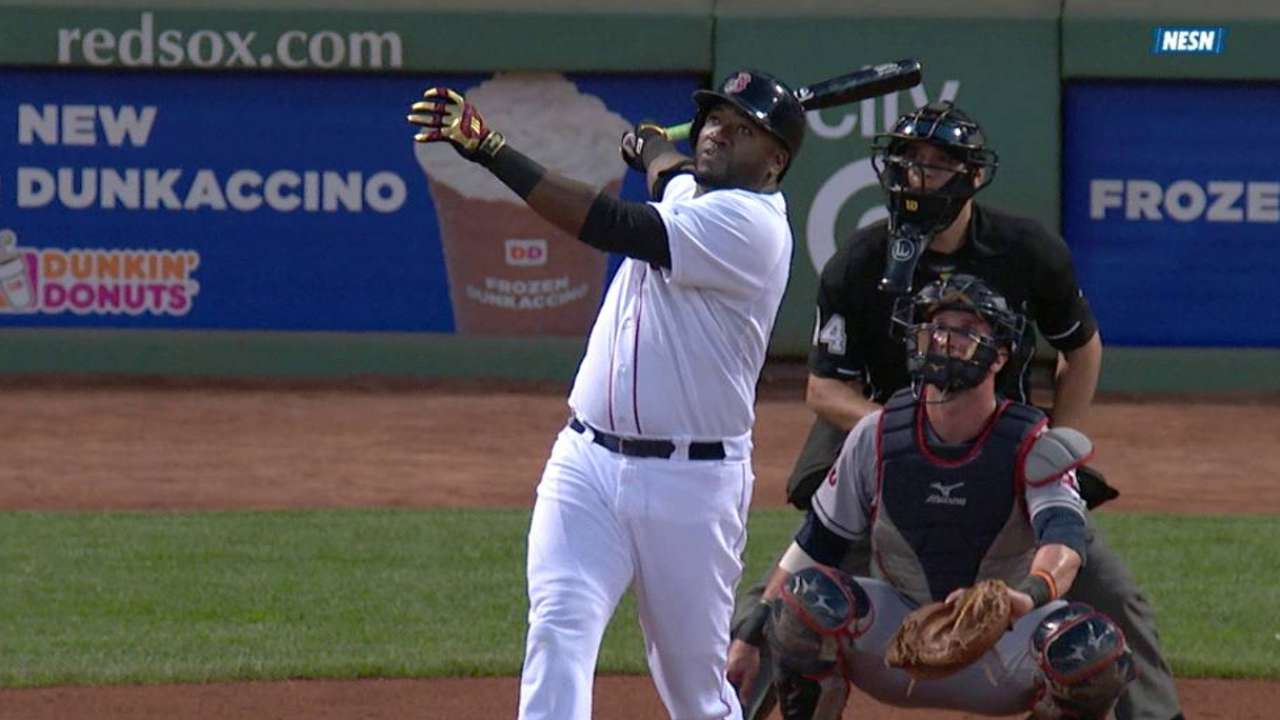 Ortiz's shot into the visitors' bullpen was hardly a popup; it was hit 105.5 mph off the bat, according to Statcast™. That said, Indians right fielder Lonnie Chisenhall looked like he might have a play on the ball, as he reached up and over the wall, unable to extend far enough to snare the 492nd career homer for Big Papi. Shaw followed with one that found the Monster Seats atop the 37-foot wall in left field.
Things really unraveled on Kluber in the fourth.
With two outs, Rusney Castillo began Boston's rally by sending a first-pitch sinker into left field for a single.
"Castillo hit a ground ball that found a hole," Kluber said.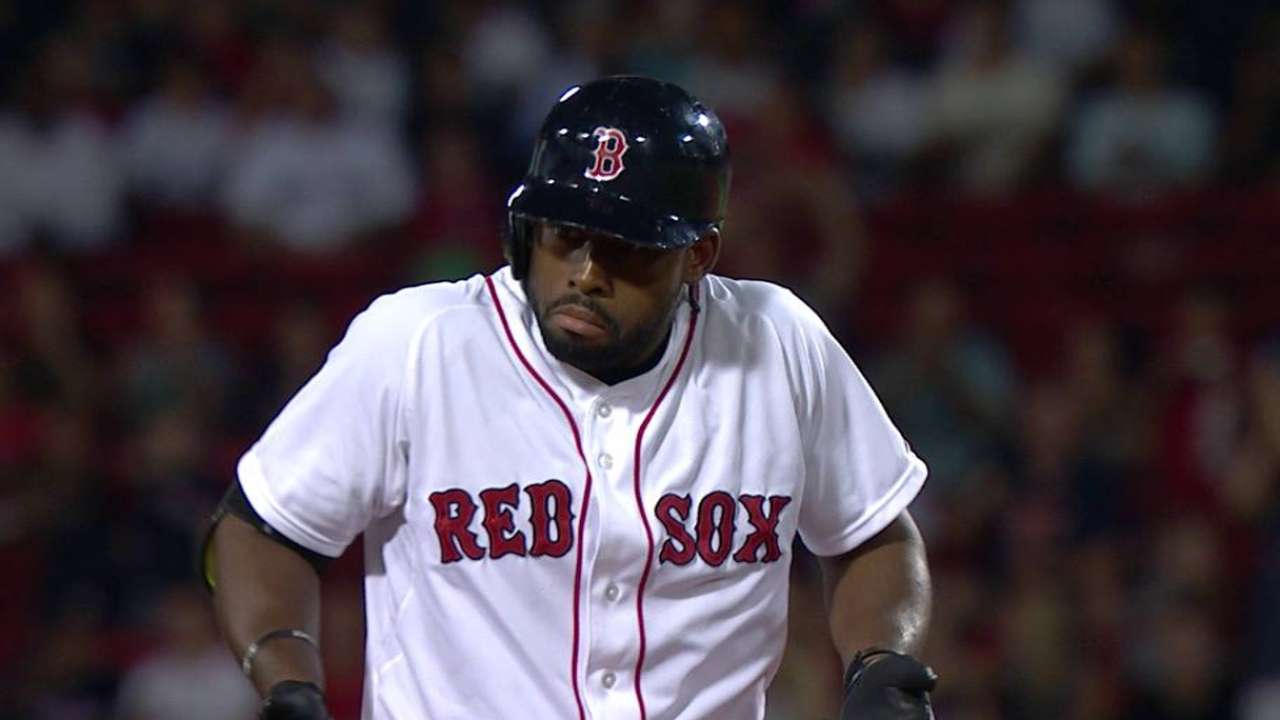 Then came a five-pitch battle with Bradley. After cycling through a four-seamer, a sinker and a pair of curveballs, Kluber returned to his four-seam fastball. That is a pitch Kluber rarely threw last year, when he won the American League Cy Young Award -- only 3.9 percent of his pitches were four-seamers in 2014 -- but he has relied on it more this summer. Bradley saw the pitch for the third time in two trips to the plate and sent it bouncing off a light tower above the left-field wall.
"Bradley hit a popup that, the nature of this park, it turns into a home run," Kluber said.
Bradley was even a bit confused at first, because the ball bounced back into the outfield. He initially stopped at second base but was quickly informed that he had belted a three-run homer to put Cleveland in a 5-0 hole.
"I didn't think it was a home run, as you could see," Bradley said. "Off the bat, I just tucked my head and started running. When I saw the outfielder playing the ball, I played it like it was a double off the wall, so I didn't even know it went over."
There was no doubt about the next one, though.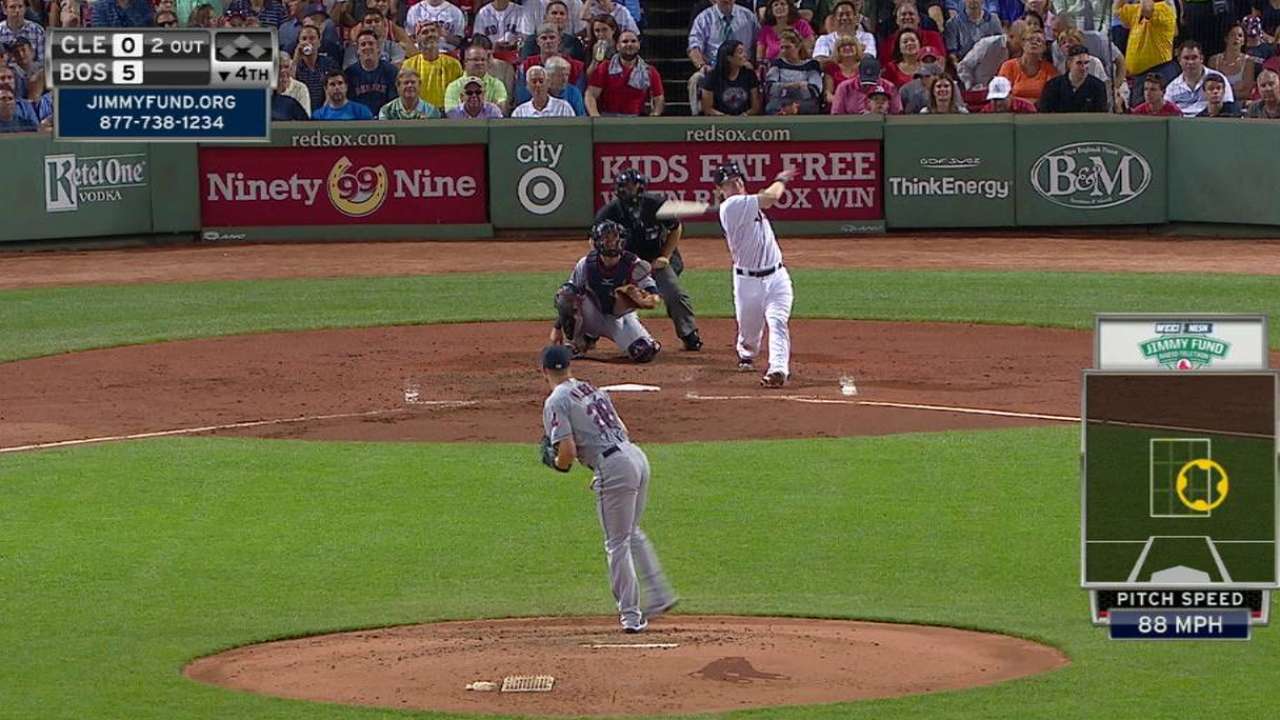 Kluber went with a first-pitch cutter to Hanigan that missed its intended location at 88 mph. Boston's catcher did what any good hitter should do, crushing the ball well over the wall for Kluber's fourth homer allowed. Even Kluber conceded that Hanigan's blast was no popup.
"It just stayed middle-in," Kluber said of the pitch, "right in any hitter's wheelhouse."
Whether he felt they were popups or not, Kluber knew that was no excuse.
"It's the same for both sides," Kluber said. "That's part of playing to your environment, I guess. They're not home runs in most places, but that doesn't really matter. They were home runs here."
Jordan Bastian is a reporter for MLB.com. Read his blog, Major League Bastian, follow him on Twitter @MLBastian and listen to his podcast. This story was not subject to the approval of Major League Baseball or its clubs.