MLB.com Columnist
Marty Noble
#TBT: Doctor K still stands as a New York legend
Before he was even 21, Gooden mesmerized the Big Apple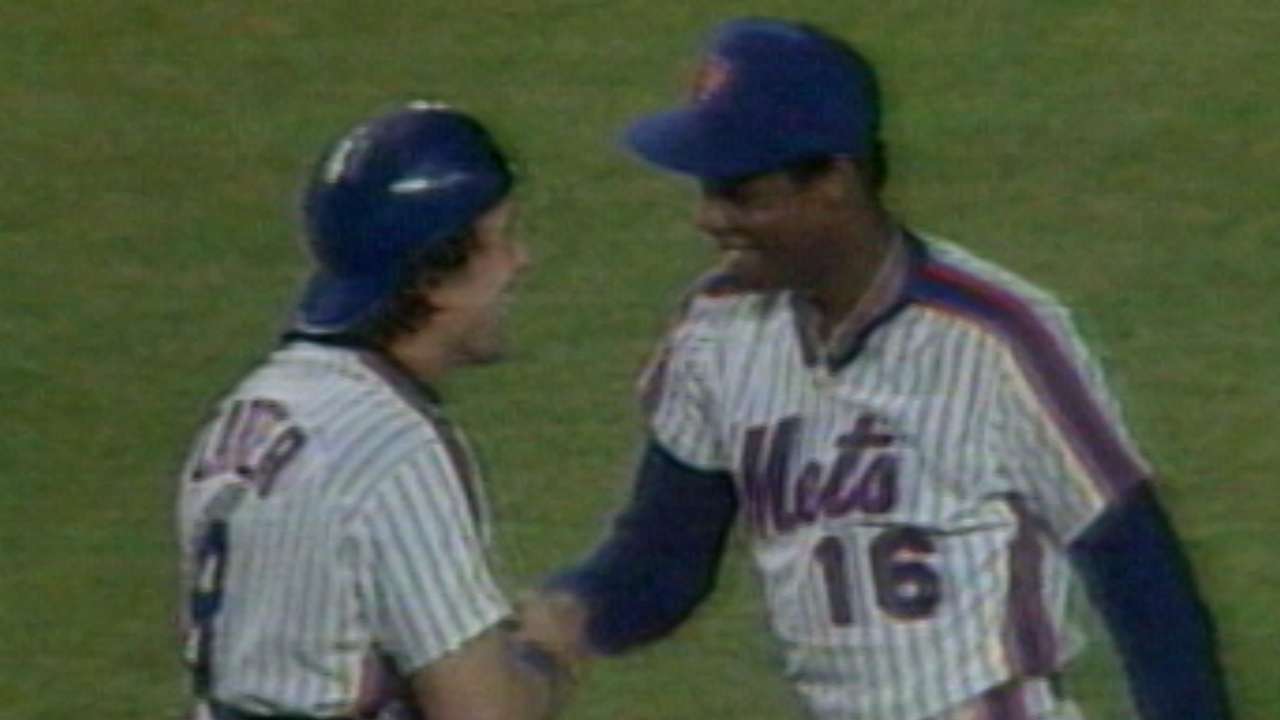 NEW YORK -- The victory, the 72nd of the 98 the Mets would amass that season, was all but secure. Seven additional outs were necessary to complete their engagement against the visiting Giants. To the 32,000 folks who had assembled at Shea Stadium, victory was a fait accompli because Dwight Gooden was pitching, and he was very much in charge.
The Doctor had struck out the first two batters in the seventh inning to increase the number of upper-case K's hanging from the upper deck in left field to 14. The K-aficionados wanted more, at least five more to equal the record, and preferably six more to make Gooden the King of the Hill. The 20-strikeout games of Roger Clemens and Kerry Wood -- Clemens would have two -- hadn't happened yet. Six more K's, and the Doctor would be atop the list.
Dan Gladden, the Giants' left fielder and leadoff batter, was next in line. He already had struck out once. Shea was in a frenzy, demanding that Gooden strike out the side and keep alive his chance for 20.
Then, Gladden denied the masses -- he made contact. The baseball was neither solidly struck nor properly placed. His right-handed swing launched a soft popup into foul territory behind first base.
And as soon as the Gooden constituency recognized the ball would remain in play, first baseman Keith Hernandez was encouraged -- no, implored -- to let the ball fall harmlessly to the turf and afford his 20-year-old colleague another chance for another strikeout.
No laissez faire for the man who already had won seven Gold Gloves, though. Hernandez allowed the baseball to drop into his glove, and as he turned for the dugout, he was roundly booed. The K the fans had coveted had instead become the first letter of killjoy.
If only Dave Kingman still were the Mets' first baseman, Gooden might have had a second chance for a 15th strikeout.
"Can't please everybody all the time," Hernandez after Gooden had put the finishing touches on a 3-0 shutout. "It's OK," Gooden said. "I forgave him."
So 30 years ago today, Aug. 20, 1985, Gooden had to settle for a seven-hit, three-walk, 16-strikeout complete game. "I'll take it," he said. "My mom told me never to be too greedy."
A masterpiece? Not quite.
"Too many walks," Gooden said. "And seven hits... that's too many, too."
That's how he accepted the 19th victory of his second big league season: as a good, but flawed performance.
That's how it was in Flushing, N.Y., in 1985. Gooden was such a dominating force that fans would trade an out for the opportunity to watch him reduce another batter to rubble. They were blindly confident.
Doctor K was the primary force in the big leagues, and that was not open to debate. His right arm was a lethal weapon, his fastball a most formidable force and his curve a piece of splendid deception. Gooden's image was something akin to that of Superman wearing Batman's utility belt.
Gooden wasn't unbeatable. Indeed, the record that was a striking part of his National League Cy Young Award resume was 24-4. But Gooden's ERA in his four losses was 2.89, lower than the overall ERAs of all but 10 pitchers in the big leagues that year. He won the pitchers Triple Crown, leading the big leagues in victories, ERA (1.53) and strikeouts (268). Gooden's 1985 ERA remains the lowest in the big leagues, other than Bob Gibson's unapproachable 1.12 in 1968, since 1919, when Walter Johnson produced a 1.49 ERA.
Gooden threw an NL-high 16 complete games, as well as eight shutouts, and he led the league in innings with 276 2/3.
Gooden's election as the NL Cy Young Award winner was unanimous, and he placed fourth in balloting for the NL Most Valuable Player Award.
"It was better than great," Gooden said. "I couldn't believe it when it was happening -- that year went by so fast -- and I can't believe it now. You always dream when you're young. But I didn't dream like that. No way. I wanted to be in the big leagues, yeah. And when Davey [Johnson] told me I was going north for sure, I was just hoping I wouldn't get embarrassed. What happened after that was like a dream... but not any dream I ever had."
* * * * *
It was during an 18-game unbeaten streak -- Gooden won 14 times -- that summer when Cubs catcher Jody Davis provided insight that probably was shared by a vast majority of NL hitters.
In the aftermath of the Doctor's 17th victory -- he had allowed an unearned run in a complete game in Chicago -- Davis said, "I've never seen anything like it. The whole league is up to beat him. We just want to prove he can be beaten. I mean, he seems like a good kid. Nobody hates him. Just everybody wants to kick his butt, and we can't touch him."
Gooden became a deity in New York. Decades before there were Harvey Days and Jacob deGrom nights, Gooden owned the city to a greater extent than Ron Guidry had seven summers earlier when he produced a 25-3 record and a 1.74 ERA for the Yankees.
The combination of Gooden's youth, innocence and the Mets' emergence made him different from Guidry, who had produced his signature season for a defending World Series champion.
Darryl Strawberry, Keith Hernandez and Gary Carter had more to do with the Mets' ascent than a pitcher who participated once every five days. But it was the Doctor who made the Big City a Mets town. The Yankees, with Rickey Henderson, Dave Winfield, MVP Don Mattingly and all that legacy, paled in comparison. Shea Stadium became the place to go, the place to be seen, mostly because the Doctor hung his shingle there.
Yankees owner George Steinbrenner saw it coming. He recognized the threat to his empire in March 1984, even before Gooden became a household name. In Spring Training, the Boss ordered his minions to prepare rookie Jose Rijo for immediate big league duty in hopes of offsetting the loud buzz prompted by Gooden's promise. Steinbrenner's plan failed. Gooden was much more than buzz.
Mattingly became the most beloved Yankee since Mickey Mantle. But it was Gooden who had captured the market, Gooden whose huge painted likeness was visible on the side of a building in Times Square, Gooden who could have leapt that building in a single bound.
The Doctor eventually abdicated his position. A series of developments, including two suspensions for testing positive for cocaine, severely tarnished his image. And after a successful month and a half in 1986, his performance level dropped. Gooden had his moments subsequently, but he never again was the shooting star he had been in 1984 and '85.
How could he have maintained? Shooting stars, by definition, fade rather quickly no matter how brilliant they have been. Gooden's big league career lasted until 2000, and it included a no-hitter for the Yankees. He remains an extraordinary figure in New York's rich baseball history.
Any time a young pitcher makes a splash in this city and folks are stirred by his combination of age and achievement, they need to pause and consider all Gooden had accomplished before he was old enough to vote or rent a car -- 41 victories, 23 complete games, 11 shutouts, 544 strikeouts in 494 2/3 innings, the NL Rookie of the Year Award and the NL Cy Young Award.
Matt Harvey and deGrom, neither of whom threw a big league pitch until their 22nd birthday had passed, have a composite record of 43-29. They have combined for one complete game and one shutout. And both are embraced -- rightfully -- by the Mets' public as special and young.
Then, there was Dwight Gooden in 1985.
"That anyone is able to succeed at the big league level is something special," Hernandez said recently. "That Doc was able to reach this level as a teenager was amazing. And that he dominated to the degree he did at the age he was still amazes me. I saw every day of it, I was part of it. And I still can't believe it."
Marty Noble is a columnist for MLB.com. This story was not subject to the approval of Major League Baseball or its clubs.