Cain rebounds nicely with quality start
Giants right-hander settles down after allowing two early runs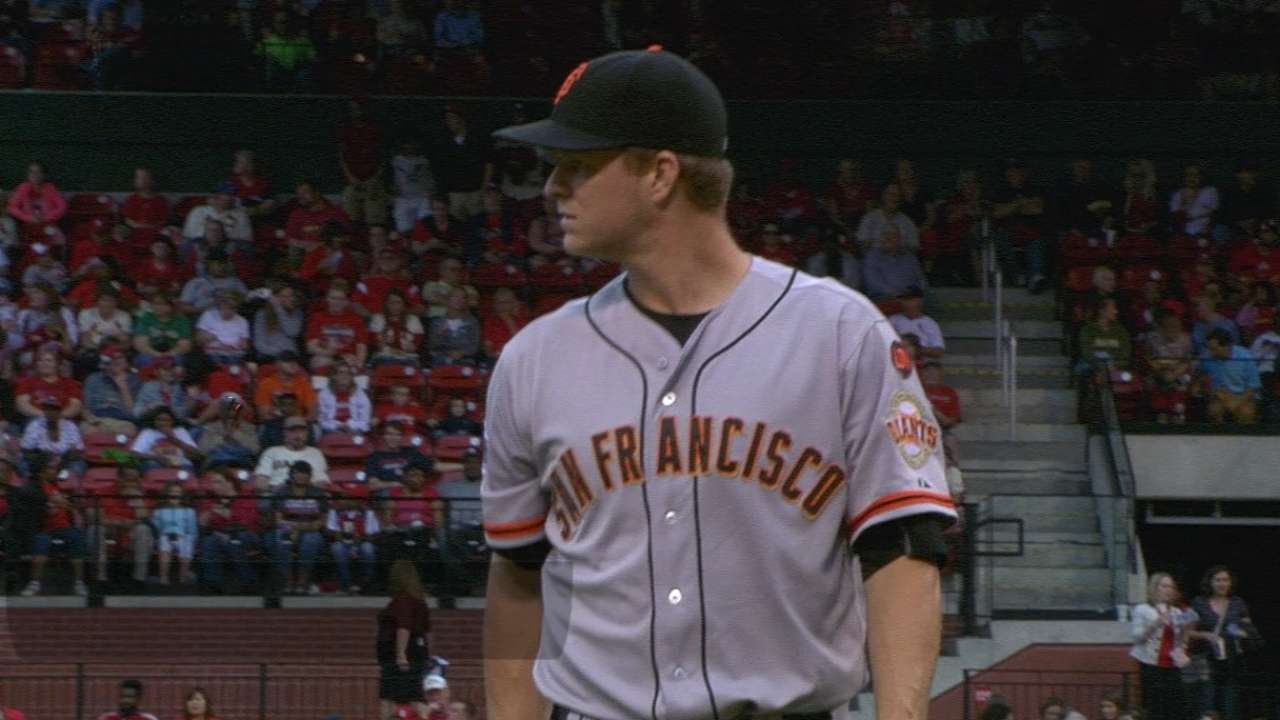 ST. LOUIS -- The ultimate result may not have been what the Giants or starter Matt Cain wanted, but the right-hander may have rediscovered his form.
Cain got a no-decision, working six innings and giving up two runs as the Giants fell to the Cardinals, 4-3, on Wednesday night. But it was a far cry from Cain's last four starts, when he went 0-2 with an 8.24 ERA.
"I think if I can just stay with a good rhythm and a good cadence, that will be big for me," Cain said. "I've checked out some stuff in the past and that's something I've always been able to do a good job of. So I just need to remember what I did tonight and remember what happened in previous years and just run with it."
It was a rocky beginning for Cain, as he gave up both runs in his first 2 1/3 innings, including a solo home run to Stephen Piscotty in the third.
The damage could have been worse, but Juan Perez robbed Piscotty of another homer in the first. Perez climbed the center-field wall and reached into the shrubbery to pull the ball back.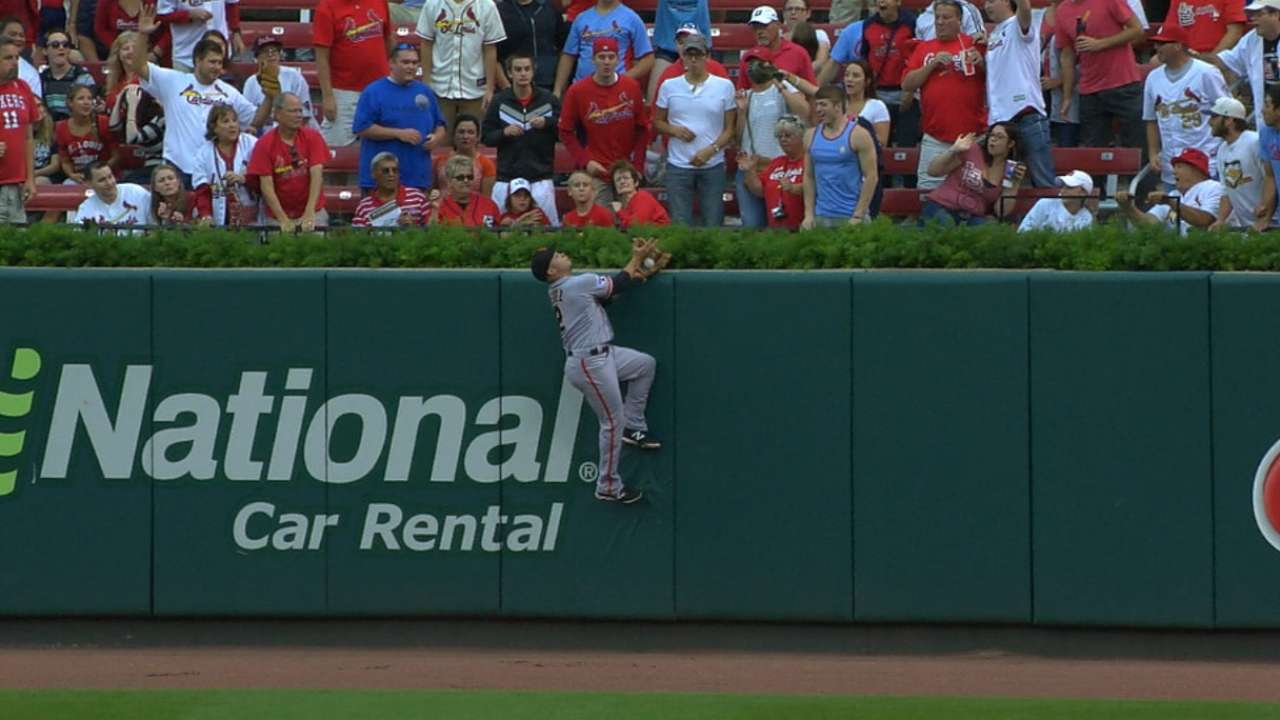 "He looked like he had a bead on it the whole time, and the way the ball's been carrying here, I didn't know if it was going to have a chance to get out or not, so I was a little up in the air on what was going to happen," Cain said. "Then all of a sudden, he just climbs the wall and catches it."
Cain retired 11 of the final 13 batters he faced. He didn't allow a hit in his final three innings, struck out six and needed 88 pitches to get through six.
"He just started locating better," Giants manager Bruce Bochy said. "Looked like he got some confidence going and a good rhythm and a good delivery and was hitting his spots so much better the last four innings."
Cain helped himself out with the bat.
His sacrifice fly in the fifth got the Giants on the board, and his bunt in the seventh moved Perez into scoring position. Kelby Tomlinson followed with an RBI single that gave the Giants a short-lived 3-2 lead.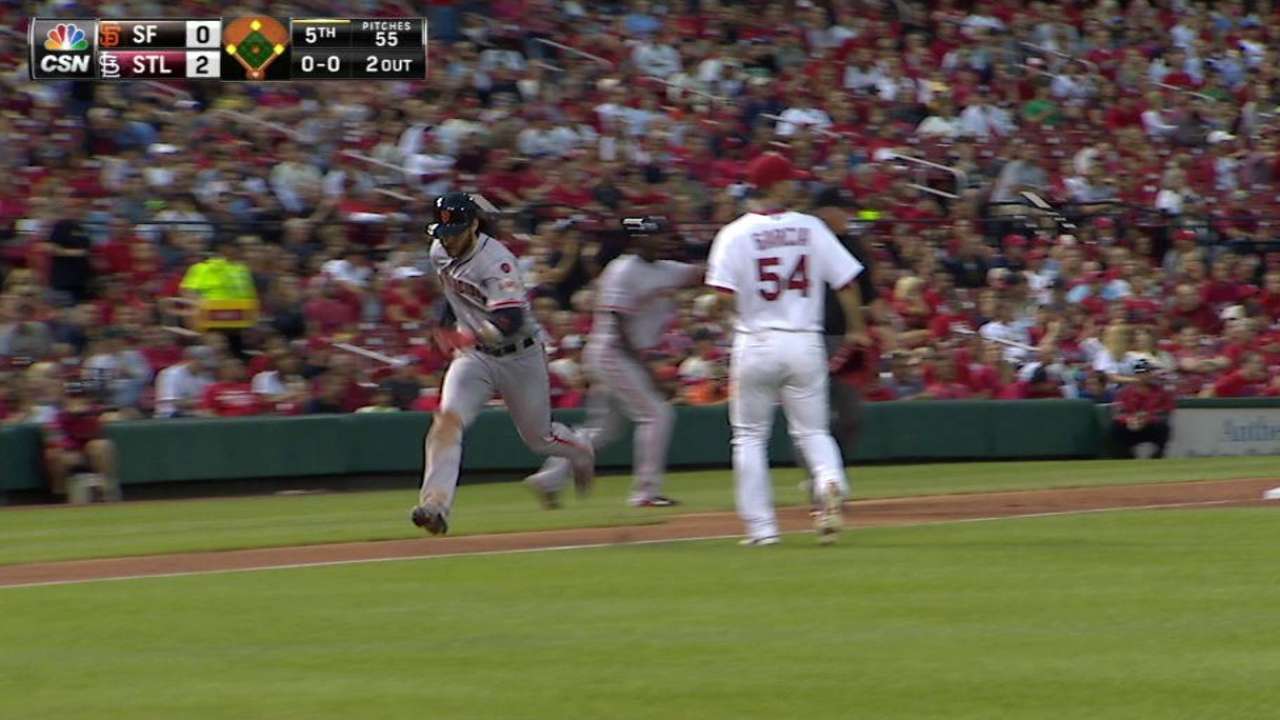 "That was a big at-bat, the sac fly, especially with a ground-ball pitcher," Bochy said. "He was inducing ground balls all day. That's what we were hoping, that he wouldn't hit a ground ball there, and it would have been nice if that ball would have found a gap."
Cain said some work in the cage paid off.
"To be able to have a chance to get an RBI with the bases loaded there was helpful and then being able to sacrifice there in the top of the seventh was good to sneak out another run," Cain said.
Bochy added, "It's a nice game by Matty. He did a good job on both sides with the pitching and with the bat."
Joe Harris is a contributor to MLB.com. This story was not subject to the approval of Major League Baseball or its clubs.