MLB.com Columnist
Paul Hagen
'Chase Utley, you are the man!'
He may not have won an MVP Award, but he was Most Valuable Phillie during championship era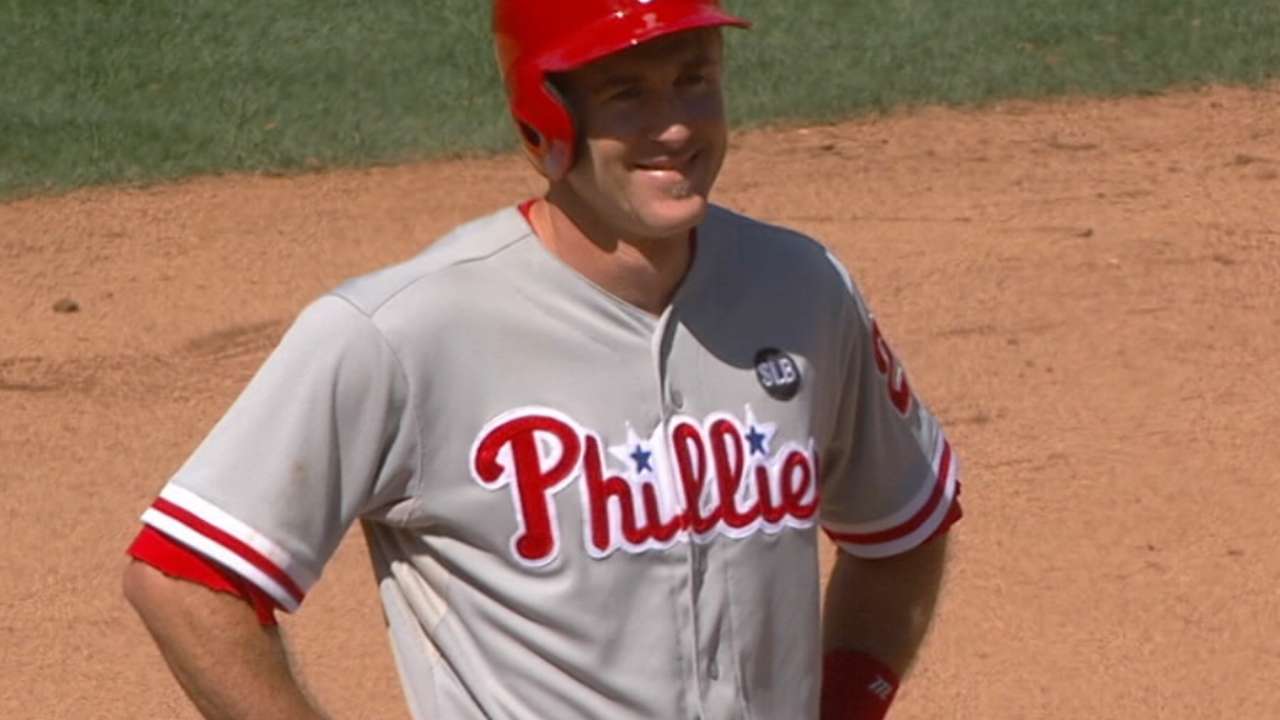 PHILADELPHIA -- First baseman Ryan Howard won the National League Most Valuable Player Award in 2006. Shortstop Jimmy Rollins won it in 2007.
Chase Utley never took home that hardware. But it's not a stretch to suggest that he meant more to the Phillies in those years than Howard or Rollins or Cole Hamels or Pat Burrell or anybody in that era.
Phillies deal Utley to Dodgers for two prospects
"He was flanked by league MVPs, left and right," said Ed Wade, the general manager when Utley was drafted. "But I think if you boil down his decade worth of performance in a Phillies uniform, I don't think it would be overstating to say he was the MVP of that era. As good as that core nucleus was, what all those guys did, there was sort of a performance and a heartbeat level that was happening at second base."
That's not hyperbole. As calculated by baseball-reference.com, Utley's WAR is fourth in franchise history. Among position players, it is second only to Hall of Famer Mike Schmidt.
Utley waived his full no-trade protection and was traded to the Dodgers on Wednesday night. Plaques and numbers are one thing. No player was more quickly adopted or fervently embraced by Philadelphia's blue collar fan base, a group that values unrelenting effort above any other quality in its professional athletes.
He becomes the third member of the Phillies nucleus to say goodbye in the last eight months. Rollins was traded to the Dodgers last December, Hamels to the Rangers just before the non-waiver Trade Deadline last month.
Now only Howard and Carlos Ruiz remain as links to the greatest run of sustained excellence in franchise history: five division titles, two pennants and a World Series championship from 2007 through 2011. It's a sobering reminder of how fleeting athletic glory really is.
Chase Utley's career statistics
All good things must end. Utley had more staying power than most. For 13 Major League seasons, he played for the same team. "There aren't many guys who have been able to wear just one uniform through a fairly long career," Utley said after signing his most recent contract extension. "Especially nowadays with the amount of movement there is and the amount of money there is in baseball ... So, something that I've always wanted to do."
It didn't work out that way, but he did join a select list of the longest-tenured Phillies ever. Only Schmidt (18 years), Granny Hamner (16), Steve Carlton and Rollins (15) and Robin Roberts and Chris Short (14) had more continuous service.
It wasn't just that he was around for a long time that made him such a civic fixture. It wasn't just the six All-Star Game appearances. It wasn't just his good works along with wife Jennifer, much of it focusing on pet adoption and raising money for the Society for the Prevention of Cruelty to Animals.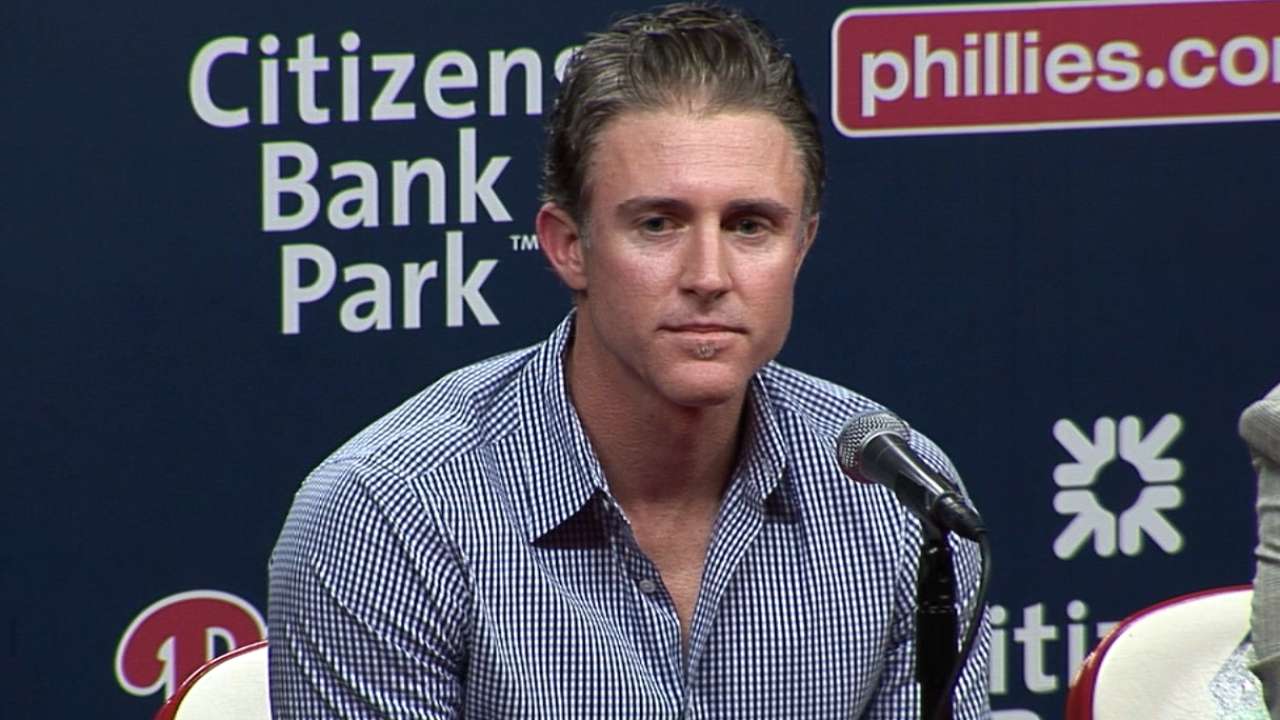 It wasn't even that he became the best second baseman the Phillies, who opened for business 132 years ago, have ever had. Just as Rollins was the best shortstop, Howard the best first baseman and Hamels the best pitcher the organization had developed in 60 years.
No, it was more intangible than that. The rugged good looks that made women swoon. The strong-but-silent demeanor that men admired. The countless hours studying video, part of his leadership by example. The understated derring-do and the sense that, no matter what, he was giving everything he had at all times.
If there's one vignette that sums it up, it came on Aug. 9, 2006, at Turner Field in Atlanta. Trailing in the top of the seventh, the Phillies took the lead on a bases-loaded double by Utley. Howard followed with a dribbler to the right side that pitcher Macay McBride fielded in front of the base and flipped to first.
Utley, running all the way, scored from second on an out that was hit, maybe, 70 feet. In the broadcast booth, Hall of Fame announcer Harry Kalas couldn't contain himself. "Chase Utley, you are the man!" he yelled into the microphone.
That became a rallying cry, a short-hand for everything he meant to the team and, now, an epitaph.
He signed that last contract two years ago and it ran through 2018 when he'll be approaching 40. But, to protect the team, the last three seasons were $15 million options that would vest with 500 plate appearances the previous year. That was prudent considering the knee problems that dogged him in 2011 and 2012.
In the end, it took a perfect storm to end Utley's Phillies career. He injured his ankle working out before the season, but tried to play. He was batting .179 when he finally went on the disabled list on June 23. In his absence, Cesar Hernandez took off for an organization that by now was in full rebuilding mode.
When Utley came back, he had no chance of guaranteeing his option. He also had to prove he could still hit, which he did by batting .484 (15-for-31) with a 1.227 OPS. That encouraged contenders to make offers. Finally, the front office needed to iron out the complicated details with a team he would also be willing to go to.
It had to be an emotional ordeal for Utley, who remained publicly stoic throughout the process.
That, too, demonstrated consistency. He shared little of his private life and few of his thoughts, which only added to his mystique. That's one reason it generated such a reaction when he referred to the Phillies as "world [bleeping] champions" in the giddy post-parade celebration at Citizens Bank Park following the 2008 World Series. It was one of the rare times he bared his emotions for the world to see.
Once again, Philadelphia watches as a baseball icon who was signed and developed and helped the franchise reach unprecedented heights has been traded. It's best for the Phillies, who are retooling. It's best for Utley, who gets another shot at the postseason. But that doesn't make it any easier.
Paul Hagen, a reporter for MLB.com, won the J. G. Taylor Spink Award in 2013 for a lifetime of excellence in baseball writing.
This story was not subject to the approval of Major League Baseball or its clubs.