MLB.com Columnist
Mike Bauman
Cardinals, Giants perform at elite levels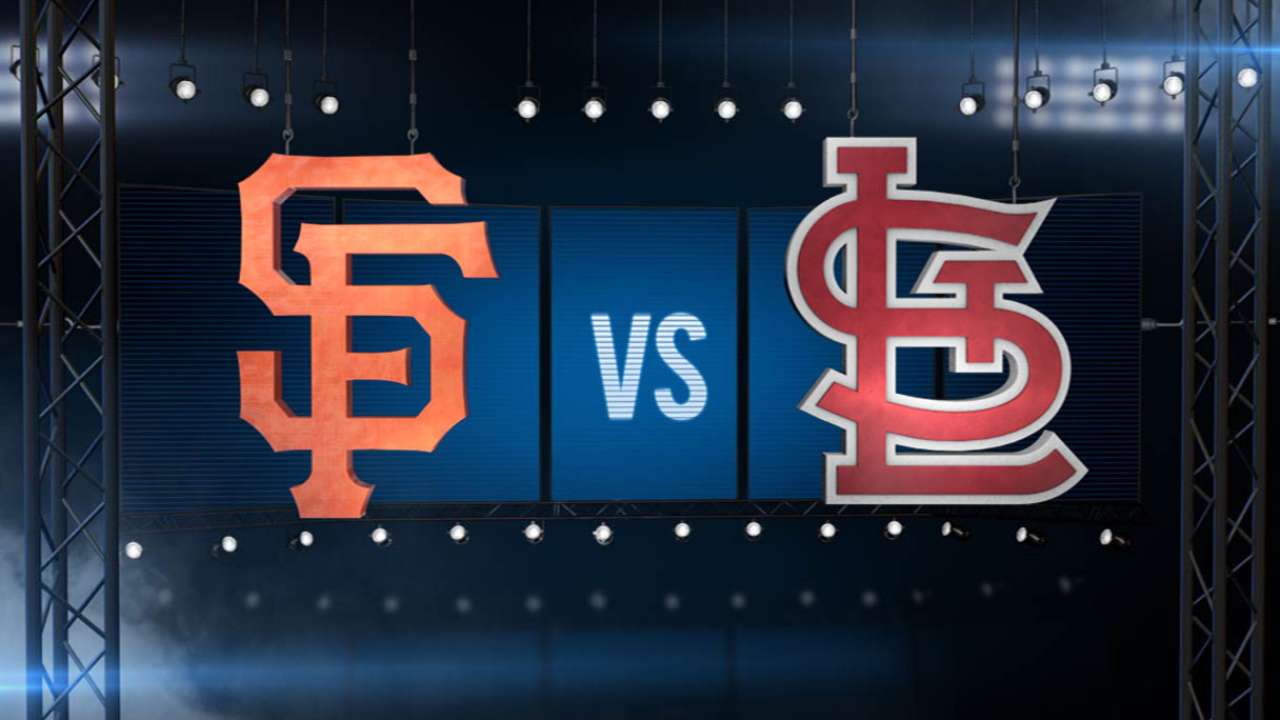 ST. LOUIS -- When the Giants and the Cardinals play, you have two National League gold standards on the field at once.
The Giants are unmatched for recent postseason achievements, with three World Series championships over five seasons. The Cardinals, meanwhile, are the only club that reached the NL Championship Series in each of the past four years.
The two clubs finished up a three-game series Wednesday night at Busch Stadium with the Cards posting a 4-3 victory and winning the series, 2-1. The games were all low-scoring, close and compelling. In the series, each team scored a total of six runs.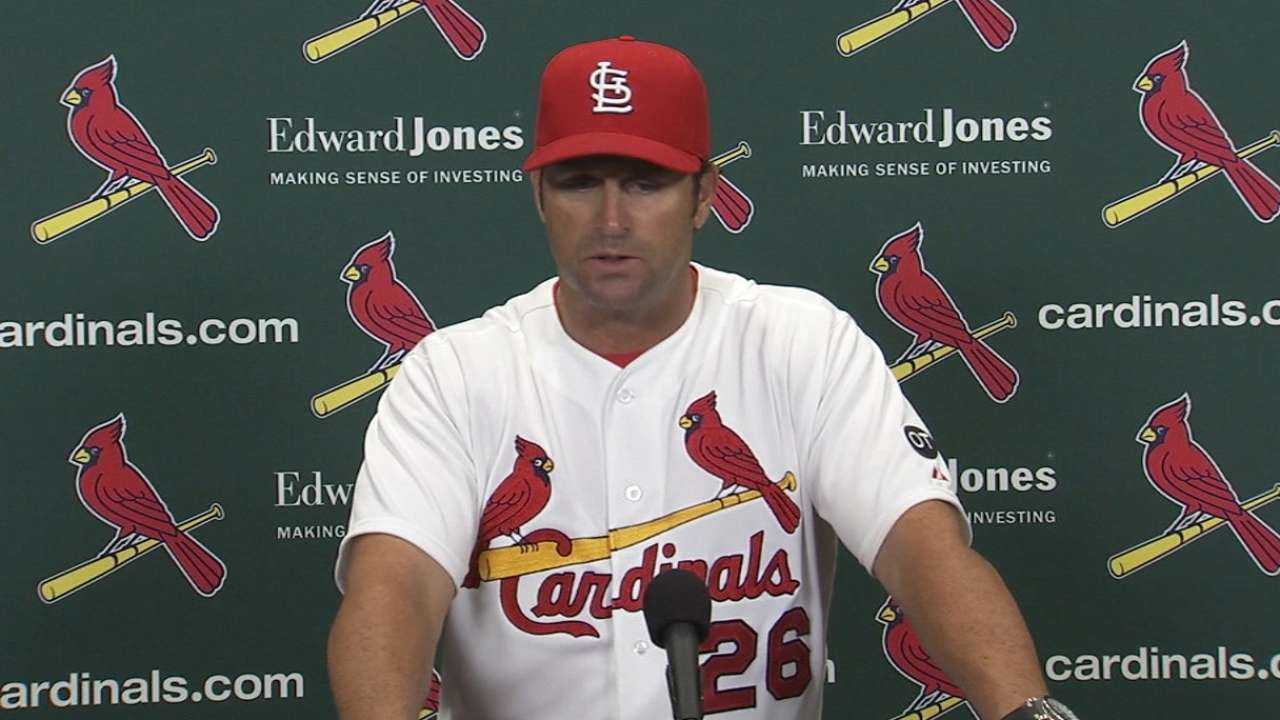 As Cardinals manager Mike Matheny said Wednesday, the two teams are built along strikingly similar lines. Their primary strengths are pitching and defense, and their players have athleticism.
Giants manager Bruce Bochy doesn't debate any of these points.
"Oh, I totally agree," he said. "We're very similar. It's been the key to both teams' success, I believe. You look at the pitching and defense and that keeps you in games. The more games you stay in, the better chance you have of winning more."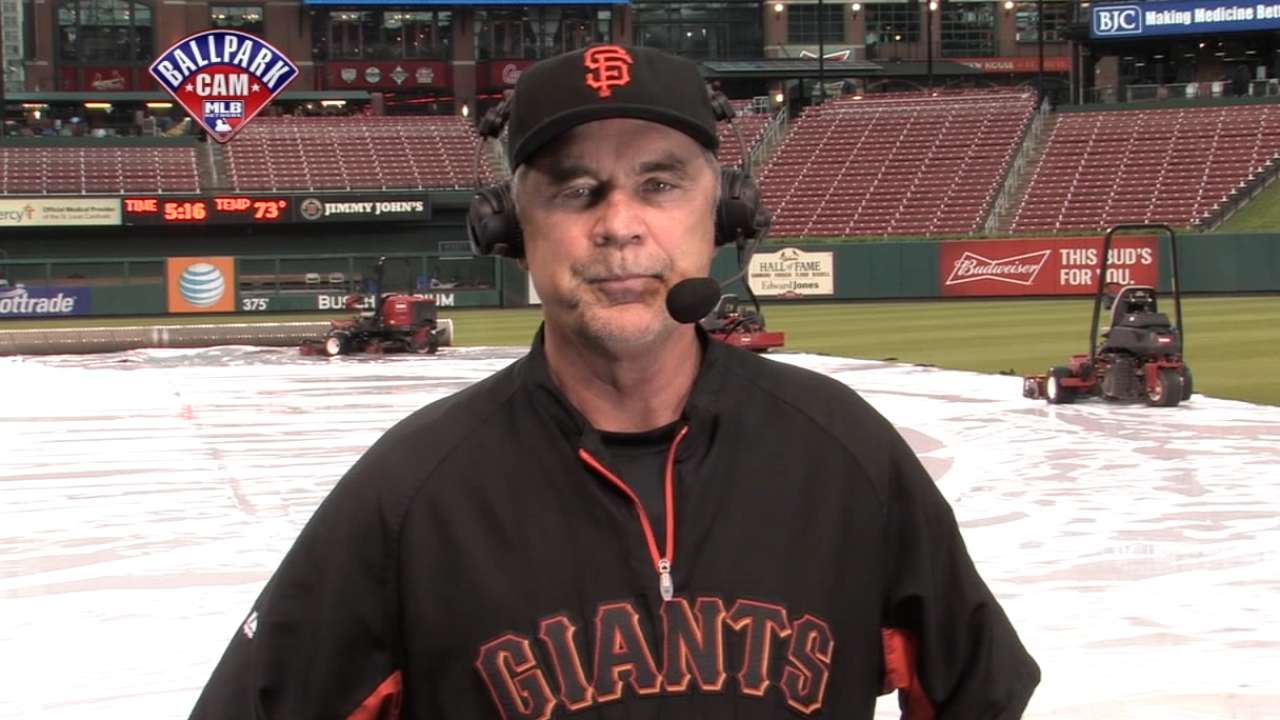 This season, the teams have another similar situation, but it's not welcome.
"The other similarity is the injuries," Bochy said. "Both teams have been hit pretty hard here with key players. But they keep going, and that's what we hope to do."
A bad injury situation turned worse for both clubs this week. Center fielder Randal Grichuk, who was emerging as a slugger for the Cardinals, went on the disabled list with a right elbow injury. Outfielder Jason Heyward missed nearly all of two games after suffering a tight left hamstring, but he pinch-hit Wednesday night and may return to play this weekend in San Diego.
For the Giants, outfielder Hunter Pence, who had already been on the DL twice this season, suffered a strained left oblique Monday night. Outfielder Nori Aoki will return shortly from a concussion, but Pence's high-energy approach to the game is irreplaceable. Starting pitcher Mike Leake, coming back from a left hamstring strain, should be available to pitch this weekend against the Pirates in Pittsburgh. But the Giants, like the Cards, will still have extremely valuable players on the disabled list.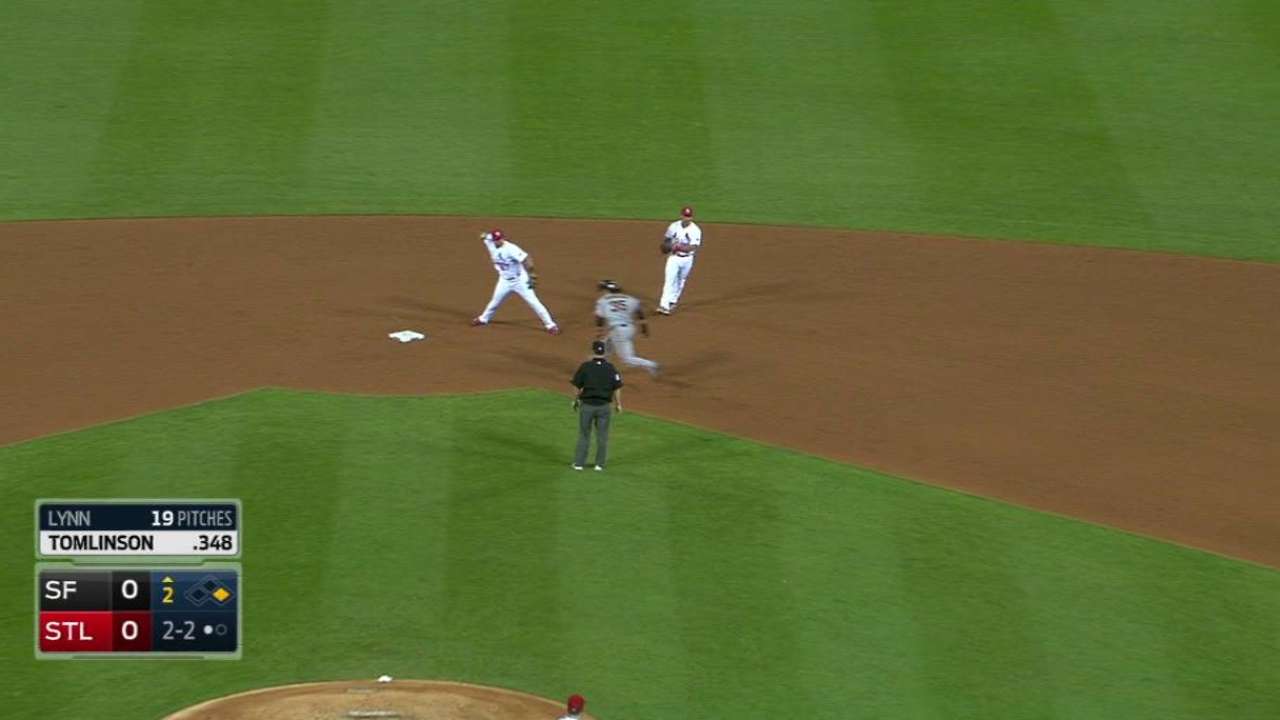 It is a credit to the organizational depth of both franchises that these clubs remain in the postseason hunt. The Redbirds' case, of course, consists of more than simply being in the chase. They have been in first place for 126 consecutive days and they have the best record in baseball.
The Giants are in second place in the NL West, two games behind the Dodgers. They are 3 1/2 games out of the second NL Wild Card spot, currently held by the Cubs. It would be well to remember that the Giants began the 2014 postseason as merely the No. 2 NL Wild Card team.
The Cardinals and the Giants have a healthy mutual respect, and the managers have a healthy mutual respect.
"He's done such a great job here," Bochy said of Matheny.
This was the two clubs' first series of this season. San Francisco's five-game victory over St. Louis in the 2014 NLCS is still a vivid memory.
"His teams just play a clean style of baseball," Matheny said of Bochy. "They don't make a lot of mistakes. That was kind of what we anticipated would be the [difference] as we went into the [2014 NL Championship] series with them. We saw very similar teams, with athleticism, strong defense, starting pitching, bullpen.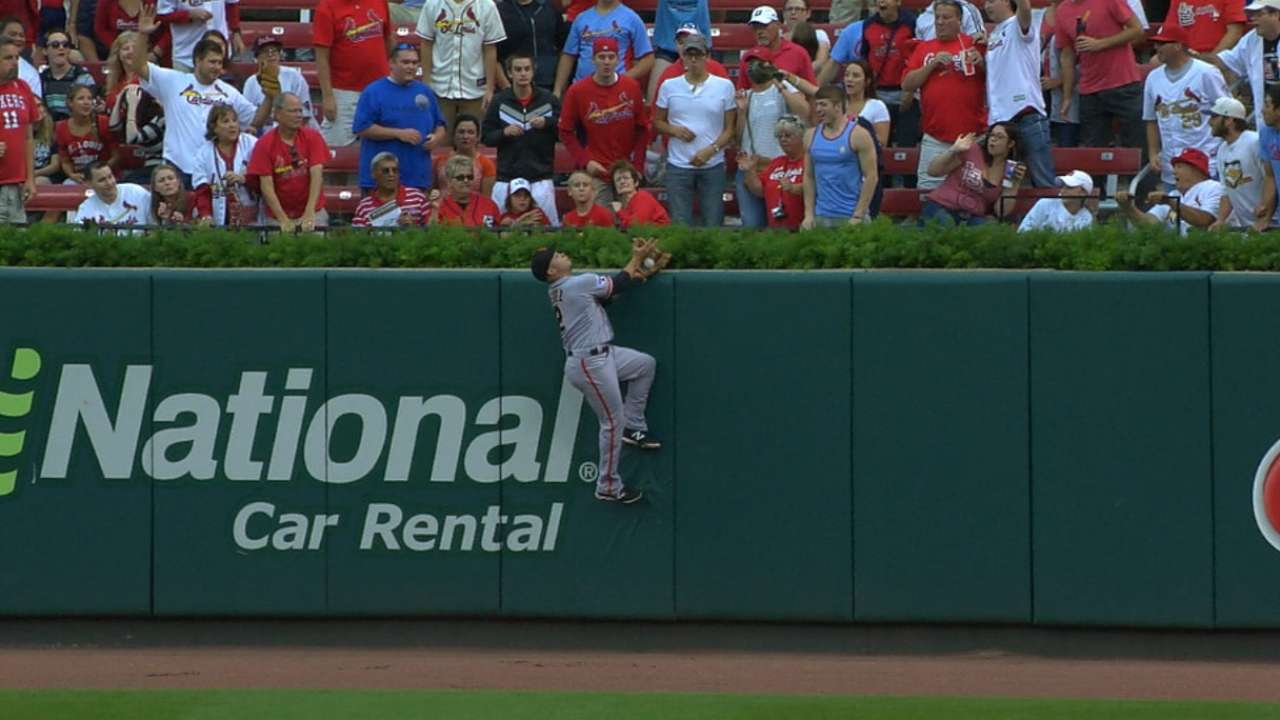 "It was just a matter of making the plays, doing the little things right. They did them better than we did. But in general, I think [Bochy] creates an atmosphere for his guys to be pretty consistent. He's got talented players, too, but I think they have a great deal of respect for him and what he brings to the table. They're prepared and they're free to go use their talents just to play. That's been pretty consistent with the teams they've had."
Wednesday night, the difference between victory and defeat in this series was suitable for two teams of this caliber; a terrific performance by a top-shelf player.
Cards catcher Yadier Molina hit a solo home run in the eighth to provide the margin of victory. This was after he threw out a runner from his knees and called his usual, impeccable game.
"The best catcher in baseball, man," said Cardinals starter Jaime Garcia, who had pitched well, despite not having his best stuff. "He's the best."
This looks more like a Cards year than a Giants year, but even with the injuries, neither of these clubs can be discounted -- not even for a second.
Mike Bauman is a national columnist for MLB.com. This story was not subject to the approval of Major League Baseball or its clubs.