Royals' bats aren't slowed following rain delay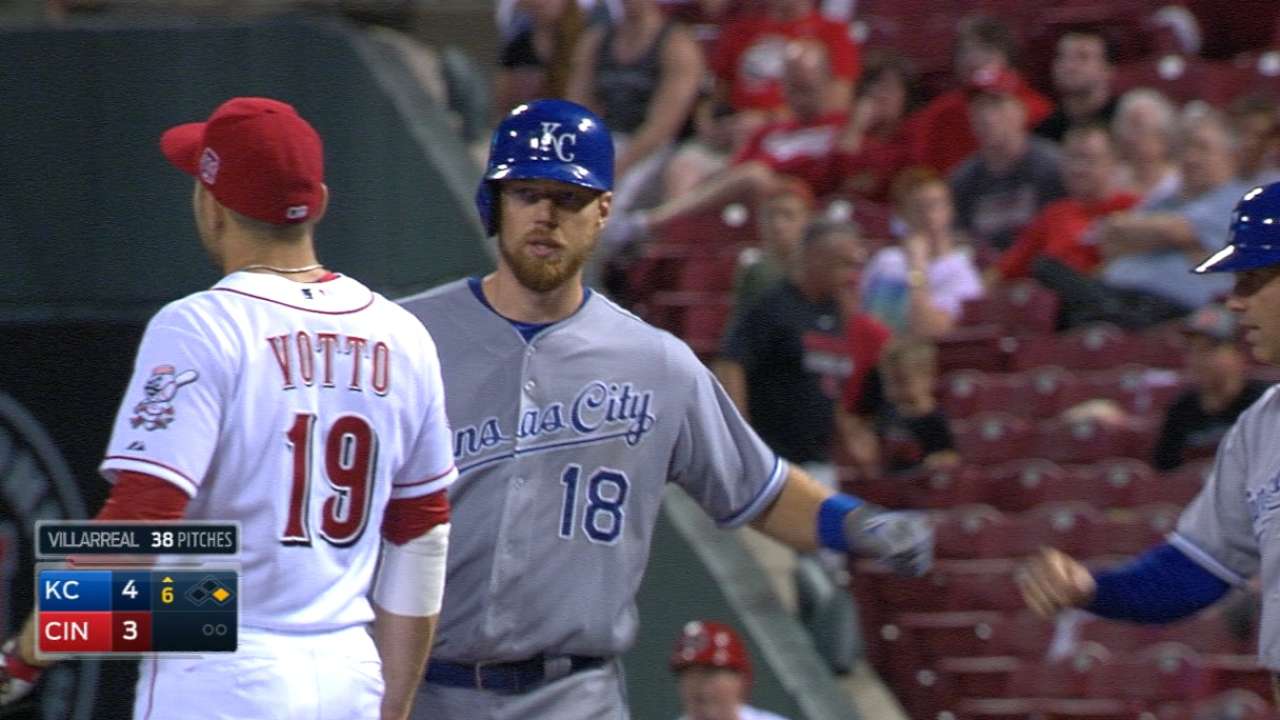 CINCINNATI -- The Royals' batters weren't fazed by a lengthy rain delay before the first pitch, with all of their run production coming right away in Wednesday night's 4-3 win over the Reds.
Following a delay of 1 hour, 37 minutes, the Royals put together six hits for four runs in the opening two innings at Great American Ball Park. Ben Zobrist got the scoring going with an RBI double and Eric Hosmer added an RBI single to push another run across in the first inning. Lorenzo Cain tacked on two more in the second with a single that proved to be the decisive blow.
"[Zobrist] kept it moving all night long, set up run scoring opportunities," said manager Ned Yost, who celebrated his 61st birthday with the win. "A big two-run single by Cain. It was eventually the two winning runs."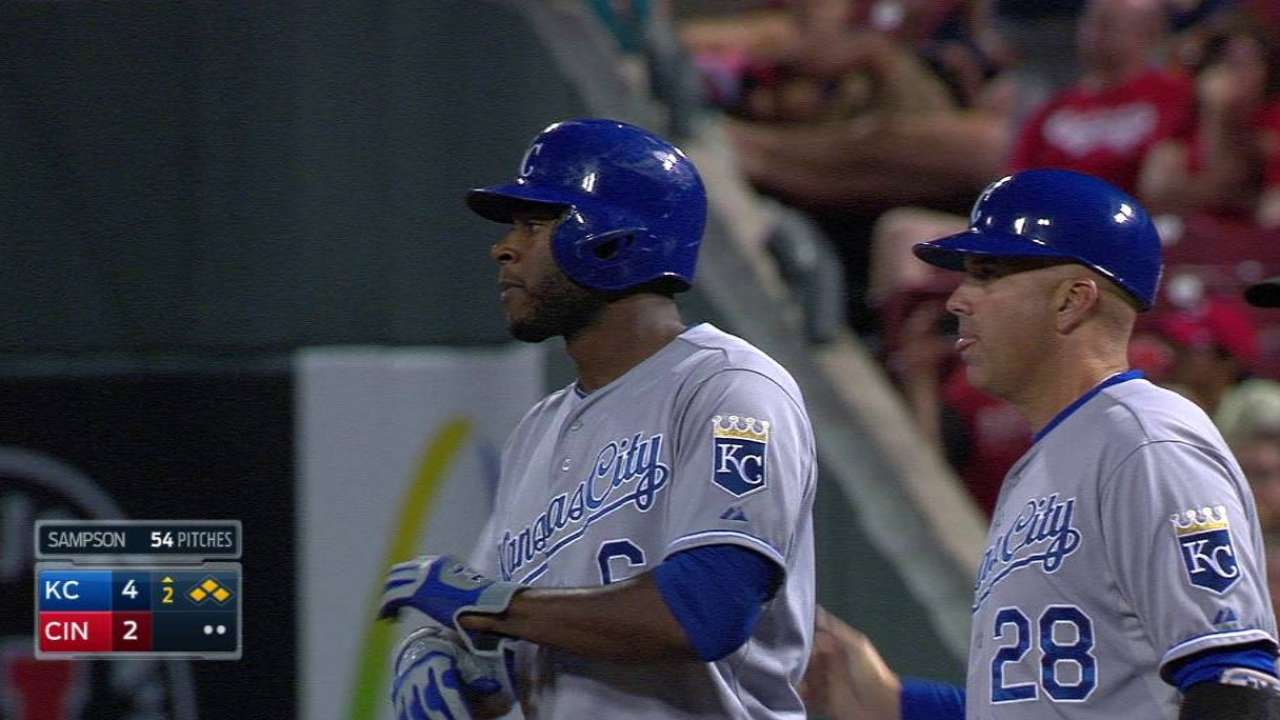 "It's proven that this team knows how to win and knows how to close games out from the fifth inning on," Zobrist said. "So we get that lead early [and] get those important hits early, our bullpen has just been shutting it down."
Zobrist's run-scoring double in the first inning was only the beginning of a monster night for him. He finished the game 4-for-5 with two doubles and one RBI, extending his hitting streak to six games.
"That's not going to happen every day and you just got to appreciate these days [with] the important thing being that we won," Zobrist said. "We are still in August so you got to temper it, and keep recognizing that there's a lot of games to be played, and we've got to keep focusing. I'm just trying to keep my focus and not give away at-bats."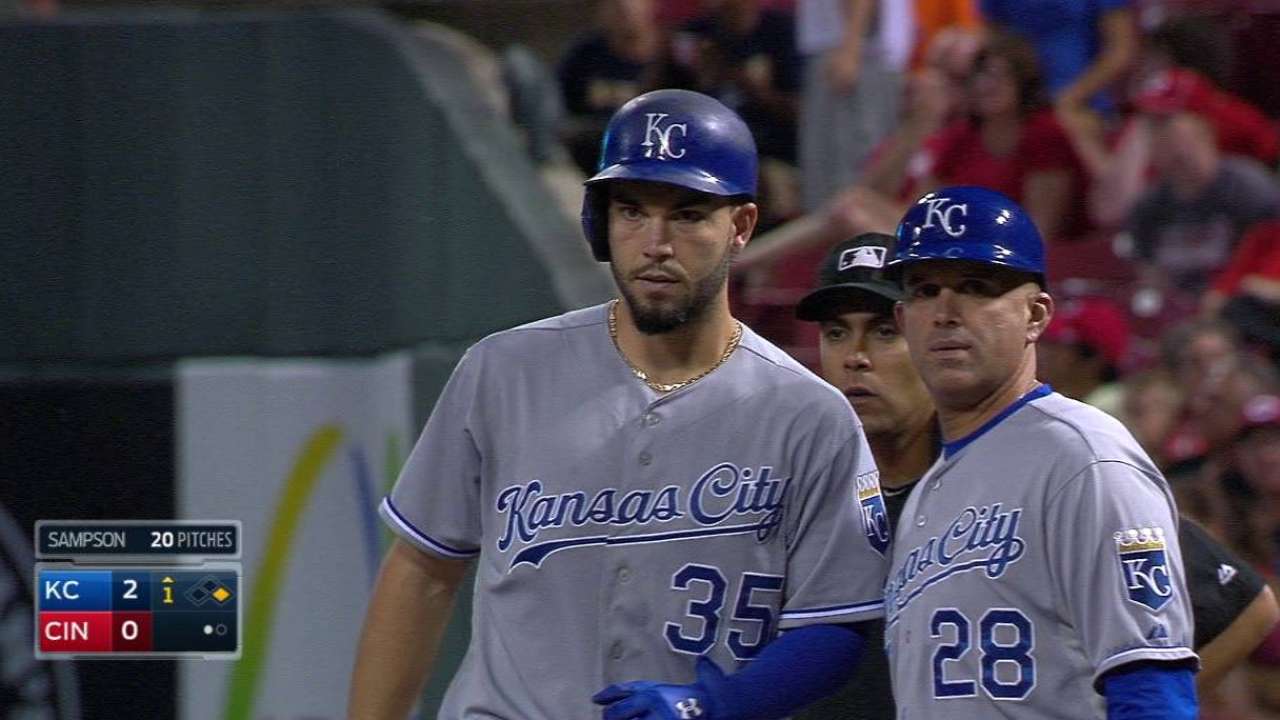 Hosmer finished 1-for-3 to extend his hitting streak to 10 games. While Hosmer's streak of 10 straight games with an RBI was snapped on Tuesday night, he was able to pick up his 17th RBI in 17 games this month on Wednesday night.
Hosmer said he's been simply focusing on each at-bat without trying to force anything at the plate.
"I'm just going out and competing," Hosmer said. "I'm not trying to do too much. Just taking each at-bat and playing out the situation, really just going out there and competing. See ball, hit ball."
Robert Bondy is an associate reporter for MLB.com. This story was not subject to the approval of Major League Baseball or its clubs.