LaRoche can't argue with benching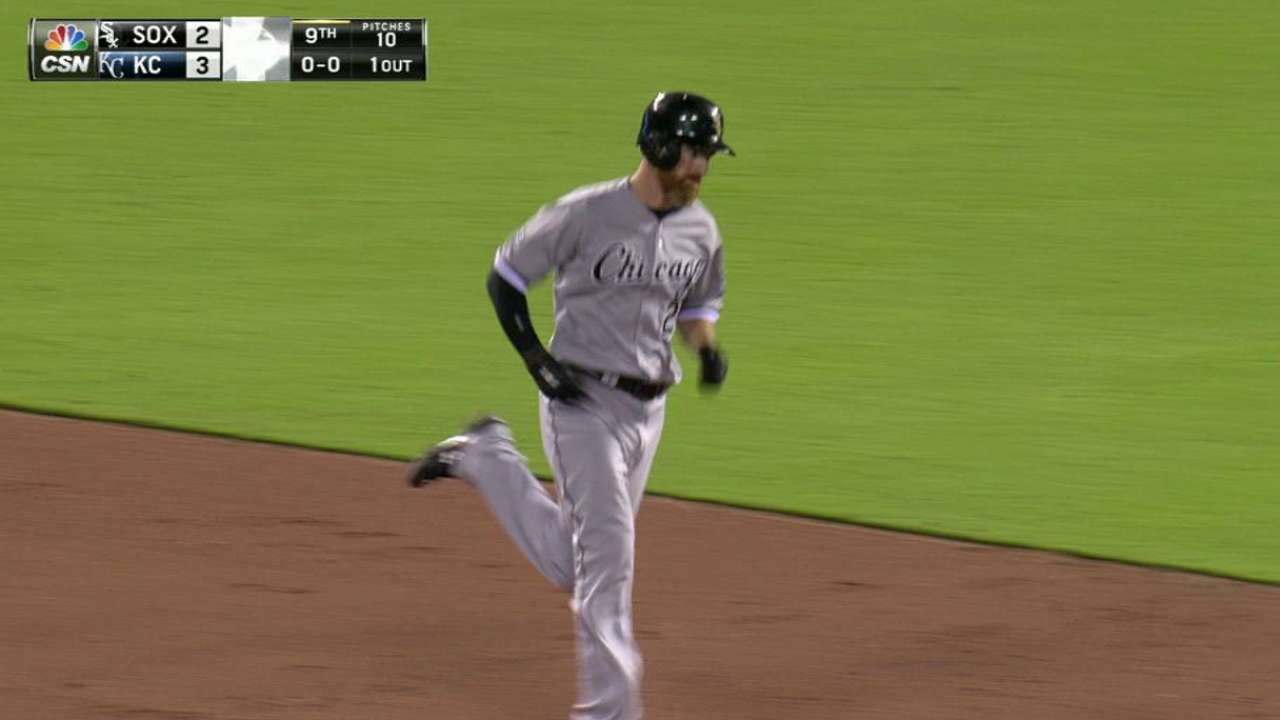 ANAHEIM -- Adam LaRoche and White Sox manager Robin Ventura have had a couple of productive talks during the designated hitter's three-game move to the bench at the outset of this four-game set against the Angels.
But the seasoned veteran has not been campaigning to get back into the starting lineup. He understands with a .208 average and a .336 slugging percentage, there isn't much argument to be made at this point.
"I told him I don't blame him at all. I've put both of us in this situation," said LaRoche during a very matter-of-fact and honest pregame interview on Wednesday. "I told him he's got a lot more patience than I do. I would have benched me two months ago.
"Just another little breather, a few days to regroup. Get in the cage, get a feel back and see what happens. I can't blame him at all. I don't have a great argument to go in his office and talk my way back into a lineup at the moment. I feel bad putting him in this situation."
If this story sounds familiar, it's because the accomplished veteran and key offseason free-agent acquisition has been going through this slump all season. LaRoche won't blame the problem on moving to designated hitter for the first time in his career, and he actually feels good physically and in terms of swing mechanics.
For whatever reason, the perennial slow starter has watched that slow start turn into an almost full season of frustration.
"Probably my first seven or eight years I would typically start off the first half awful and then I would be a second-half All-Star and the numbers would even out and I'd have pretty much the same numbers every year," LaRoche said. "I've been through two- or three-month stretches where it's real similar to this, but again I knew it would come around sooner or later.
"Early in the year, I was in no way panicking because I've been there so many times. When you get on later in the year it gets more difficult.
"It's easier when you go watch video from when things were going well and you go compare it and something is physically off. There it is, that's what we need to work on. When you match them up and they're identical, that makes it a lot different to try to figure out what adjustments to make if it's not something glaring on video."
Ventura reiterated Wednesday that LaRoche will play again, but that he's looking at more of a revolving designated-hitter slot. Avisail Garcia was there Wednesday and rookie Trayce Thompson could take LaRoche's spot in the lineup against left-handed hurlers.
Support has been there for LaRoche from the staff, teammates and even ex-teammates and ex-coaches. He even asked the media at the end of Wednesday's interview session if they had any advice.
"Keep doing what I know how to do and keep doing what I've done, and wait for it to turn around," LaRoche said. "The best way to do that is going out and playing, but it doesn't work that way. You do that for so long and eventually again where you put [Ventura] in a spot where they need to do something else."
Scott Merkin is a reporter for MLB.com. Read his blog, Merk's Works, follow him on Twitter @scottmerkin and listen to his podcast. This story was not subject to the approval of Major League Baseball or its clubs.