Perez scales wall for stupendous catch
Giants outfielder robs Cardinals' Piscotty with grab above fence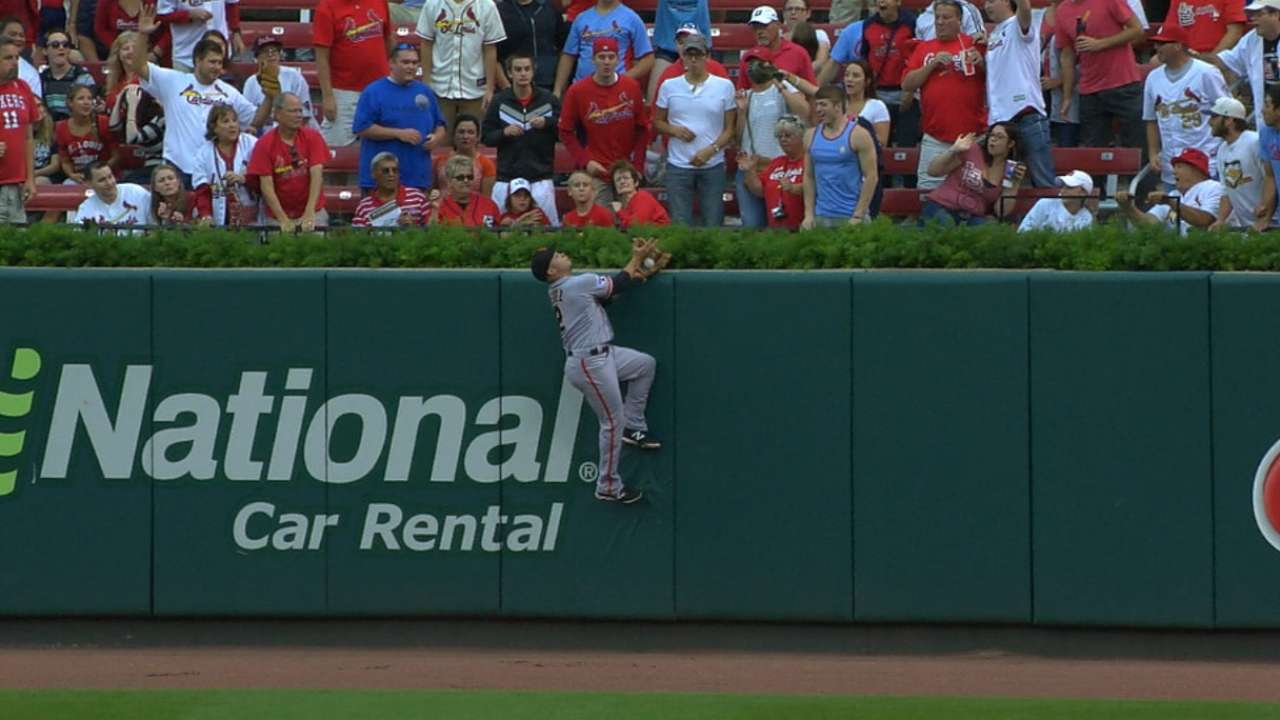 ST. LOUIS -- Giants center fielder Juan Perez even fooled the fans at Busch Stadium with a highlight-reel catch in the bottom of the first against the Cardinals on Wednesday.
Perez climbed the wall and reached well into the shrubbery separating the fence from the seats to glove a Stephen Piscotty drive that seemed destined to give the Cardinals an early lead in their eventual 4-3 victory.
"I was thinking if it's inside the ballpark, I have a good chance to make the catch," Perez said. "It was going to be a homer, but I was close enough to make the catch."
As many in the stands cheered what they thought was Piscotty's second big league homer, Perez calmly pulled the ball out of his glove for out No. 2 in the bottom of the first.
"I felt good about it off the bat and started running and I peeked to check as I got to the bag, and as soon as I looked up, I saw him leave his feet," Piscotty said. "All I remember seeing is him coming back with the ball in his hand. I thought, 'Man, that's tough.' He made an unbelievable catch."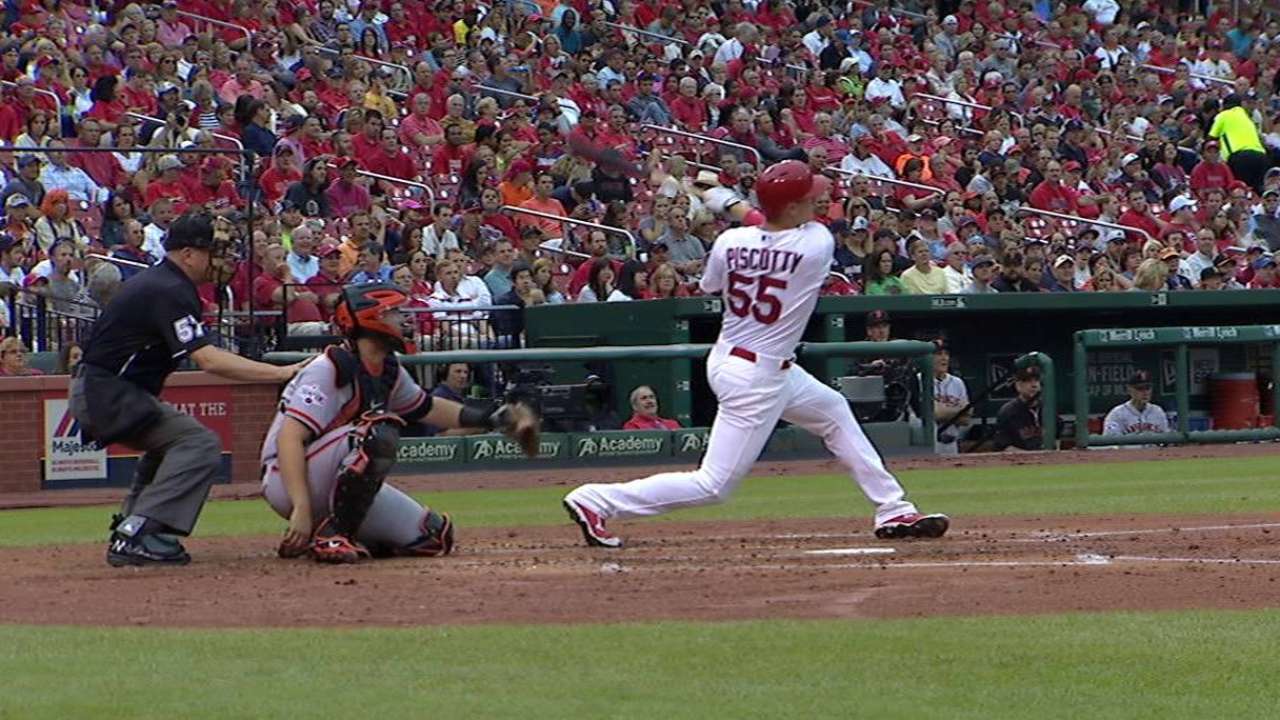 Piscotty found the seats in the third inning, clubbing a solo homer far away from Perez into the left-field stands to give the Cardinals a 2-0 lead.
Perez is no stranger to highlight-reel catches, most notably the one he made on now-teammate Nori Aoki in Game 7 of last year's World Series vs. the Royals, but he said this one was better because it took away a homer.
"You always want to [take away] a home run as an outfielder and finally I got one," Perez said.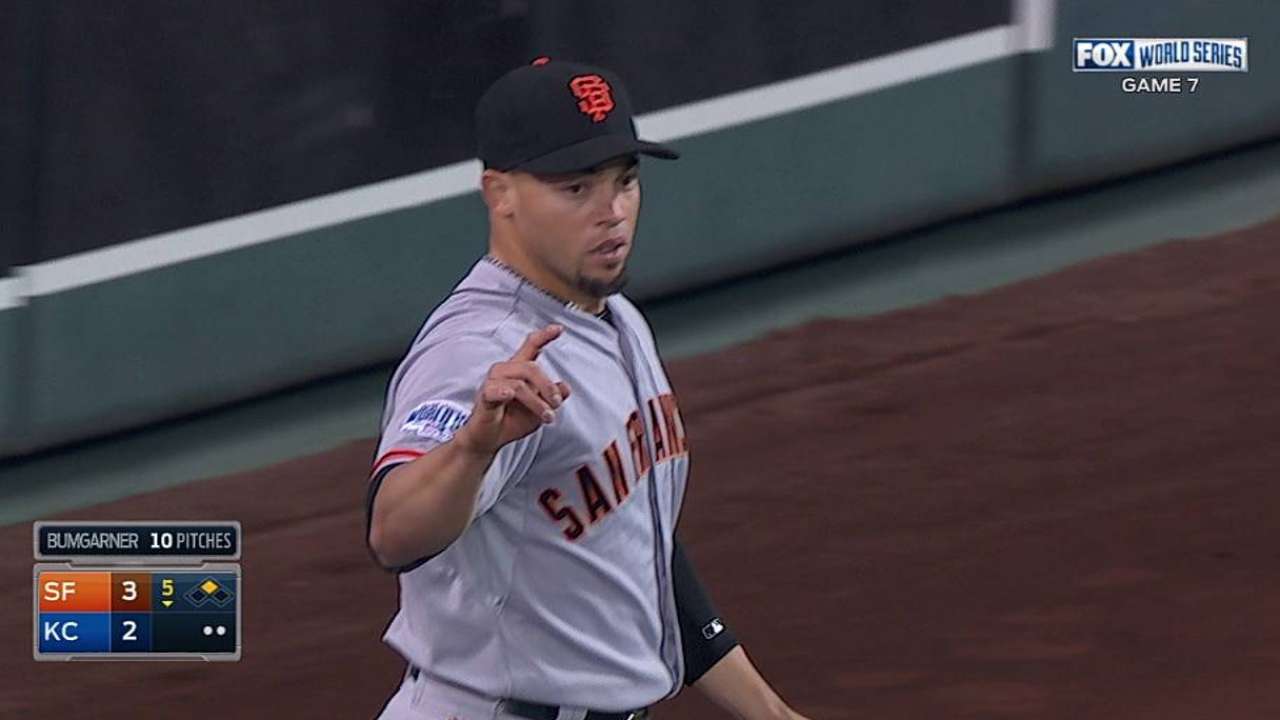 Giants manager Bruce Bochy said Perez's athleticism allows him to play anywhere.
"He got a good jump on that ball and had a good awareness of where the wall was," Bochy said. "A terrific catch."
Joe Harris is a contributor to MLB.com. This story was not subject to the approval of Major League Baseball or its clubs.