Martin, Blue Jays hope to benefit from off-days
Gibbons stresses importance of rest, but also careful about keeping players sharp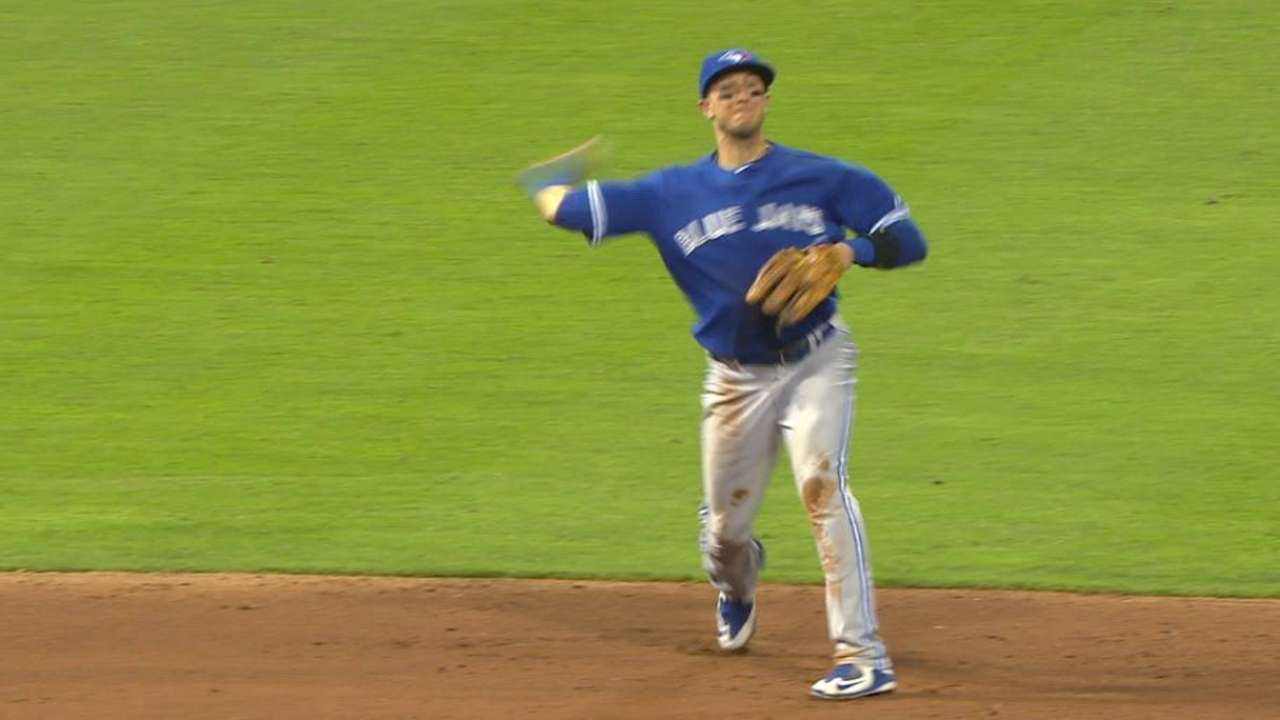 PHILADELPHIA -- Russell Martin isn't going to take a day off, so he is fortunate the Blue Jays are in a stretch of eight days in which the schedule features three off days. For some, this late-season break will create difficulty maintaining a familiar routine. For Martin and many others, it's a much needed break in a long season.
"I'm doing the best I can," said Martin, who is battling a sore left leg, following Wednesday's 7-4 loss to the Phillies. "It doesn't feel great. It doesn't affect me behind the plate. I can still receive and throw. The running part is not a strength of my game but it's sore and not career-threatening.
"I think everyone can [benefit] at this point of the season from the days off. I'm just trying to recover the best I can."
At the same time, Blue Jays manager John Gibbons knows that the next two weeks present a different challenge for his management of the roster. The second of those three off-days in eight days comes on Thursday before a three-game set at the Angels.
"Every now and then, everybody needs a day off," said Gibbons, who will institute a four-man rotation with Drew Hutchinson starting one game at Triple-A Buffalo before returning on Aug. 29 against Detroit. "In baseball, if you get too many days off, it can throw off your timing, your rhythm. This is such a skill game. Physically, you need it, but you get three in a week, that's tough. I think the pitchers can use it more than the position players."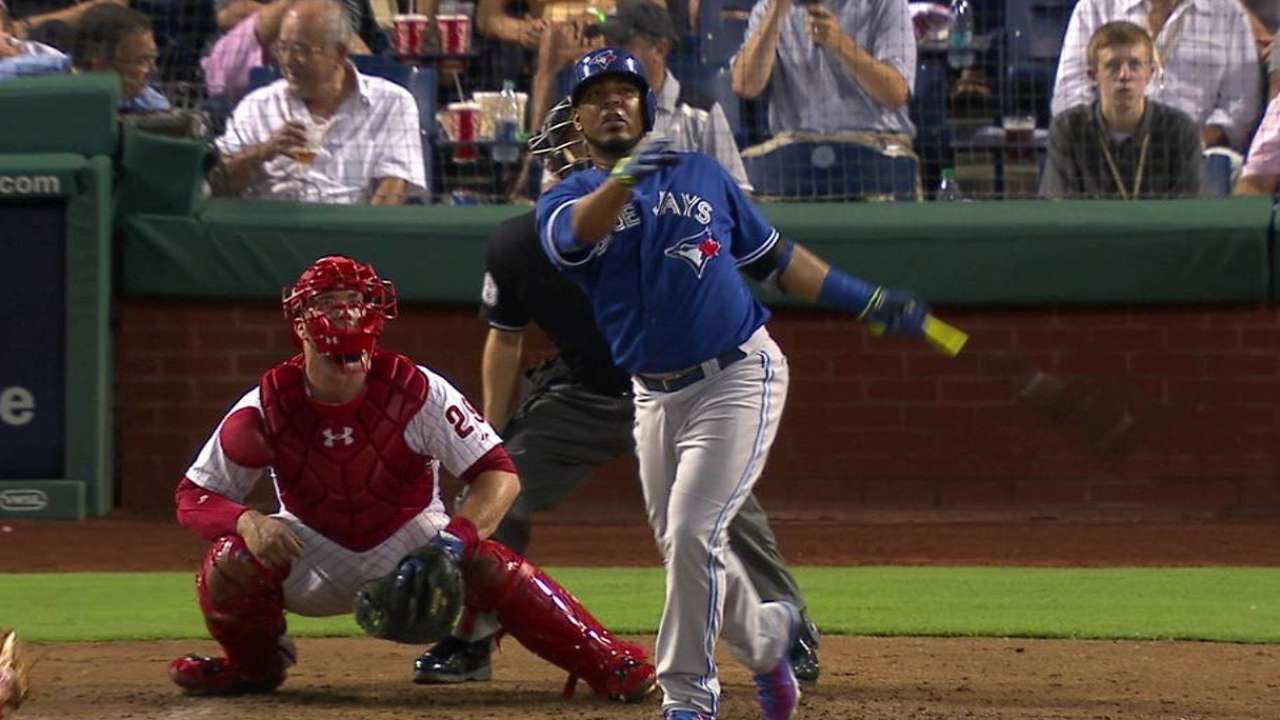 While Gibbons, who said he has no plans to give Martin any game days off, is more concerned about his potent lineup, pitcher R.A. Dickey spoke of the challenge he faces whenever given extra rest. Dickey, who saw a stretch of seven strong outings come to an end on Tuesday in an 8-5 win over the Phillies in which he allowed five runs in just four-plus innings, is seasoned enough to understand the work he needs to get done.
"It's tough sometimes," Dickey said. "I should have done a better job getting myself ready the day before.
"Sometimes you can get lethargic with a lot of days off in a row. I don't think that will happen to us because we have a lot of seasoned guys in this clubhouse. But I have known that to happen."
More to the point, the Blue Jays may not want any days off after 13 wins in their last 18 games as they trail the Yankees by two games in the American League East.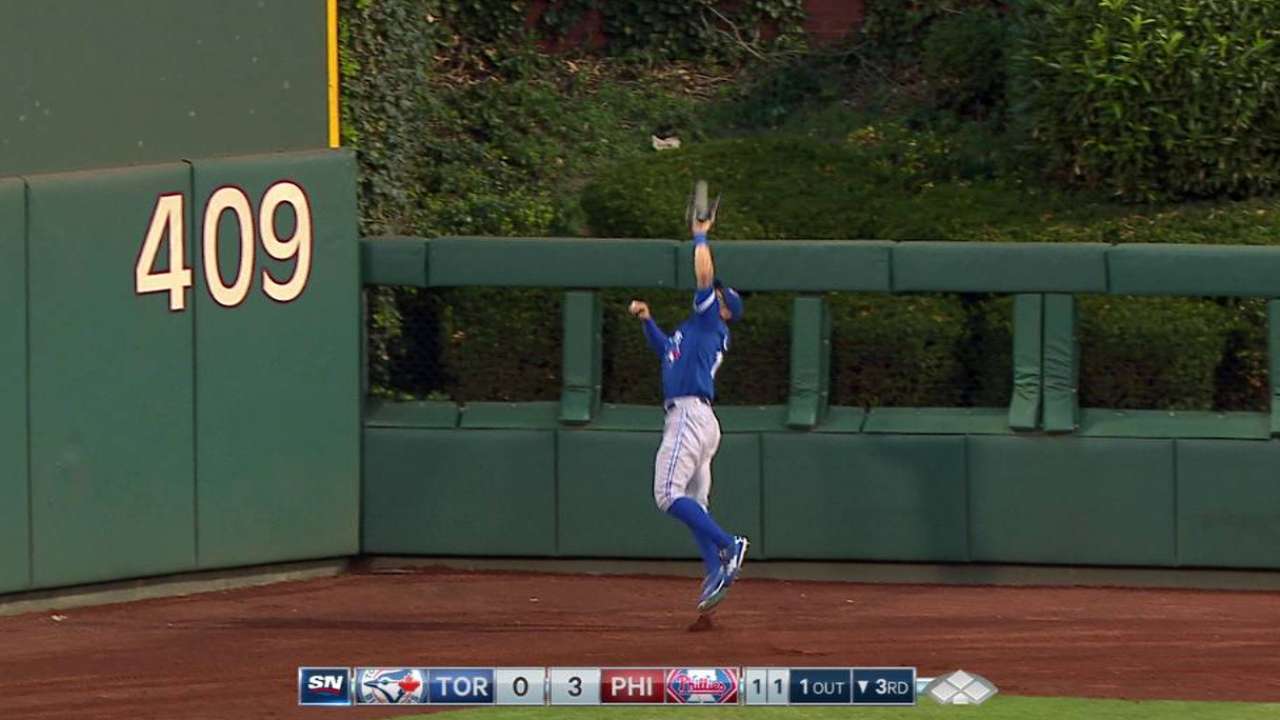 "Guys who run out there every day can get beat up, but hitting is a timing thing and too many days off can mess you up," Gibbons said. "Late in the season, you get a day off and it can make you sluggish because you are used to going every day."
At the same time, with enough off-days built in for the next month-and-a-half, Gibbons knows he can trot out pretty much the same lineup every day, in particular, third baseman and AL MVP candidate Josh Donaldson, who entered Wednesday's game leading the Majors with 91 RBIs.
"I don't think there is a need to give [Donaldson] a day off the rest of the way," Gibbons said. "The off-days will solve that. I think we have three in September. There's plenty there. All of them are in there for the duration unless they get banged up or something."
Banged up of course is the exact thing Martin is at this point of the season. With one out in the ninth inning of a 7-4 loss to the Phillies, Martin hit a chopper to third. It was obvious that he couldn't run all out and lumbered down the line, only to reach on an error by third baseman Andres Blanco. On the next play, a fielder's choice to short, he barely made it halfway to second before heading into the dugout.
"I've been doing this for awhile," said Martin, who is hitting .111 in 12 August games after going 1-for-4 on Wednesday. "I'm not concerned with it. I expect to go out there and play at a high level and that's it."
Michael Radano is a contributor to MLB.com. This story was not subject to the approval of Major League Baseball or its clubs.