Wright won't play every day when he returns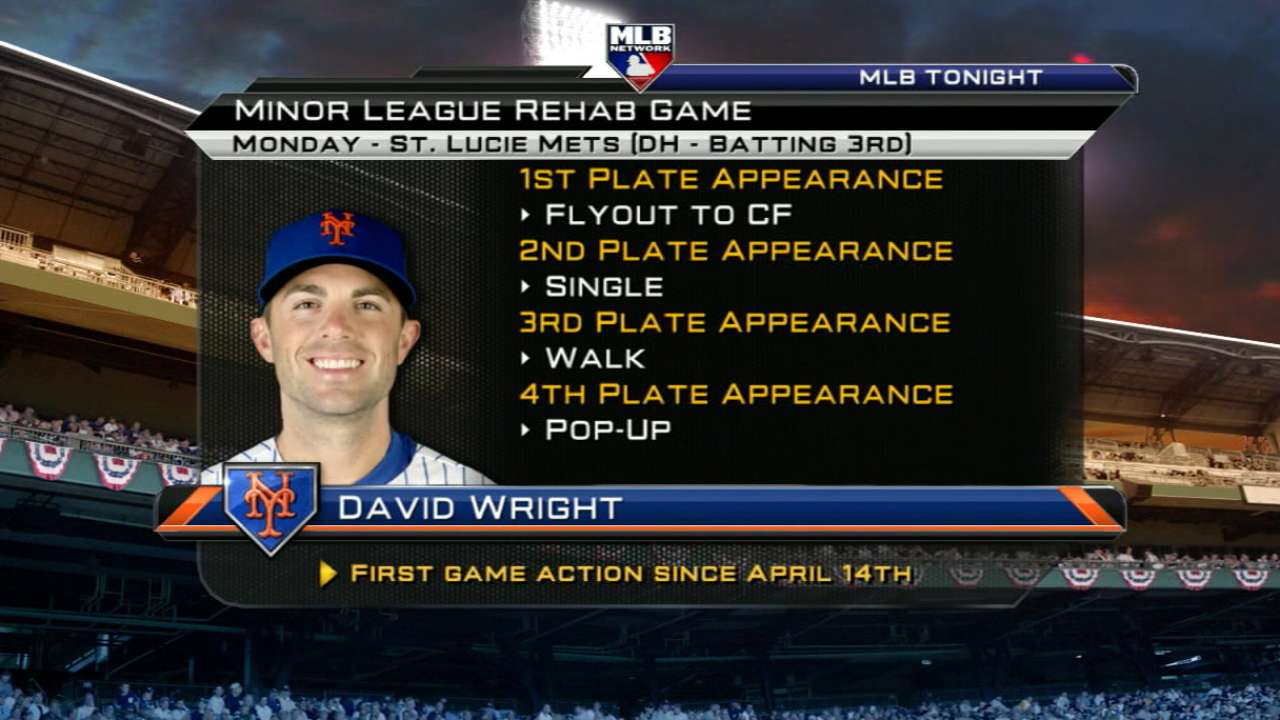 BALTIMORE -- Mets manager Terry Collins said that David Wright would not be an everyday player right away upon his return to New York's lineup.
The veteran third baseman hasn't played with the team since April 14 after dealing with a spinal stenosis condition as well as a right hamstring injury.
Wright started at third base and played all nine innings for the second night in a row for Class A Advanced St. Lucie and went 2-for-5 with two runs scored. In six rehab games, Wright has gone 6-for-20 (.300) with three throwing errors.
"I talked to Dave today about some stuff and he is certainly aware, I don't know how many days a week it will be, but he certainly won't be that every day guy until we know his back is 100 percent," Collins said. "That may not be until next spring. We'll have to keep an eye on it."
The Mets hope that Wright can rejoin the team in Philadelphia next week, and when he does return to the lineup, New York will have a challenge on their hands. They have mixed and matched their infield for much of the season with Wilmer Flores and Ruben Tejada both getting reps at shortstop, five different players getting 10 or more starts at second base and four players receiving more than 10 starts at third.
Collins said he will continue to use both Flores and Tejada at short while moving Daniel Murphy back to second base permanently despite his 39 starts at third base this season.
Given the Mets' lead in the National League East at the moment, Collins said the crowded infield could become a positive to give starters a blow from time to time, but he understands that it's just as much of a challenge as it is a commodity.
"Number one, these guys get in routines and when you come to the ballpark it's always nice to know you're going to be in the lineup. Right now that's not the case," Collins said. "I'm going to try and do as good a job as I can to give guys warnings the night before so that they have an idea of whether they are going to be in or not in.
"The only thing I try to be careful of is when you have a guy that's playing pretty good and all of sudden tomorrow you're not going to play him. You may be hurting yourself by trying to manipulate all these different pieces. Once in a while you need to leave the same lineup out there."
Connor Smolensky is an associate reporter for MLB.com. This story was not subject to the approval of Major League Baseball or its clubs.