Did you know: Yankees have Twins' number
New York has gone 81-29 in regular season and playoffs vs. Minnesota since 2002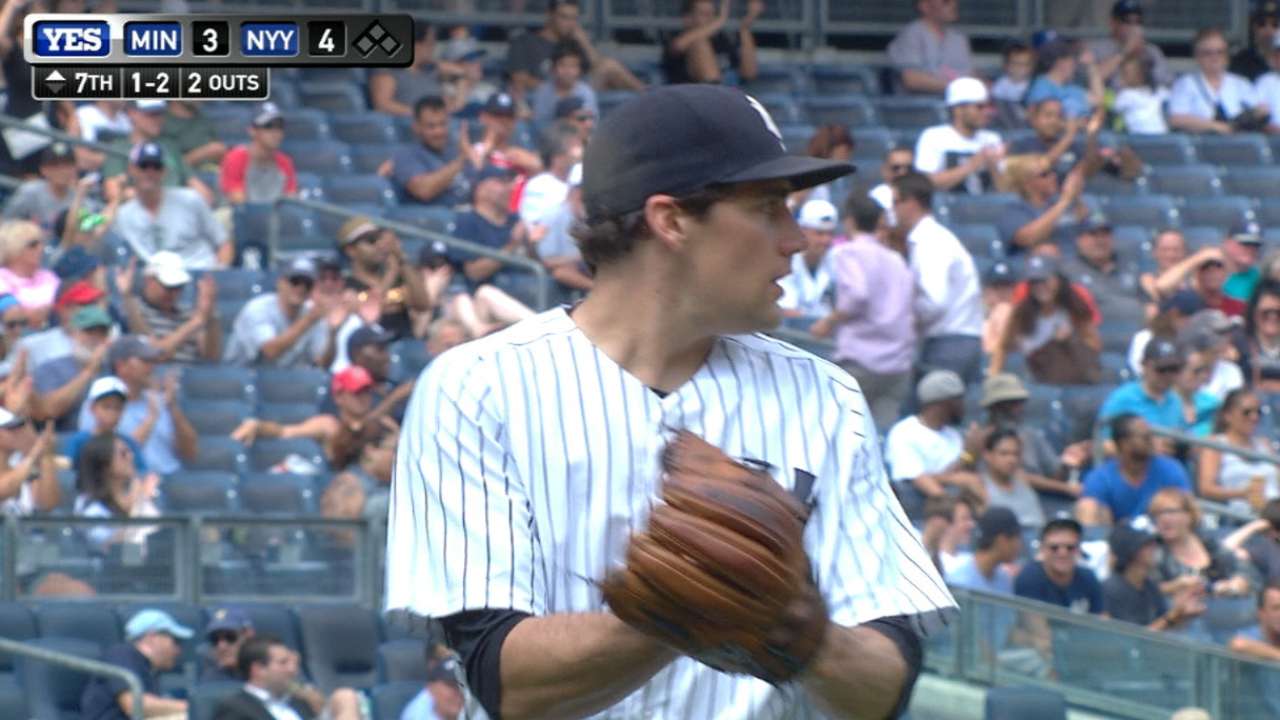 Simply put, when the Yankees line up across from the Twins, it hasn't historically meant good things for Minnesota -- whether it's in the regular season or the playoffs.
With the Yankees completing a three-game series sweep against the Twins with a 4-3 win on Wednesday, the Bronx Bombers finished the season series with a 5-1 advantage, continuing a trend that has played out this way for more than a decade. In the past 14 seasons, no team in baseball has had success against a single opponent like the Yankees have had against the Twins.
Since 2002, the Yankees have gone 69-27 against the Twins in the regular season. That .281 losing percentage for Minnesota is by far the worst in baseball for any team vs. any opponent (minimum 50 games). Since '02, the Yankees have also ended the Twins' postseason runs four times ('03, '04, '09, '10), compiling a dominating 12-2 playoff record in that time against Minnesota.
Did you know:
• No other team has a losing percentage worse than .337 against a single opponent since 2002 (the Padres are 30-59 against the Phillies).
• The Yankees and Angels have the best "worst" records in baseball. Since 2002, the Yankees have struggled against the Angels (59-60), while the Angels themselves have struggled the most against the Red Sox (56-57).
• The only teams that don't appear in any other club's "bottom" two are the Orioles, Royals, Twins, Tigers, Mariners, Mets, Nationals, Marlins, Brewers, D-backs and Rockies.
• The Yankees appear most often on teams' "bottom" two list -- 11 times. They're followed by the Cardinals and A's (six teams each), the Braves, Red Sox and Phillies (five each).
• The only team that has an Interleague opponent (not including the Astros, who moved from the National League to the American League after the 2012 season) in its "bottom" two is the Dodgers, who are 33-55 (.429) against the Angels.
Each MLB team's "worst" opponent:
Twins: .281 (27-69) vs. NYY
Padres: .337 (30-59) vs. PHI
Royals: .340 (34-66) vs. NYY
Pirates: .340 (32-62) vs. LAD
Tigers: .345 (39-74) vs. LAA
Indians: .347 (33-62) vs. NYY
Astros: .351 (20-37) vs. OAK
Cubs: .365 (31-54) vs. PHI
D-backs: .378 (34-56) vs. STL
Orioles: .380 (41-67) vs. OAK
Marlins: .386 (34-54) vs. STL
Nationals: .388 (33-52) vs. STL
Rockies: .391 (36-56) vs. PHI
Mariners: .395 (47-72) vs. NYY
Reds: .400 (36-54) vs. LAD
Dodgers: .412 (40-57) vs. STL
White Sox: .413 (38-54) vs. NYY
Rays: .417 (48-67) vs. OAK
Brewers: .417 (95-133) vs. STL
Rangers: .420 (47-65) vs. NYY
Mets: .425 (107-145) vs. ATL
Blue Jays: .426 (107-144) vs. NYY
A's: .430 (49-65) vs. NYY
Giants: .446 (37-46) vs. PIT
Phillies: .452 (33-40) vs. HOU
Cardinals: .459 (45-53) vs. PHI
Braves: .479 (45-49) vs. SF
Red Sox: .482 (122-131) vs. NYY
Yankees: .496 (59-60) vs. LAA
Angels: .496 (56-57) vs. BOS
Joey Nowak is a reporter for MLB.com. Follow him on Twitter at @joeynowak. This story was not subject to the approval of Major League Baseball or its clubs.