Dodgers acquire Utley from Philllies
Los Angeles deals two Minor Leaguers, cash for six-time All-Star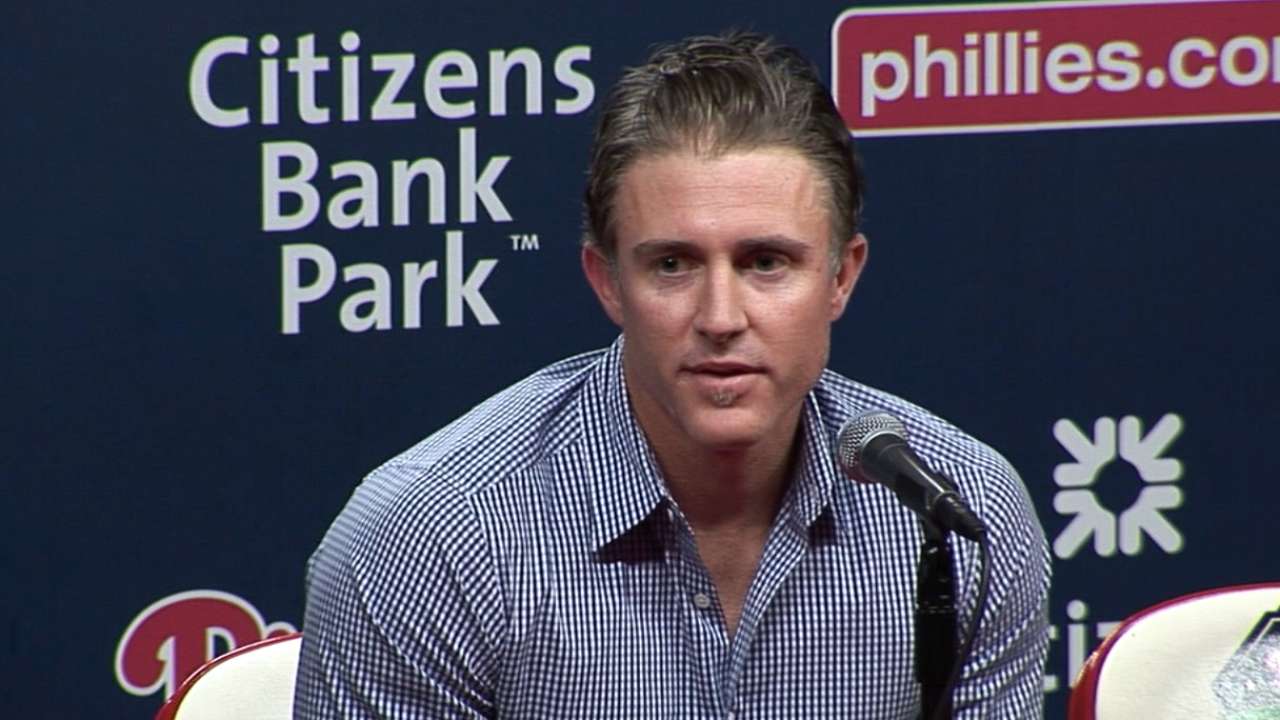 Chase Utley is coming home. The California native and UCLA alum is returning to Los Angeles after being traded from the Phillies to the Dodgers on Wednesday night.
"I gave them a list of a handful of teams that I would consider playing for, and then it was [Phillies GM] Ruben [Amaro Jr.'s] job to find the best deal he could for the organization," Utley said. "And ultimately it came down to the Dodgers, a team I grew up watching.
"I remember going to a 1988 World Series game with my dad, so there's definitely some family ties there," Utley said. "It was a very, very difficult decision for me and my family to go. It's not so much changing uniforms, it's about leaving this city, which has given so much to me over the 12 or 13 years I've been here. So it's definitely difficult. But like Ruben said, it's time."
In exchange for Utley and cash considerations, Darnell Sweeney -- the Dodgers' 13th ranked prospect, according to MLBpipeline.com -- and Minor League right-hander John Richy are heading to Philadelphia.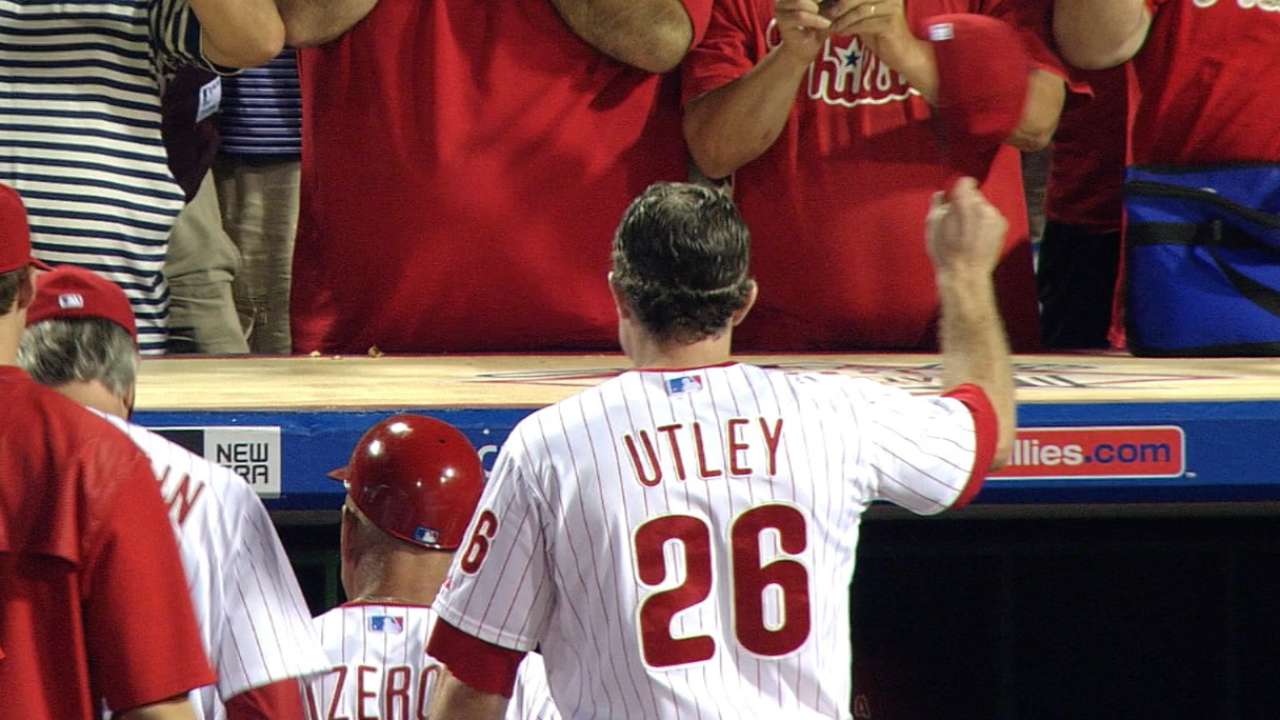 Utley, a career .282 hitter, will jump into the Dodgers' lineup right away as Howie Kendrick is currently on the disabled list.
"There's clearly a short term need for us at the position with Howie out and his availability kind of synched up well with our need and given how we all collectively felt about him as a player, it made a lot of sense to pursue it," Dodgers GM Farhan Zaidi said.
As a player who has been in the league for 10 years and spent at least five with his current team, Utley had the ability to veto a trade, but approved a move to Los Angeles because he wants to win.
"This was No. 1 on my list," Utley said. "I'd like to participate a little bit in getting to that time of year. There's no better time than postseason baseball. When you're chasing down trying to get to the playoffs in September, there's nothing like it.
"Obviously, we experienced that here a few years back for a while and it was a good time," Utley said. "Like I said, the Dodgers were a team I grew up watching. The other teams I would consider going to would have been great fits as well, but I think ultimately the Phillies felt the best deal was with the Dodgers and I respect that and I think it's a good fit for me as well."
Utley has hit .320 in 37 career games at Dodger Stadium, and the team is hoping he can continue that success as the season winds down.
"He's always hit very well at Dodger Stadium, he's always been a very strong performer in the playoffs -- where we hope he'll be in a few weeks," Zaidi said. "So he has a lot of attributes as a player that we felt would make him a great addition. As far as the clubhouse goes, his reputation there is as strong as anybody and deservedly so."
In addition to joining his hometown team, the move will also be significant for Utley as it will reunite him with shortstop Jimmy Rollins.
Utley and Rollins were teammates in Philadelphia from 2003-14 and the 36-year old is ready to play together again.
"I've talked to Jimmy a little bit," Utley said. "He's excited as am I."
While Utley and Rollins will play up the middle -- as they did together in Philadelphia -- there is a chance the duo could be sharing the left side of the infield together once Kendrick returns to the lineup.
"Chase has the ability to move around," Zaidi said. "He's played some first base, he worked out a little bit for the Phillies at third base. While Howie's out he may get most, if not all the time at second, but we may try to get him in more spots when Howie gets back as a way to keep both their bats in the lineup."
Utley, a six-time All-Star, is hitting just .217 this season, but part of that is because of a slow start. Utley is hitting .484 through eight games this month.
"This year obviously didn't start out the way that I envisioned it for a number of different reasons," Utley said. "But taking the time off, getting my body to cooperate a little bit better has definitely made a difference. Obviously, it's a small sample size over the past two weeks or so. But I do feel good and I do feel confident moving forward."
The Dodgers designated infielder Alberto Callaspo for assignment in order to make room for Utley on the active and 40-man roster.
William Boor is a reporter for MLB.com. Follow him on Twitter at @wboor. This story was not subject to the approval of Major League Baseball or its clubs.