Crew places Cravy on DL, goes with 4-man rotation
Rookie lands on shelf with right elbow impingement after rough outing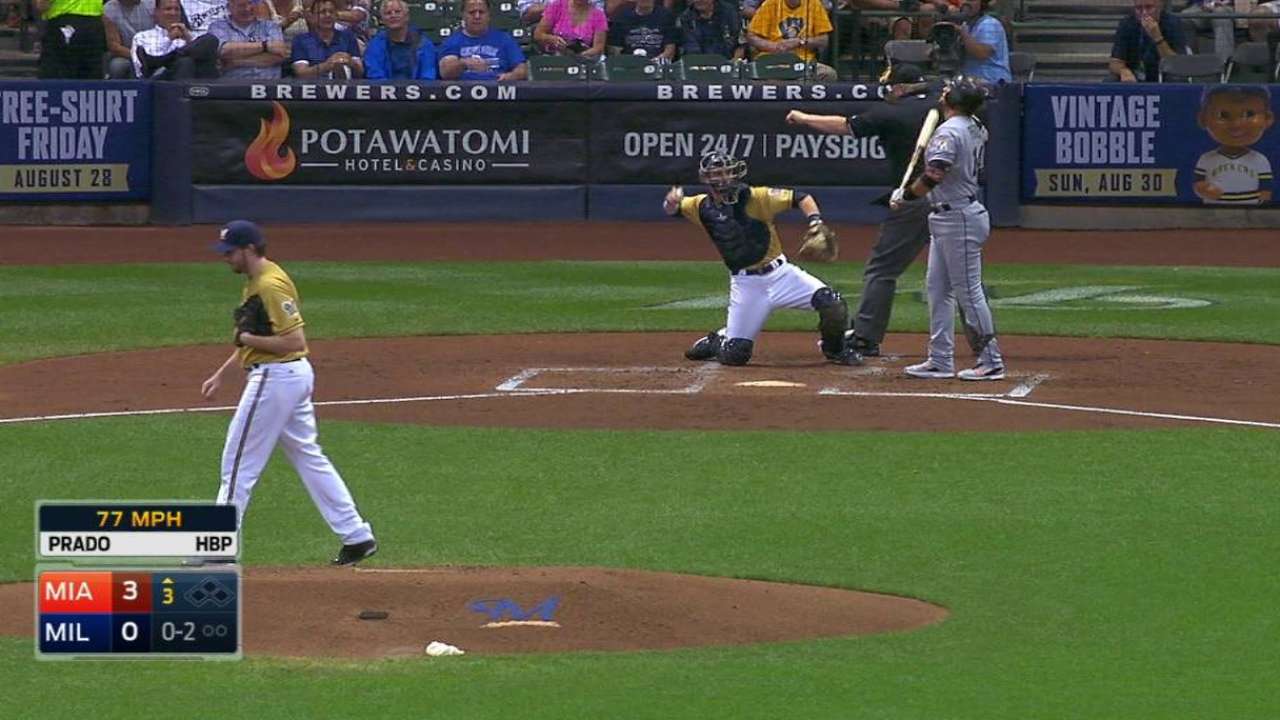 MILWAUKEE -- The Brewers bumped rookie right-hander Tyler Cravy from the starting rotation on Wednesday because they can navigate the next two weeks with only four starting pitchers, and later placed Cravy on the 15-day disabled list with a right elbow impingement.
Cravy said he hyperextended the elbow while bunting against the Cubs' Jon Lester in last week's loss at Wrigley Field. He felt discomfort on a couple of pitches while lasting only 2 2/3 innings of a loss to the Marlins on Tuesday, and was placed on the DL following Wednesday's 8-7 Brewers win. The team will call up a player before Friday's series opener in Washington D.C.
"We don't think it's serious, but serious enough where he's going to miss [several weeks]," manager Craig Counsell said. "He should pitch again this year, but he's going to need to go on the DL."
A series of off-days, combined with Cravy's increasingly poor results, made the switch to a four-man rotation an easy call for Counsell and pitching coach Rick Kranitz. The Brewers have open dates on the schedule Thursday, Monday, Aug. 27 and Aug. 31, meaning they won't need a fifth starter until Sept. 5 in Cincinnati. In the meantime, not only can they get by with four starters, but each of those pitchers will make one start with extra rest. Matt Garza will get two days of extra rest before an Aug. 29 start against the Reds.
"It works out well," Counsell said.
Before Cravy went down with the injury, club officials had also discussed the merits of adding a bat during this stretch of games, and planned to revisit that idea before the start of a series in Washington D.C. on Friday. Outfielder Domingo Santana, acquired from the Astros in the Carlos Gomez /Mike Fiers trade, is the leading candidate for a promotion.
Cravy fell to 0-5 with a 6.67 ERA after allowing seven runs (four earned) on seven hits in 2 2/3 innings of Tuesday's 9-6 loss to the Marlins. In his three starts after the Brewers bumped veteran Kyle Lohse from the rotation in order to evaluate Cravy with an eye to the 2016 rotation, the rookie right-hander allowed 17 runs (14 earned) on 19 hits and nine walks in 12 innings.
"There's going to be more opportunities," Counsell said. "There's opportunities every time you go out there and compete. Failure happens -- not 'failure.' Not having success happens. You have to jump back out there and change that."
Cravy, 26, was 7-7 with a 3.97 ERA in 17 starts for Triple-A Colorado Springs -- a solid showing considering the extreme challenge of pitching in a wind-swept ballpark that sits at a higher altitude than Denver's Coors Field. He made an excellent Major League debut on June 3 at St. Louis, holding the Cardinals to one run and four hits over seven innings of a tough-luck loss.
But Cravy was unable to capture that success in subsequent stints with the Brewers. His game scores, a figure developed by statistician Bill James to measure the effectiveness of starts, fell from 69 in that start against the Cardinals to 21 against the Marlins on Tuesday night.
"His starts have faded from a performance aspect," Counsell said. "But he pitched very well in Triple-A, so we'll see."
Asked after Tuesday's game whether he felt he was missing an opportunity, Cravy said, "It's been rough, but I'm not too worried about it. Next year is going to be just as big a year. Every time you get the opportunity, you have to make the most of it."
Adam McCalvy is a reporter for MLB.com. Follow him on Twitter @AdamMcCalvy, like him on Facebook and listen to his podcast. This story was not subject to the approval of Major League Baseball or its clubs.