Rockies seeking solutions for struggling 'pen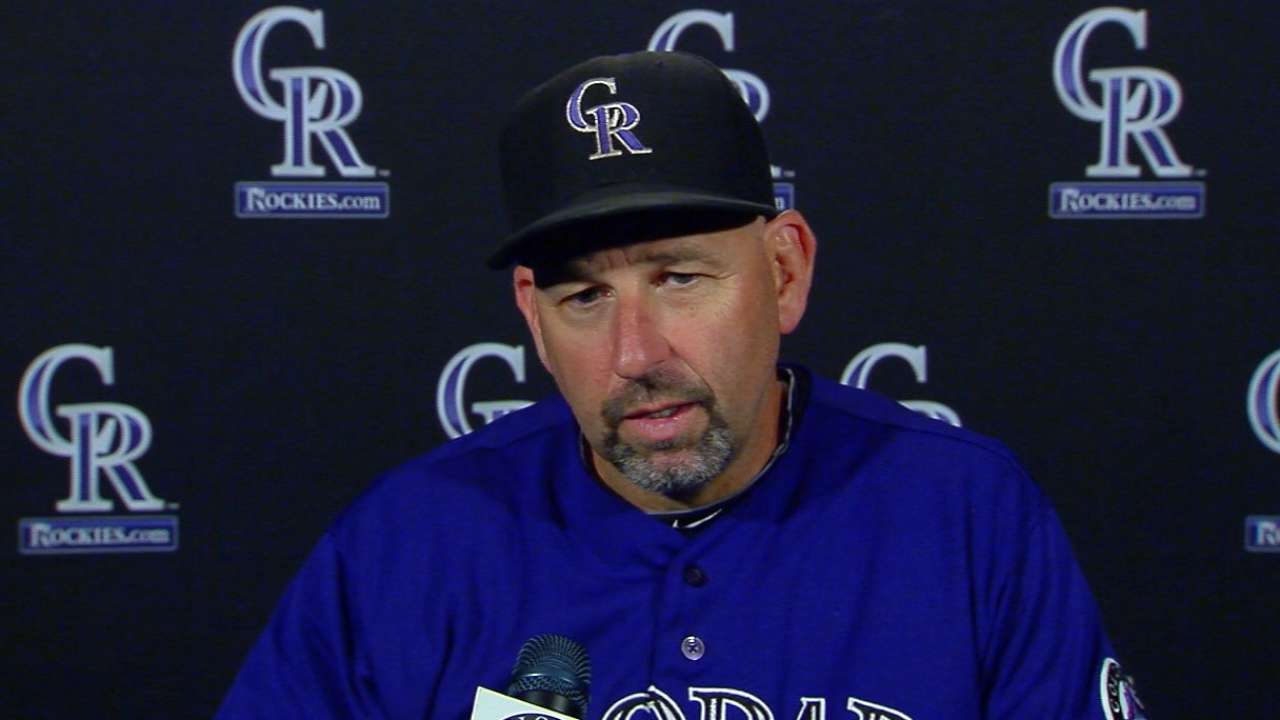 DENVER -- Starting pitcher David Hale walked three and gave up six runs in five innings, but the struggling bullpen was worse Tuesday night as the Rockies lost for the eighth time in their last 10 games, a 15-6 setback to the Nationals at Coors Field.
After Gonzalez Germen's spotless sixth inning, four Rockies relievers gave up nine runs and walked seven. In all, eight of the 10 batters the Rockies walked would score. Hale's first Major League start since July 4 was hardly the stuff of victory, but the work of the bullpen has become a critical issue.
Justin Miller walked two with two out in the seventh and gave up Michael Taylor's single to break a 6-6 tie.
The Rockies' hopes ceased when Tommy Kahnle walked three (one intentionally), yielded a hit and gave up four runs while recording one out in the eighth. Scott Oberg coughed up two hits, a walk and a run, and Christian Friedrich yielded three hits, a walk and three runs.
Four games into this homestand, Rockies relievers are 0-3 with 20 runs (all but one earned), 18 hits and 12 walks. The only victory came Sunday, when lefty Chris Rusin threw a complete-game, five-hit, 5-0 victory. Considering it was just the 13th home shutout in the history of a franchise that started in 1993, the Rockies always need a dependable bullpen.
"It makes it tough," Rockies manager Walt Weiss said. "Guys are struggling down there right now. It was a one-run game in the seventh. It got ugly after that. We're working through some tough stuff down there in the 'pen right now.
"These things can be contagious, good and bad. It's on the bad side right now, running through the bullpen."
On Friday against the Padres, a tie game through six turned into a 9-5 loss when Ken Roberts (now at Triple-A Albuquerque) and Rafael Betancourt gave up a combined five runs while managing three outs. On Saturday, rotation hopeful Jon Gray struck out five in five innings while on a tight pitch count and left with a 3-1 lead, only to see it disintegrate into a 7-5 defeat.
At 21 games below .500, much of what the Rockies do is with an eye toward next year.
Hale displayed some rust and had severe problems with two outs and two strikes, but he'll have chances to plant the notion that he can be counted on for the rotation. Rookie outfielder Kyle Parker tied the game with a sixth-inning homer and added another hit as he continues to get regular starts. But the bullpen's regular implosions have become a pressing issue, as the Rockies have to determine if there are keepers or if a total revamp is in order.
It's so rough that Weiss announced before the game that John Axford (4-5, 4.66 ERA, 16-of-21 save chances) was being restored to the closer role. He replaced Kahnle, who showed iffy command in a two-week closer trial, and spun off kilter Tuesday.
"Tommy's struggling with his command the last three or four times out, and he had been so good before that," Weiss said.
Thomas Harding is a reporter for MLB.com. Follow him on Twitter @harding_at_mlb, and like his Facebook page. This story was not subject to the approval of Major League Baseball or its clubs.