'No signs of slowing down' for vintage Ichiro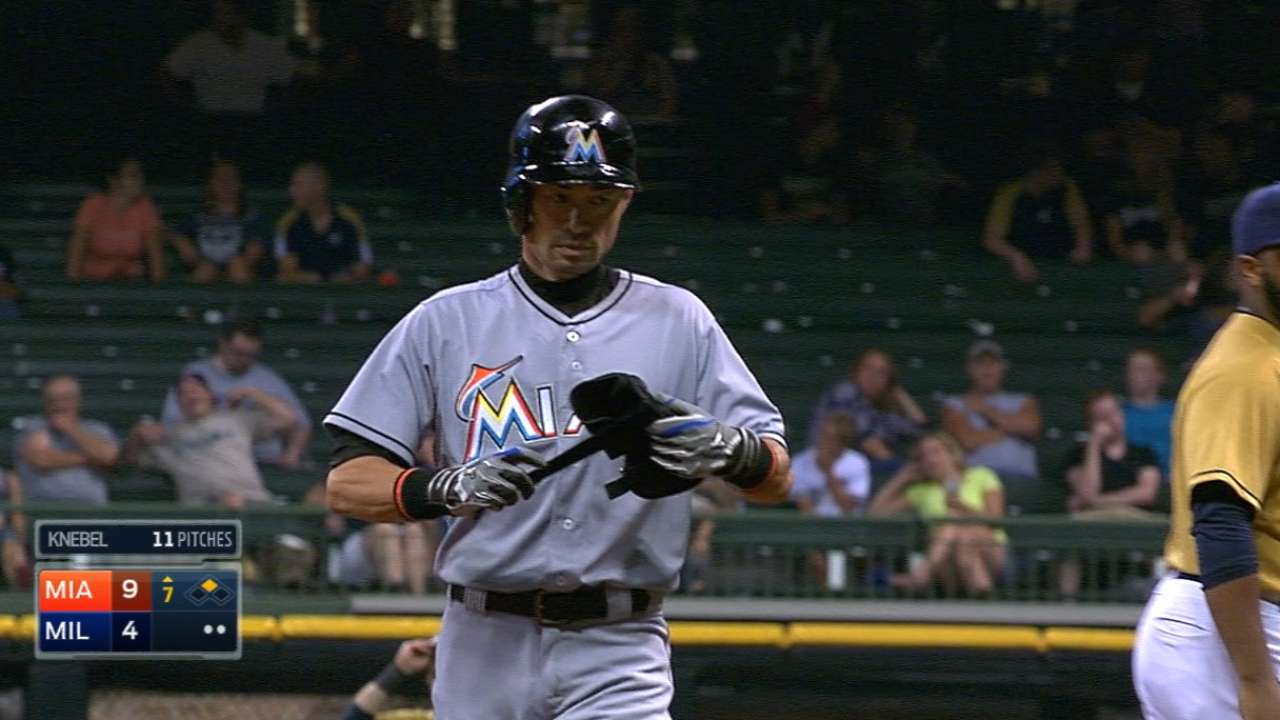 MILWAUKEE -- Tack on four more hits to Ichiro Suzuki's total in the Major Leagues. The 41-year-old outfielder looked like his vintage self in Tuesday's 9-6 win over the Brewers, picking up his first four-hit game in a Marlins uniform.
Ichiro smacked singles in three of his first four at-bats before ripping his fourth hit of the night in the seventh, a double into deep left-center field.
Although it was his first four-hit game since July 28, 2013, and only his third since leaving the Seattle Mariners in 2012, the performance added yet more accolades to an already accomplished career. It was Ichiro's 51st game of four or more hits, and it moves him to within 81 hits of 3,000 for his big league career.
"A tremendous night," Marlins manager Dan Jennings said. "As I've said, this guy is a Hall of Famer for a reason. He shows no signs of slowing down."
Ichiro's night was part of a bigger offensive outburst by the Marlins. They entered Tuesday second to last in the Majors in runs scored, but they racked up nine, including seven in the first three innings.
Dee Gordon and Ichiro -- the hitters at the top of Miami's lineup on Tuesday -- combined to reach base seven times and each stole a base.
Overall, Ichiro has hit safely in 11 of his last 12 starts, and Tuesday was his 15th multi-hit game this season. He's batting .260 overall.
"Over the last month or so, he's swung the bat [well]," Jennings said. "He's turning on the inner half, shooting the ball the other way. It's great to see him out there picking us up in key spots and having the at-bats he's having."
The four hits on Tuesday come just three days after Ichiro passed Ty Cobb (4,191) on the all-time professional hits list (when counting his totals from both Japan and Major League Baseball).
"He's got 4,200 hits. I think he's pretty good," Brewers manager Craig Counsell said. "He's a great hitter. You don't lose your hands. He hasn't lost his hands, that's for sure. He's one of the greatest players to play our game."
Brandon Curry is an associate reporter for MLB.com. This story was not subject to the approval of Major League Baseball or its clubs.