Flaherty, Sosa among 10 top prospect performers Tuesday
Cardinals No. 3 prospect throws six scoreless, No. 6 prospect hits two solo homers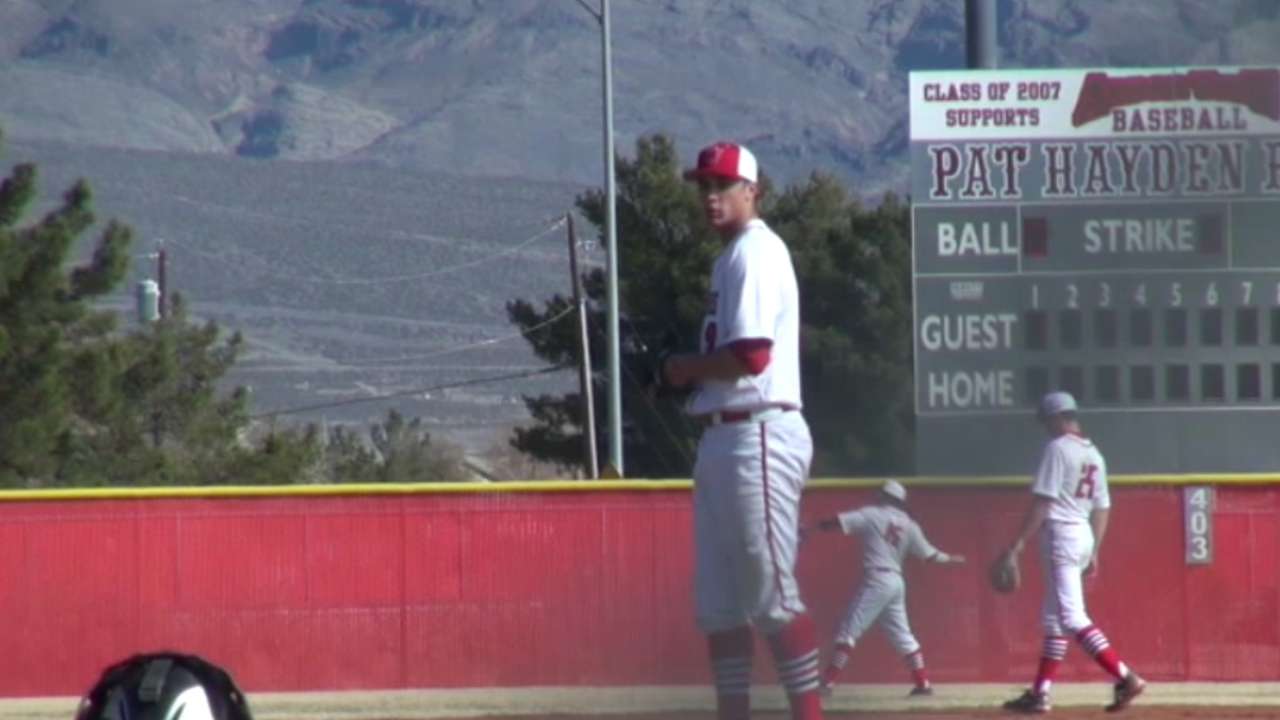 Three young Cardinals prospects showed off their talent on Tuesday.
No. 3 prospect Jack Flaherty was on the hill for Class A Peoria during a 6-0 win and he overpowered Beloit hitters for nine strikeouts in six scoreless innings. He's been absolutely on fire as of late, reeling off 36 strikeouts in his past four starts (24 1/3 innings), and has not lost since May 31.
Flaherty stands at 7-1 with a 2.52 ERA in 14 starts.
No. 6 prospect Edmundo Sosa went off for Johnson City, ripping two solo homers as part of a 2-for-3 day. The J-City Cards took down Greeneville, 3-1, in comeback fashion thanks to Sosa's bat. Still 19 years old, the shortstop has four multi-hit games in his past five outings and has a .309/.370/.497 line with seven homers and 16 RBIs in 42 games.
In the Gulf Coast League, first-round pick Nick Plummer swatted his first pro home run in a 10-3 win over the Nationals. The 19-year-old center fielder finished 1-for-5 and pushed his hitting streak to six games.
Drafted No. 23 overall this summer, Plummer, the Cardinals No. 7 prospect, crossed the Mendoza line for the first time on Aug. 13 and has boosted his batting average to .220 with seven doubles, four triples, 18 RBIs and seven stolen bases for the GCL Cards.
The rest of the 10 best performances from top Minor Leaguers
• Brewers No. 9 prospect Jorge Lopez took a no-hitter into the seventh inning for Double-A Biloxi and finished with nine strikeouts as the Shuckers took down Jackson, 3-1. Lopez gave up just one hit over seven shutout innings and picked up his fourth 'W' in five starts. His ERA -- 2.32 -- is the lowest it's been this season and he stands at 12-5 in 22 starts. While the 6-foot-4 right-hander has given up at least one walk in 12 straight starts, he's also struck out at least six batters in nine of those 12 outings.
• Dodgers No. 3 prospect (No. 27 overall) Jose De Leon dominated for four innings in Double-A Tulsa's 5-3 loss to Frisco. While the game lasted 14 innings, De Leon put the Drillers in position to win early by striking out seven hitters and allowing one hit and one walk through four. While the right-hander has not won since June 22, he has only surrendered one earned run in his past three starts (nine total innings). De Leon leads all Minor Leaguers with 144 strikeouts across two levels.
• Indians No. 2 prospect (No. 39 overall) Clint Frazier helped Class A Advanced Lynchburg coast to an 8-2 win over Frederick by smacking two home runs on Tuesday night. He swatted solo shots in the fourth and sixth innings and also added an RBI groundout in his first at-bat. Frazier finished 3-for-4 with three RBIs. The blasts were his 14th and 15th of the year and he's hitting .288 for the Hillcats. Frazier had an impressive 12-game hitting streak going until last Thursday, when he began a 3-for-18 run that ended Tuesday night. He has four multi-hit games in August.
• Rangers No. 4 prospect (No. 74 overall) Lewis Brinson proved clutch twice in extra innings for Double-A Frisco. He was 0-for-4 before the game went into extras, but hit a go-ahead solo homer in the 13th. Then, after Tulsa tied the score in the bottom of the frame, Brinson responded by cracking a two-run single in the top of the 14th. That was enough for a 5-3 win and the center fielder is hitting .343/.361/.567 with three jacks and 19 RBIs since joining the RoughRiders on July 31.
• Red Sox No. 1 prospect (No. 9 overall) Yoan Moncada went 3-for-4 with a double and a solo homer for Class A Greenville. The highly touted second baseman now has seven home runs and 32 RBIs in 66 games for the Drive and he also swiped two bases on Tuesday to bring his season total to 37 stolen bases in 40 attempts. Moncada's big night brought his line to .289/.379/.458 and his slugging percentage is higher than it has been all year.
• Twins No. 9 prospect Stephen Gonsalves recorded his first career complete game with seven innings of scoreless ball for Class A Advanced Fort Myers. The 6-foot-5 southpaw struck out seven hitters while surrendering one run on four hits and a walk in a 4-1 win over Charlotte. The 2013 fourth-round Draft pick is 6-1 with a 2.23 ERA for the Miracle and has not given up more than three runs in any of his 12 starts for the team.
• D-backs No. 7 prospect Brandon Drury continued raking for Triple-A Reno, leading the Aces' 23-hit, 17-run offensive barrage by going 5-for-6 with a homer and three runs scored. The 22-year-old has hit .333 for Reno since being promoted from Double-A Mobile on June 23. Drury wasn't the only D-back to put up gaudy numbers, as No. 9 prospect Peter O'Brien went 3-for-6 with a homer of his own and four RBIs in Reno's 17-11 win over Colorado Springs.
Alex M. Smith is a reporter for MLB.com. This story was not subject to the approval of Major League Baseball or its clubs.