Twins feel effect of limited bullpen options
Inexperienced O'Rourke, Graham forced into tough spots, setting stage for decisive slam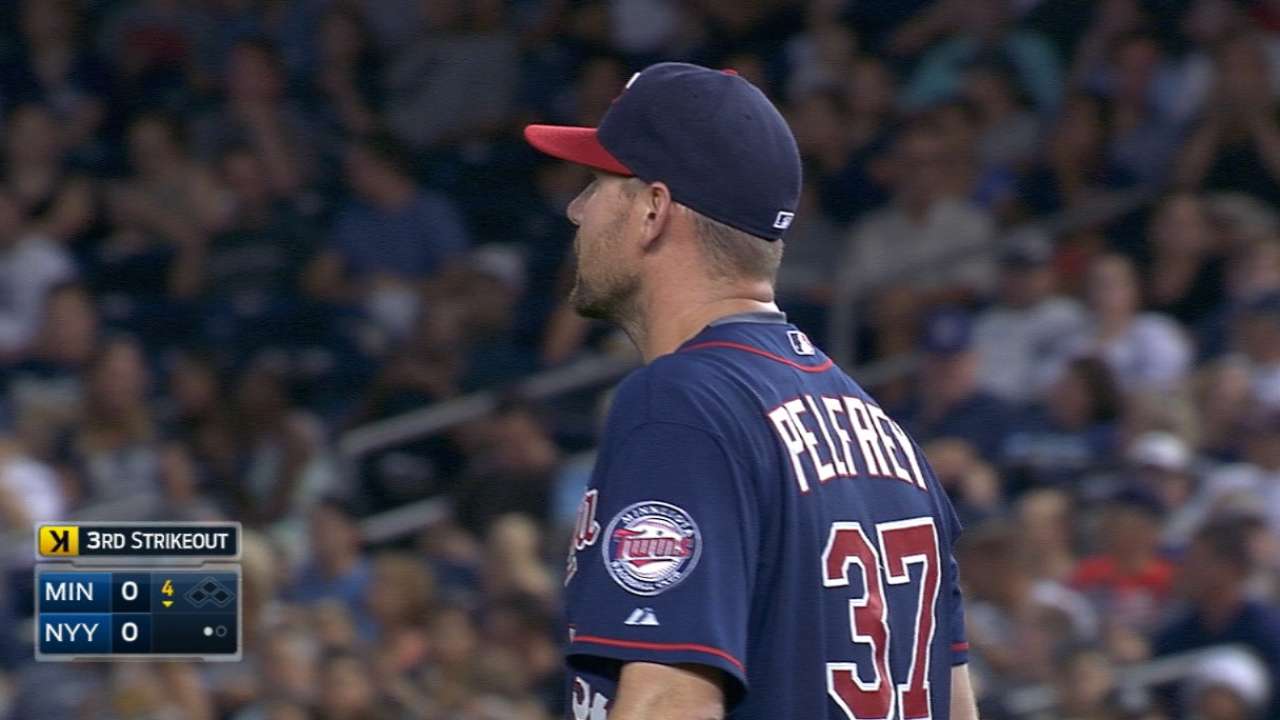 NEW YORK -- With a depleted bullpen, the Twins needed right-hander Mike Pelfrey to pitch deep into his start against the Yankees on Tuesday night.
Pelfrey was mostly effective, allowing just one run. But he lasted 5 1/3 innings, which put a strain on a bullpen that was without Casey Fien, Kevin Jepsen, Brian Duensing and Glen Perkins. It forced the Twins to use rookie lefty specialist Ryan O'Rourke and Rule 5 Draft pick J.R. Graham in tough spots, and the result was an 8-4 loss that saw Alex Rodriguez crush a go-ahead grand slam off Graham in the seventh.
"You try to imagine how it will work out, but you're limited on certain days and try to do the best you can and put the people out there who are available," Twins manager Paul Molitor said. "It's not easy. Sometimes guys have to get out of their roles and comfort zones. You hope they can step up. But tonight they weren't able to do it."
• Perkins leaves Twins to undergo neck exam
The bullpen implosion came after the Twins took a 4-1 lead in the seventh, keyed by a two-run blast from rookie Miguel Sano and an RBI single from Shane Robinson. But the lead was short-lived, as O'Rourke was brought back out for the seventh after retiring Greg Bird and Didi Gregorius to end the sixth.
O'Rourke faced pinch-hitter Chase Headley, who promptly singled to left, then Brendan Ryan, who drew a walk. He was able to get Jacoby Ellsbury to fly to right, but he then walked Brett Gardner to load the bases.
Molitor opted to bring in Graham, who had a 9.00 ERA over his last 15 innings, and he served up the backbreaking grand slam to Rodriguez on a 1-0 fastball. Graham stayed in and allowed three more runs in the eighth.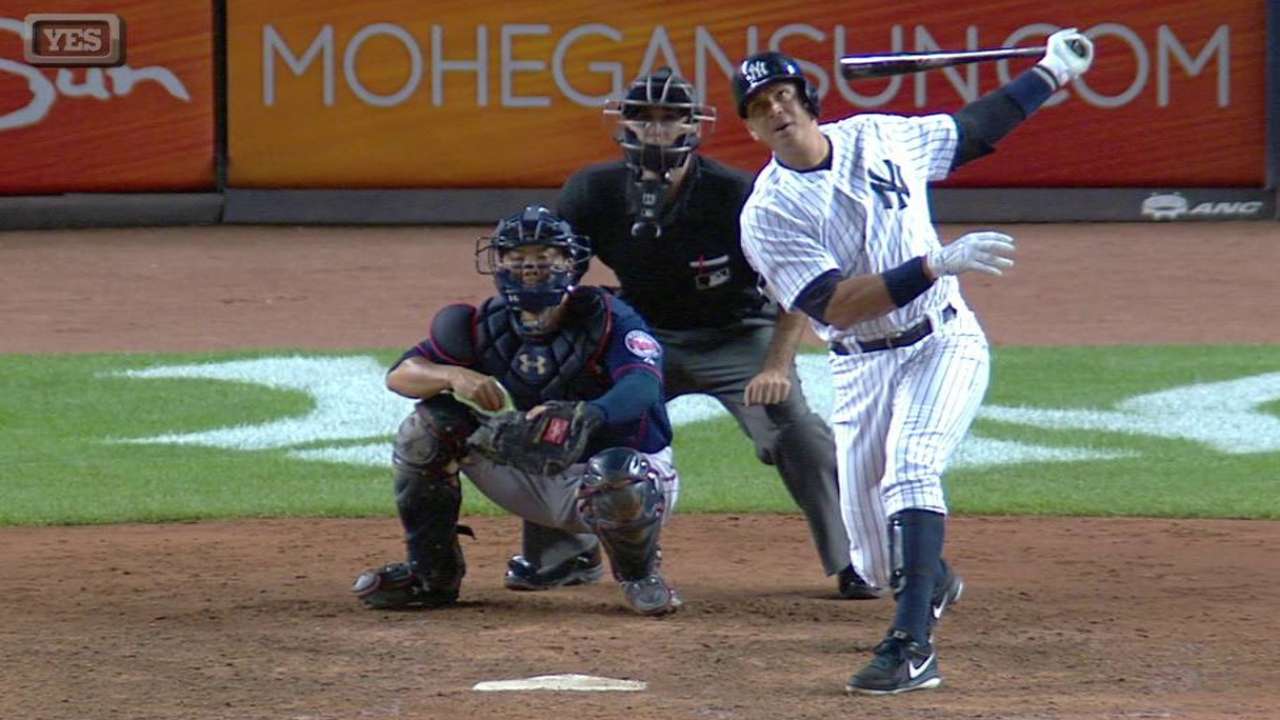 "We had nine outs to get and three runs to protect, and it didn't take long," Molitor said. "I put Ryan back out there, and they got a hit and a couple walks to put us in a bad spot. He tried to get ahead with a slider but missed it and came back with a fastball, and he was ready for it. We've seen it many times."
O'Rourke said he was happy that Molitor trusted him in the seventh, but he lamented that it didn't work out. The rookie had actually fared well in limited action against righties coming in, holding them to a .118 average in 22 plate appearances.
"He trusted me to do a job, but I didn't do it tonight, so I'll get back out there again," O'Rourke said. "I looked at the score when we went in there and we had a three-run lead, and I just didn't do my job and we lost the game. So it's on me."
Rhett Bollinger is a reporter for MLB.com. Read his blog, Bollinger Beat, follow him on Twitter @RhettBollinger and listen to his podcast. This story was not subject to the approval of Major League Baseball or its clubs.