Werth's move to leadoff spot pays off quickly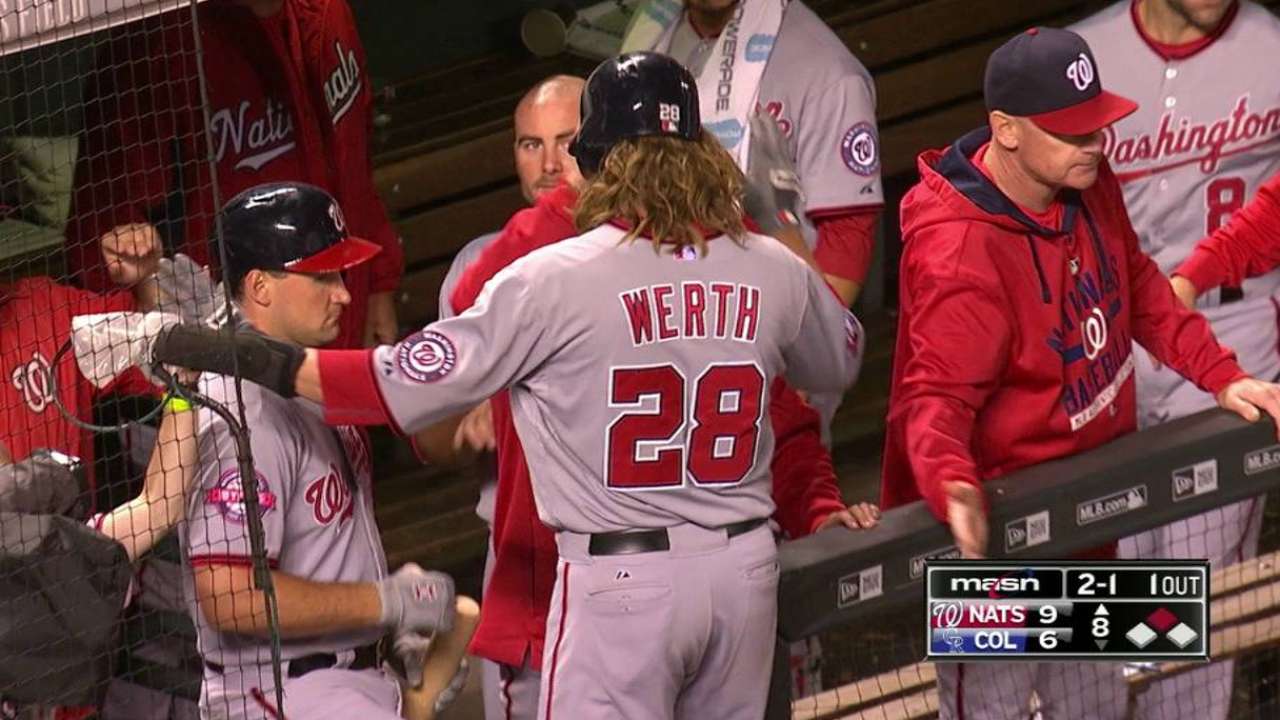 DENVER -- Washington manager Matt Williams was hoping a change of scenery would benefit the struggling Jayson Werth, so the Nationals outfielder found himself atop the lineup card for the first time in more than two years.
So far, so good.
In his first game as a leadoff hitter since April 17, 2013, Werth went 2-for-5 with a walk and three runs scored -- one of the many contributors in Washington's 15-6 win over the Rockies on Tuesday at Coors Field.
After missing more than two months with a left wrist contusion, Werth has been struggling over the last three weeks. Even with Tuesday's strong showing, he's hitting just .164 (11-for-67) with one homer and six RBIs since returning to action on July 28.
If anything, Werth believes the move to the leadoff spot will help him break through by receiving more at-bats. His six plate appearances on Tuesday were a season high.
"I'd say that's probably the No. 1 thing," Werth said. "The other night hitting seventh, I got three plate appearances, and it felt like I pinch-hit three times. I think right now, the more looks I can get, the better. Technically, I don't think I'm that far off. Timing-wise. I'm obviously just a tick off.
"I think the more at-bats will help, but I feel like any moment, I'll break out. Just got to stay positive and keep rolling."
• Ringolsby: Key stretch lies ahead for Nationals
Although Tuesday was just Werth's 75th career start at the leadoff spot in more than 1,300 games, he does have a successful stint in the No. 1 hole to fall back on. After returning from a wrist injury in August 2012, Werth hit primarily leadoff for the final two months of the season.
In 38 games, he batted .309 (46-for-149) with 25 runs scored, 16 extra-base hits and 12 RBIs.
"It's comfortable for him, he's been there before," Williams said. "He's a good run-producer as well. With him coming back from the injury and not feeling his stroke as much as he wants to, it's a good opportunity to get him in the leadoff spot. Get him some fastballs to hit, let him see some pitches, too."
In order for the Nationals to turn things around in the final six weeks of the season, they'll need much more than just Werth thriving in the leadoff spot.
Tuesday night, though, was a solid start.
"We've got to win baseball games, that's the bottom line," Werth said. "We got a long, hard road ahead of us. We dug ourselves a pretty good hole here, but you just got to keep plugging away, keep grinding it out."
Dargan Southard is an associate reporter for MLB.com. This story was not subject to the approval of Major League Baseball or its clubs.