No-look play highlights Kershaw's eventful start
Lefty also shows frustration after mishandling grounder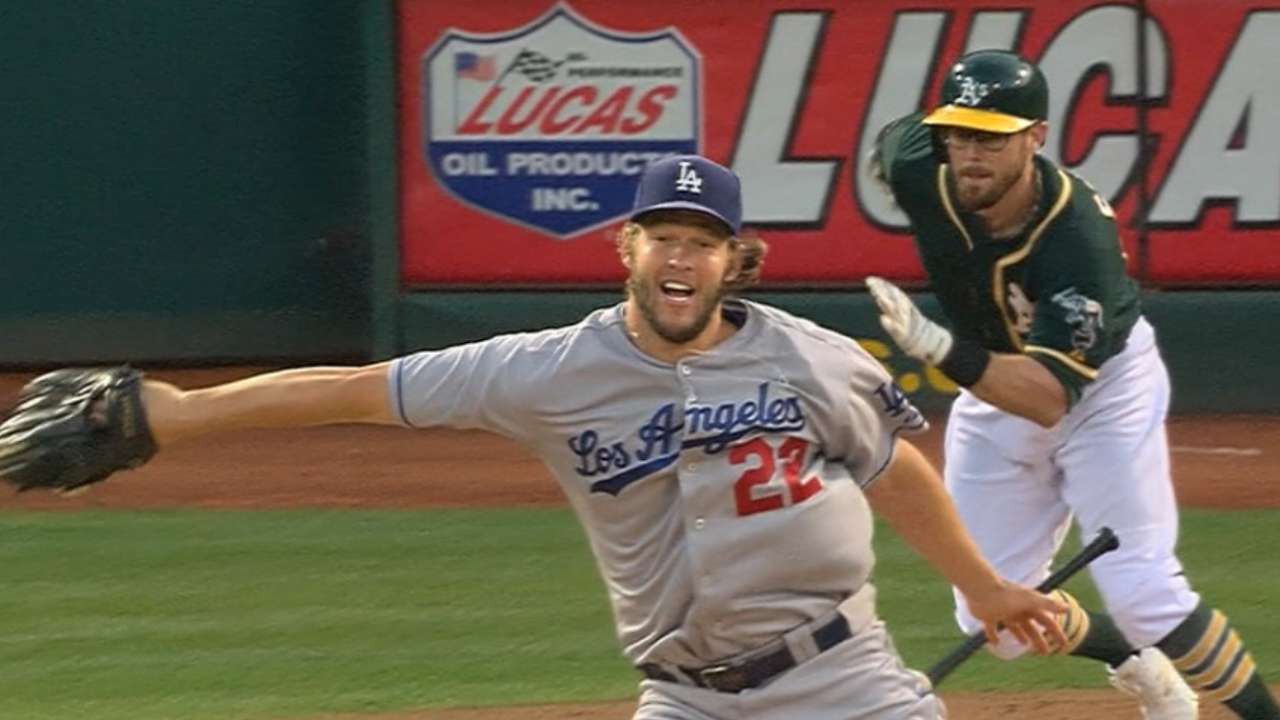 OAKLAND -- Clayton Kershaw flashed his Gold Glove at the A's Tuesday night, then flashed his temper.
In a 5-4 loss to Oakland, Kershaw made his second behind-the-back play of the season, gloving Eric Sogard's comebacker while spinning around and recording the out with a flip to first base to end the bottom of the second inning.
But in the third inning, after he didn't get a called third-strike call from plate umpire Todd Tichenor on a pitch to Danny Valencia, Kershaw mishandled Valencia's tapper that went for an infield single.
When the play ended, Kershaw fired the ball into the ground, picked it up, then threw it fairly hard into the Dodgers dugout on a couple hops. Kershaw then struck out Josh Phegley to end the inning.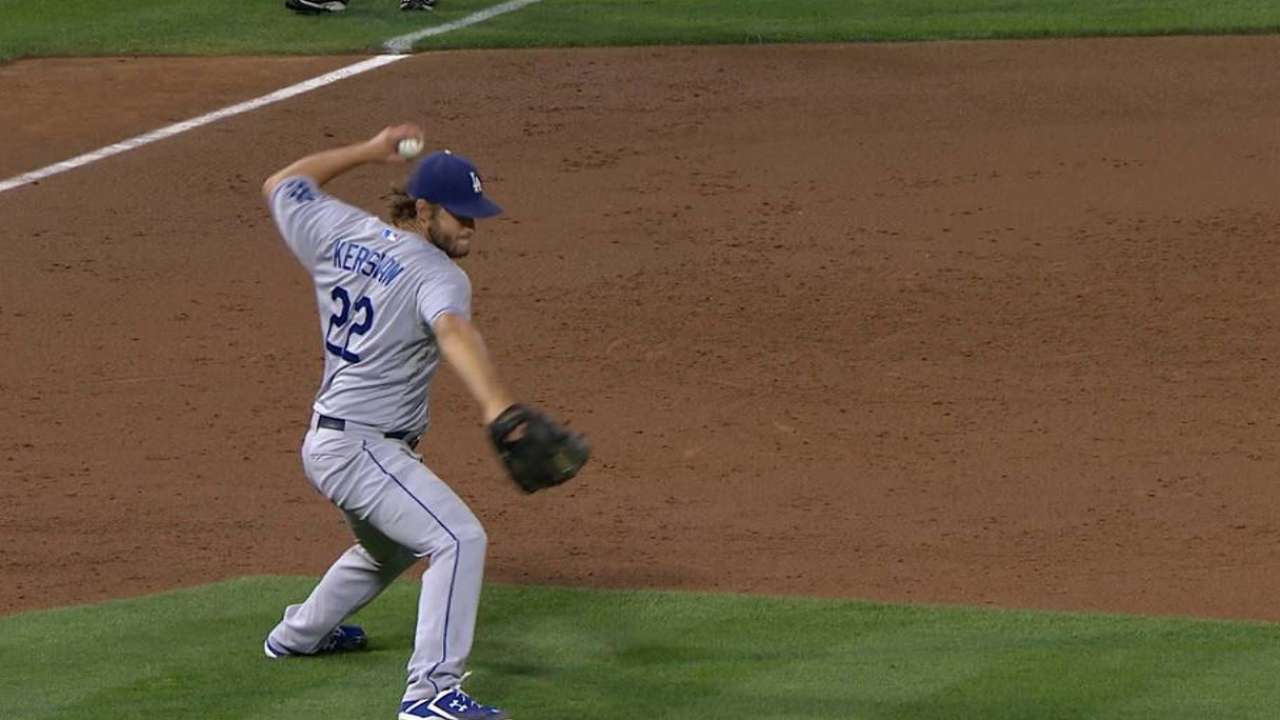 "I don't know, just fired up for some reason," said Kershaw, who allowed one run on five hits in seven innings. "Just a weird night, it felt different out there. I don't know. I don't really know why. A little more on edge tonight than normal, don't really have a reason for it."
Later in the game, Kershaw exchanged words with Tichenor after the umpire granted a late timeout to Mark Canha. Catcher A.J. Ellis stepped into the argument to protect Kershaw.
"I'm not sure, I think he was just wound up pretty tight," said Don Mattingly. "He puts a lot into every start, like a Sunday in the NFL when he pitches. When he's out there it's full bore, he has a lot invested. He's pitching to win."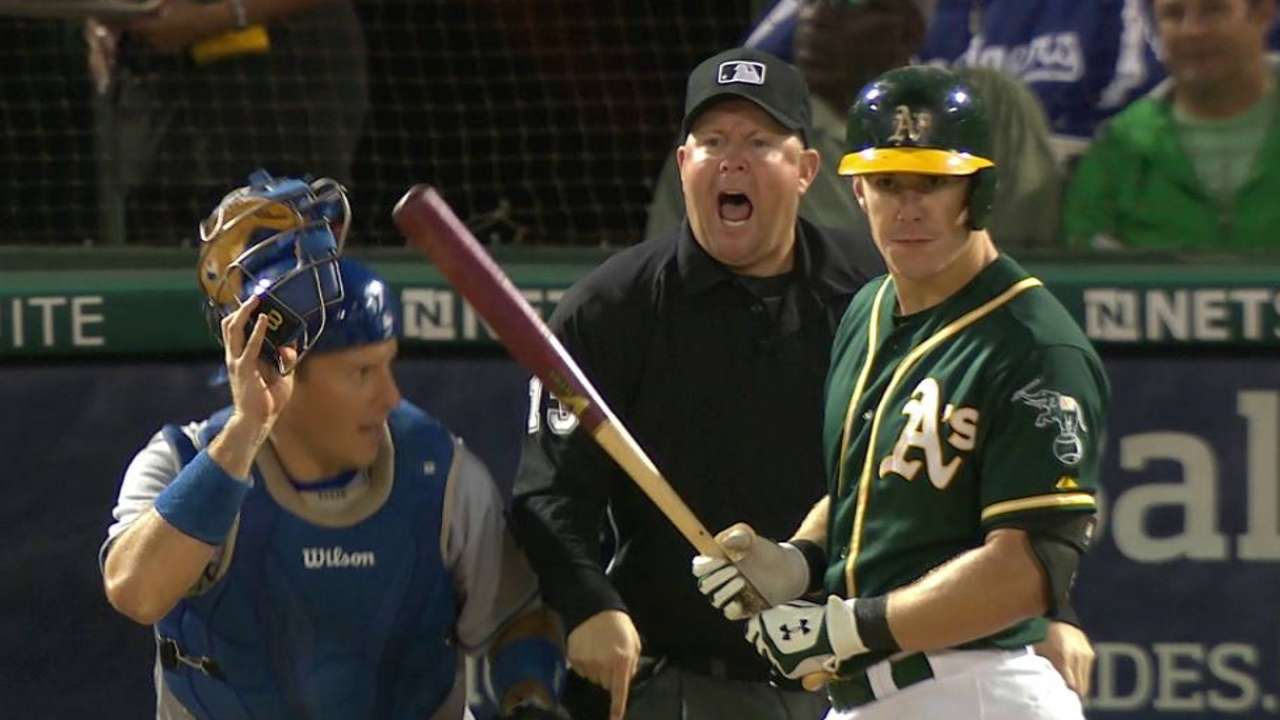 As for the defensive gem, on May 5 in Milwaukee, Kershaw stole a hit from former teammate Elian Herrera with a behind-the-back play. He also took a hit from Tim Hudson with a behind-the-back grab last year.
Kershaw won a Gold Glove Award in 2011.
Ken Gurnick is a reporter for MLB.com. This story was not subject to the approval of Major League Baseball or its clubs.