Butler does it: A's walk off Dodgers in 10th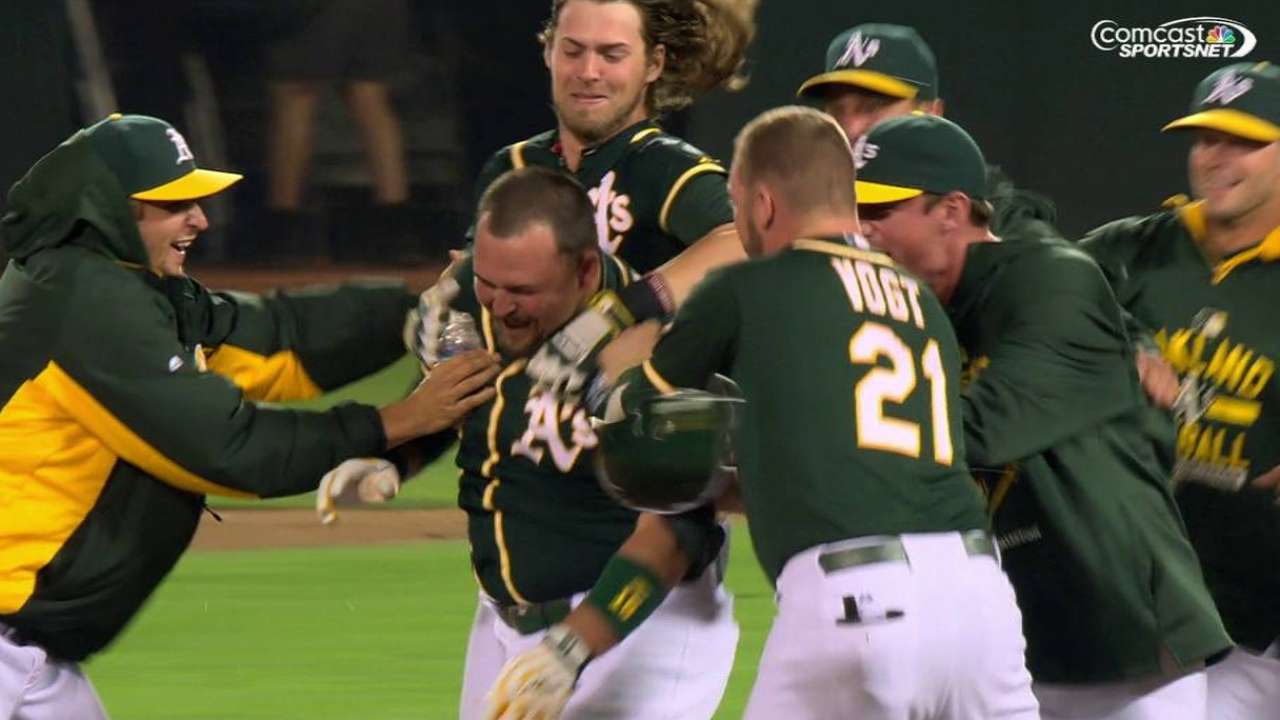 OAKLAND -- Billy Butler delivered a walk-off RBI double in the 10th, scoring Mark Canha and propelling the A's to a 5-4 win over the Dodgers on Tuesday in the first game of a two-game set at the Coliseum.
A.J. Ellis crushed a three-run blast in the eighth to give the Dodgers a 4-1 lead, but the A's stormed back with three of their own in the bottom of the frame, stringing together hits in five of six at-bats. Neither team scored a run in the ninth, but the A's improved to 5-9 in extra innings after Butler's timely hit.
"To have that spirited a comeback and get big hit after big hit was awfully fulfilling," A's manager Bob Melvin said.
Clayton Kershaw tossed seven innings of one-run ball for the Dodgers, throwing 116 pitches and striking out seven. A's starter Felix Doubront went six frames in his first start for Oakland, striking out eight and limiting Los Angeles to one unearned run, despite walking six batters.
"It was tough stringing hits together against a guy wild like that," said Kershaw. "A.J's homer was huge, it was a swing in momentum, but it was definitely tough to give it back like that."
• Bullpen remains a concern for Dodgers
The A's won their first game in more than a week after they had lost seven straight on a road trip to Toronto and Baltimore. The loss snapped a three-game winning streak for the Dodgers, who had also won five of six.
"It was definitely stacked against us today, but that's why you show up and you play the game," Butler said. "It doesn't matter how it looks on paper, you've still got to go out there and play. That's the game of baseball."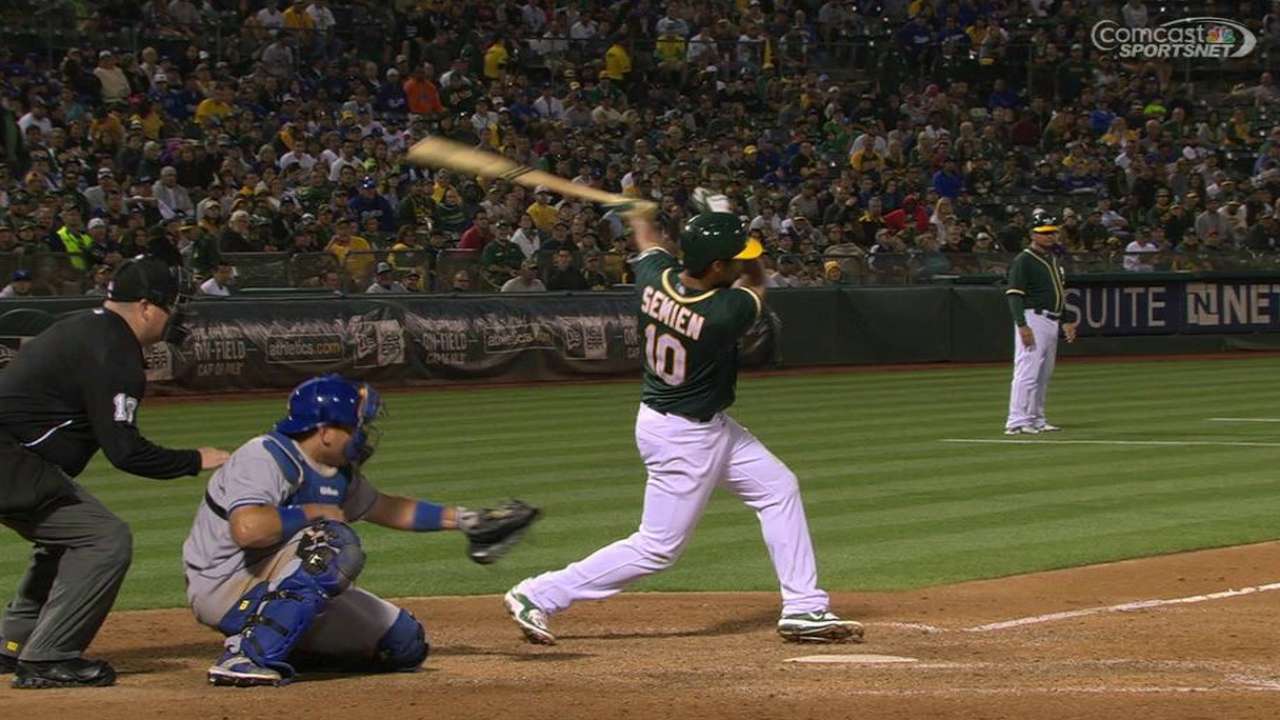 MOMENTS THAT MATTERED
Yes, he Can-ha: Canha had his first career four-hit game, doubling in the 10th to set up Butler's walk off. Canha singled twice and doubled twice, scored three runs and drove in two.
"It's definitely the most memorable game we've played, for me," Canha said. "It's just been like kind of an emotional roller coaster ride this year so to get a win like that in front of a big crowd made it really cool."
• Yes he Can-ha: Rookie has monster night vs. Dodgers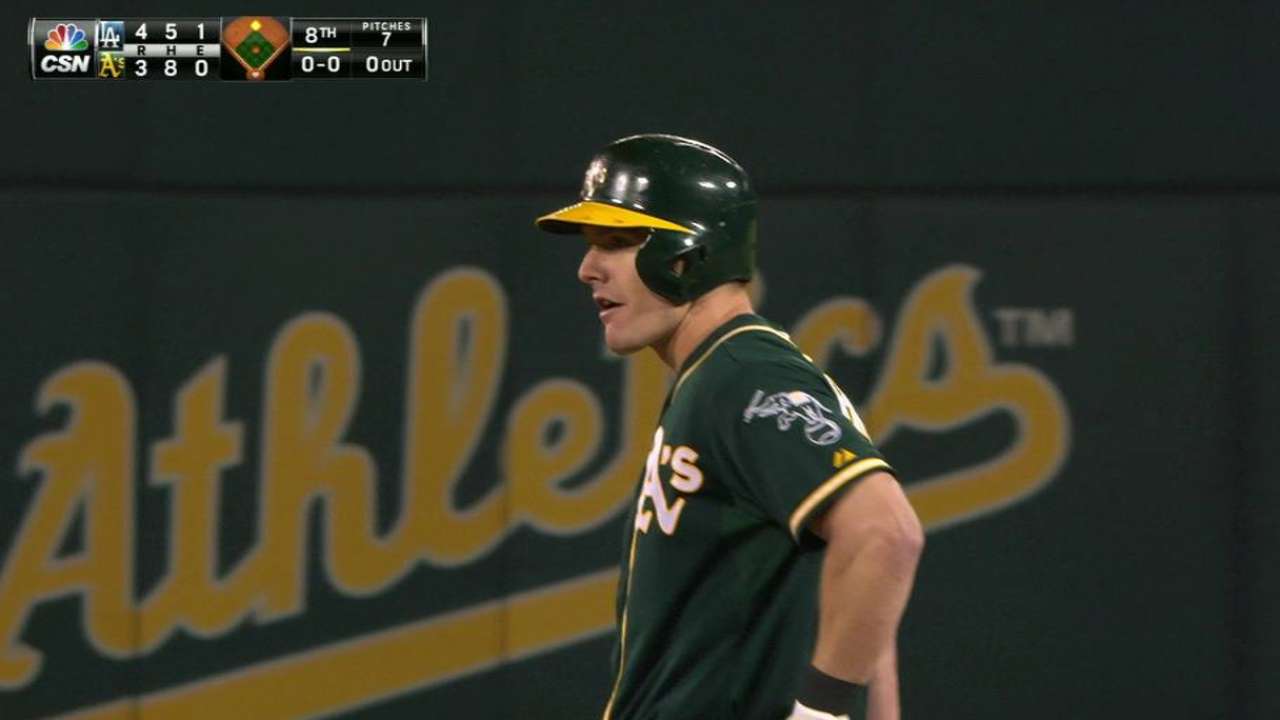 Magic glove: Kershaw likely saved a run with two outs and a runner on third, gloving Eric Sogard's bouncer behind his back and throwing him out to end the second inning. It was Kershaw's second behind-the-back play this season.
• No-look play highlights Kershaw's eventful start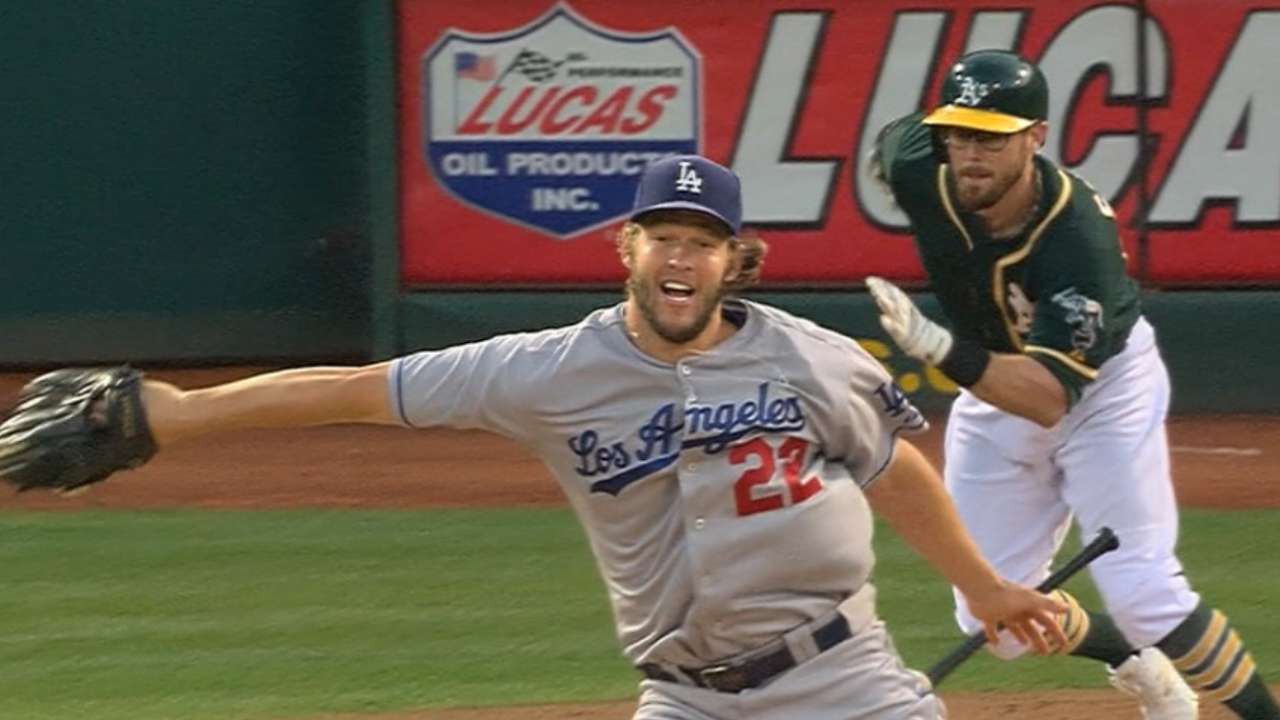 Bullpen woes continue: Fernando Rodriguez gave up three earned runs in 1/3 of an inning. He entered with the bases empty in the eighth and yielded back-to-back hits to Yasiel Puig and Andre Ethier before Ellis' shot. Rodriguez has allowed nine earned runs in his last 12 games after surrendering just two in his previous 16 games. The A's have allowed at least one home run in 13 consecutive games (21 total), which is tied for the longest streak by an A's team over the last 27 years.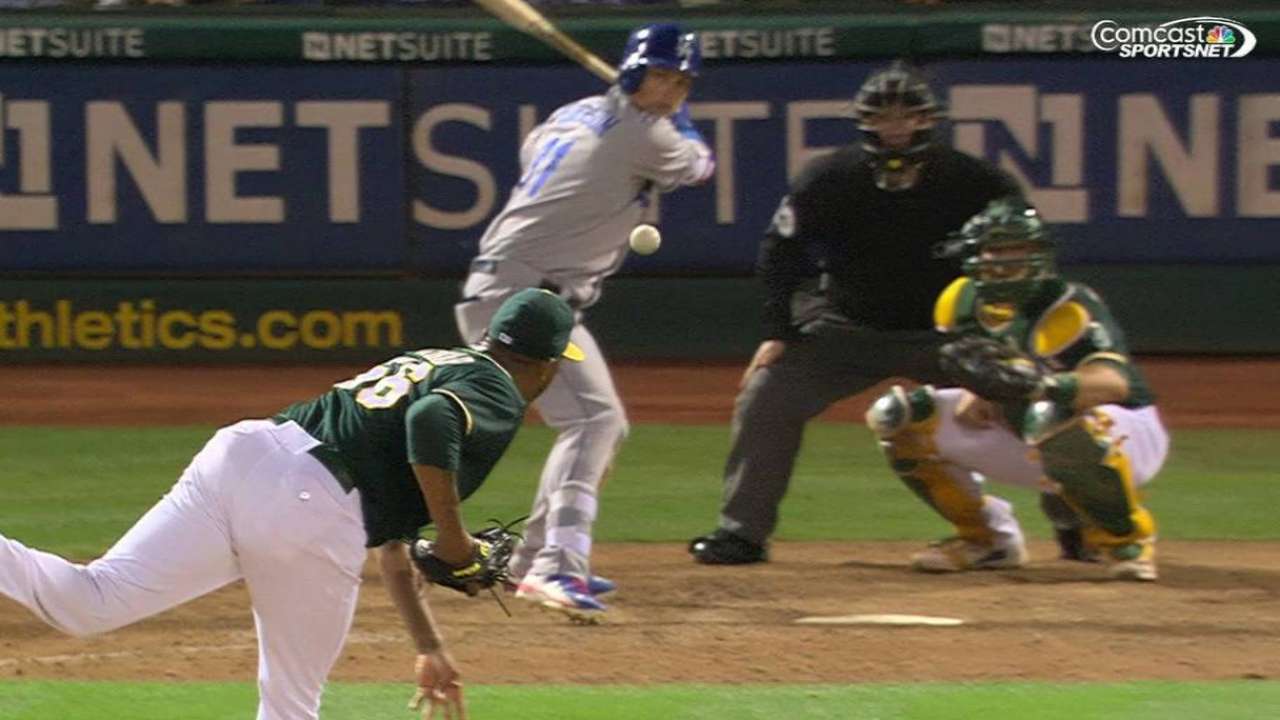 Wounded warrior: Puig experienced tightness in his right hamstring and had to leave the game after legging out an infield single with two out in the eighth inning. The hit set in motion the tie-breaking rally after the Dodgers had stranded eight base runners over the first seven innings.
"It looks like he'll have an MRI in the morning," said manager Don Mattingly.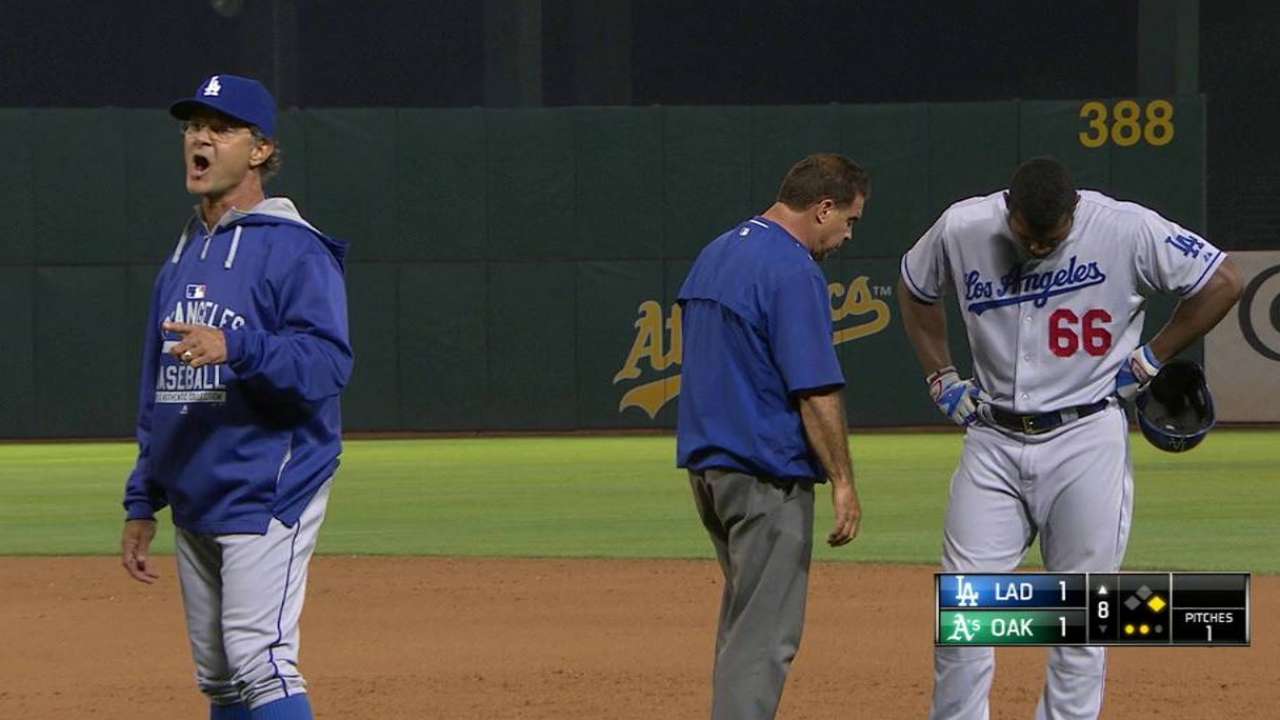 QUOTABLE
"Whenever something like that happens, it's brutal. It feels like a punch to the gut. But you have no choice but to go up there and battle, and that's what we did, and that's really good to see given the circumstances." -- Canha on the A's rally after falling behind 4-1
"The games will get bigger and bigger, the blood pressure will rise and rise. It comes down to who can calm down and execute, not only on the mound but at the plate as well." -- Ellis on pennant-race pressure
SOUND SMART WITH YOUR FRIENDS
Over the past three seasons, A's pitchers have walked nine batters in a single game on five different occasions. The A's have won all five of those games.
WHAT'S NEXT
Dodgers: With Mat Latos sent to the bullpen, Alex Wood moves up a game and starts against the A's. He allowed three runs in 6 1/3 innings while beating the Reds in his last start.
A's: Jesse Chavez will pitch for Oakland, looking to bounce back from his last start, in which he yielded four earned runs in six innings in a loss to the Blue Jays on Thursday. The right-hander is 2-6 with a 5.48 ERA and .303 opponents' batting average over his last nine starts.
Watch every out-of-market regular season game live on MLB.TV.
Ken Gurnick is a reporter for MLB.com. Trevor Hass is an associate reporter for MLB.com. This story was not subject to the approval of Major League Baseball or its clubs.