Dombrowski joins Red Sox's front office
Will serve as Boston's president of baseball operations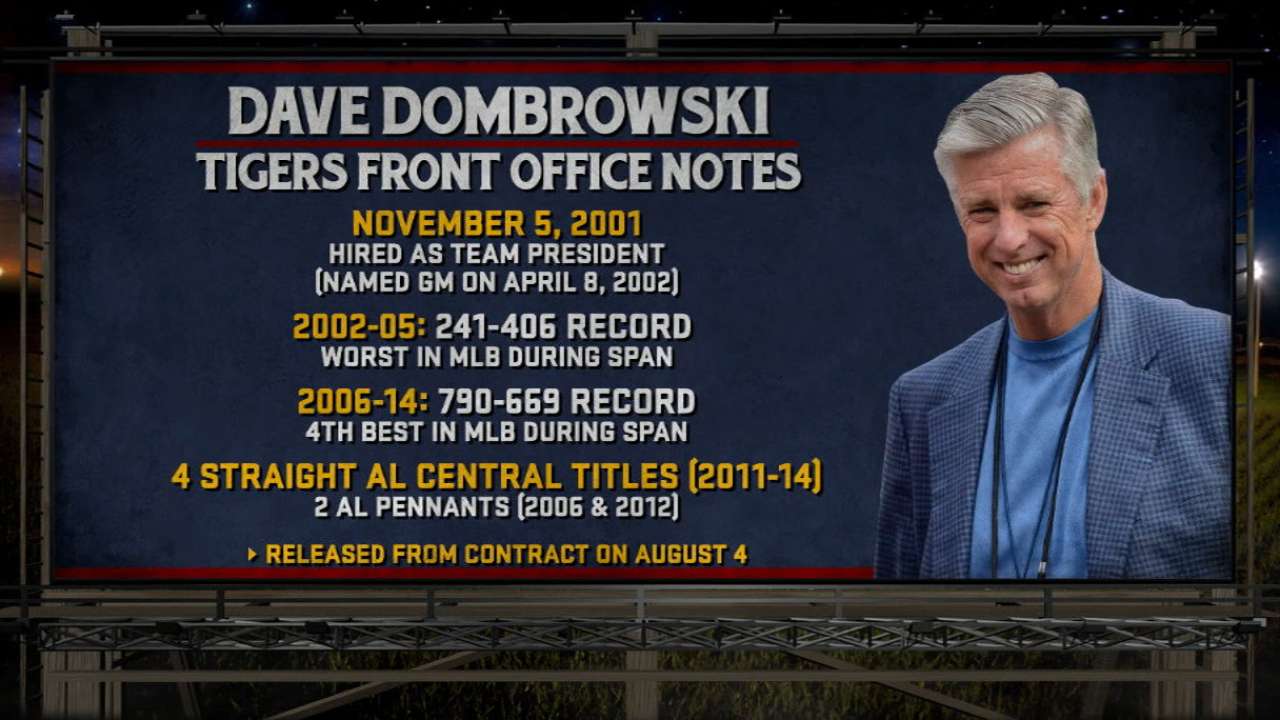 CHICAGO -- The Tigers entered their clubhouse during a third-inning rain delay of an eventual 10-8 win against the Cubs on Tuesday night at Wrigley Field, where they would wait for more than two hours. So naturally, they went to their phones while they waited.
It wasn't long after they did that when they heard the news about former president, CEO and general manager Dave Dombrowski, who was hired by the Red Sox to serve as president of baseball operations. Dombrowski left the Tigers two weeks ago, so his presence around the organization was still fresh in the minds of those players and coaches.
"I'm more surprised it didn't happen earlier," said manager Brad Ausmus. "Good for him. I'm happy for him and I wish him the best."
During Red Sox owner John Henry's three seasons (1999-2001) as owner of the Marlins, Dombrowski was his GM. The two men have always shared a strong relationship, and that helped the Red Sox in their quest to hire Dombrowski, who had also been talking to other organizations.
"I have known Dave very well for a long time," Henry said in a statement. "[Chairman] Tom [Werner] and I have no doubts that Dave is the right person to strengthen our baseball operations group going forward. He is one of the most highly regarded executives in all of baseball, and had options to go with other clubs. We feel very fortunate that he wanted to come to Boston, and wanted to further his career -- now with the Red Sox -- as one of the great architects of winning baseball clubs."
Though he hasn't been around the Tigers long, Ausmus still formed a close relationship with Dombrowski, who hired him in December 2013. Ausmus said he found out when he came into his office in the visitors' clubhouse, and he texted Dombrowski shortly after.
Even players such as James McCann or Nick Castellanos, who have about as much experience as Ausmus, still had close bonds with Dombrowski. The players have a combined three years of experience, but they both were surprised not at how quickly the process happened, but rather how long a suitor waited to hire him.
"He's obviously got a successful track record, and I think everyone agreed he'd have a job sooner or later, probably sooner than later," McCann said.
Castellanos found out when he received a message back in the clubhouse. The third baseman was drafted and called up by Dombrowski first in 2013.
"Yeah, well deserved," Castellanos said. "Everybody knew he wasn't going to be out of baseball for very long.
"I'm not [surprised], because he's extremely good at what he does. And why is a team going to wait?"
Dombrowski is a seasoned baseball executive who helped lead the Marlins to a World Series championship in 1997 and built American League pennant-winners with the Detroit Tigers in 2006 and '12. The Tigers and Dombrowski parted ways on Aug. 4.
The Red Sox will unveil Dombrowski during a 2 p.m. ET press conference on Wednesday at Fenway Park.
Dombrowski expressed his eagerness to begin working with the Red Sox in a statement released by the Red Sox.
"I want to thank John and Tom for this opportunity," Dombrowski said. "Although I did have other potential options within baseball, there was no option that stood out as clearly as the chance to come to Boston and win with the Red Sox. Boston is a baseball city like no other, and its history and traditions are unique in our game. I expressed to John and Tom that Boston would be my absolute top choice and am honored to have the chance to serve Red Sox Nation."
Alex Avila, one of the longest tenured players under Dombrowski, expected the former Tiger GM back in the game as well.
"Whether you think it took long or not, I'm pretty sure he was going to get a job at some point," Avila said. "I'm not surprised that it happened this quickly."
Greg Garno is an associate reporter for MLB.com. Ian Browne is a reporter for MLB.com. Read his blog, Brownie Points, follow him on Twitter @IanMBrowne and listen to his podcast. This story was not subject to the approval of Major League Baseball or its clubs.